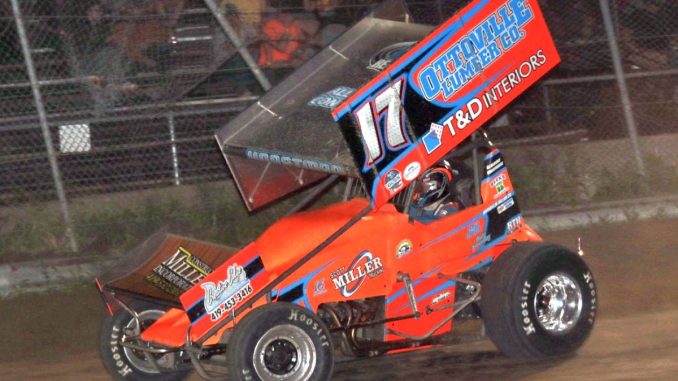 By T.J. Buffenbarger
After a solid night of racing at I-96 Speedway featuring the Great Lakes Super Sprints here are my takeaways from the night's action.
• Jared Horstman rollercoaster season achieved another peak Friday at I-96 Speedway. I-96 has been a bright spot in Horstman's wild season where he has won twice at the Lake Odessa oval, had a freakish situation where caught a sizeable electrical shock when his wedding ring encountered the ignition on the car when it was running, and a sizeable crash last weekend at Waynesfield Raceway Park.
Even with the peaks and valleys Horstman showed again why he is one of the drivers that seemingly gets better with age. Horstman was catching leader Cole Macedo in slower traffic and was able to throw a decent slide job on him following a restart. After the failed attempt Horstman kept his cool and ran a smart race, putting him in position to take the lead after Horstman's misfortune.
It was a performance we have become accustomed to with Horstman in the 360 sprint car division. Age and a growing family hasn't slowed Horstman down a bit over the years. It will be interesting to see if they can take the success at I-96 and have it carry over to other tracks on the 2023 GLSS tour.
• Cole Macedo appeared to have a slump buster of a win lined up with GLSS Friday at I-96 Speedway before mechanical issues brought his feature to an end while leading with just three laps to go.
The mechanical issues were just the icing on the cake of what has been far from a banner couple of weeks for Macedo after pair of high profile on track incidents ruffled more than a few feathers in the sport.
Macedo buckled down and went to drive the Shannon Eifert owned entry, a team he won a feature for earlier this year at East Bay Raceway Park. After the mechanical issues Macedo is staying overnight with the team to help with maintenance on Friday night/Saturday morning before the team ventured to Fremont Speedway to compete on Saturday.
Some of Macedo's on track actions are aggressive and debatable. He's still a young guy that still that makes aggressive mistakes at times. One thing that is not debatable is the kid's work ethic. Sometimes I feel that gets overlooked because of the aggressive nature of his driving. If Macedo tears up a race car he is typically right in with the crew tearing things down.
If Macedo had a back story that closer resembled Brad Sweet, Justin Grant, or other Californian's that drove their beater car east and drove every shitbox they could to make a career in sprint car racing he would be more celebrated. Due to getting in some better cars early on and the aggressive nature people don't seem to notice the work ethic as much. While it doesn't excuse some of the mistakes on the racetrack, it's not like Macedo is a kid wrecking race cars for others to fix.
• Approximately 10:45 p.m. I was in my car and on the way home from a solid night of racing at I-96 Speedway with the Great Lakes Super Sprints. Four or five years ago this would have been unthinkable, but Friday night proved what can happen when a Michigan racing facility runs a tight program and chooses not to keep their sprint car audience hostage.
Kudos to Barry Marlow and I-96's new ownership for not taking the route of trying to replicate the Dealers Choice running six and seven divisions with every weekly show and keeping the program at four divisions.
Even with starting late to finish rolling in the racetrack with some added moisture right after qualifying due to the driest May on record in the state of Michigan, a red flag in the heat race, and a medical situation in the pit area the sprint car feature was still completed around 10:30 p.m.
Even more impressive was how the show ended up being that early. There were none of the wasted laps that are so common by giving the field the white flag at the flag stand before a restart. When the track was clear the alert for drivers that racing would resume was given over the one-way radios. Crash cleanup was efficient, pushing off race cars was timely, and the racing surface was stellar all night long.
If 6-7 classes a night keeps a race track open, I'm all for it. Just don't ask me to be a part of it. I value my time more than that and inject the efficiency of Friday's program at I-96 into my veins. Hopefully if I-96, Butler, and Hartford can continue to run efficient shows on a regular basis, fans will have alternatives to the places that have the need to stuff the pit areas to the brim.