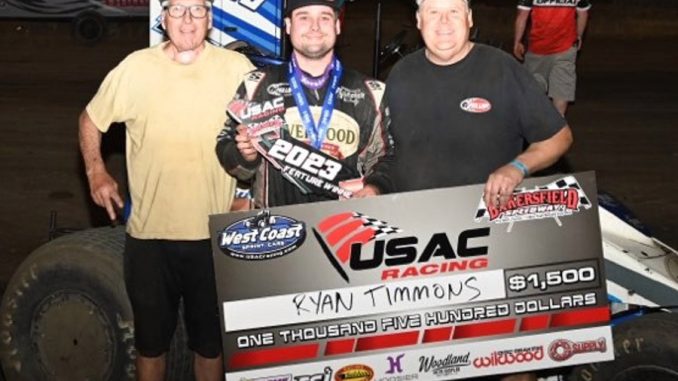 By Lance Jennings
BAKERSFIELD, CALIFORNIA – JUNE 3, 2023… After warm temperatures and a full moon overhead, Ryan Timmons of Pleasant Hill, California led the final three laps to claim his second USAC West Coast Sprint Car victory of the season. Racing the family owned #29T Red Line Oil / Evergood Fine Foods Maxim, the point leader earned the seventh win of his career over Ron LaPlant, Tanner Boul, Chris Ennis, and Kyle Edwards.
Starting third, LaPlant led the first eighteen circuits until defending champion Trent Carter used slower traffic to his advantage to grab the top spot. Once out front, Carter had the race well in hand until a lap twenty-seven heartbreak erased his hopes for victory. Inheriting the lead, Timmons was not to be denied at Bakersfield and topped the 30-lap "Sammy Bahr and Ray Stansberry Feature."
Timmons began the night by posting his fifth career Woodland Auto Display Fast Time over the 18-car roster with a time of 13.416 seconds. After running third in his heat race and taking the win, the 2016 Rookie of the year heads to the June 17th "Wagsdash Reunion in Honor of Mrs. Wags" at Ventura with a 34-point advantage over the competition.
Making his first start of the campaign, Auberry, California's Tanner Boul won Bakersfield's Extreme Mufflers First Heat Race. Driving the Boul Racing #99T King Racing Products / BR Motorsports Triple X, Boul was thirteenth fast in qualifying and raced from seventh to third in the main event. Tanner left Bakersfield ranked nineteenth in points.
Kyle Edwards of Fountain Valley, California topped the 10-lap Brown & Miller Racing Solutions Second Heat Race. Piloting the family owned #39 Safehouse Security / Van Dyne Engineering Triple X, Edwards qualified second overall and placed fifth in the 30-lap feature. The third generation driver has climbed to third in the point chase.
Bakersfield, California driver Brody Fuson scored the victory in the 10-lap Competition Suspension Incorporated Third Heat Race. Driving the Bob and Toni Van Meter #51 RacePa Motorsports / W.E. Spike, Fuson did not report to scales after qualifying, resulting in eighteenth quick, and scored sixteenth in the feature after suffering mechanical problems. The young driver heads to Ventura ranked sixth in the standings.
Adam Christian of Santa Clara, California returned to USAC West Coast action and earned the night's "BR Motorsports / Rod End Supply Hard Charger Award" with a seventh place run from fourteenth. The owner / driver of the #12 Yak Graphics / Sponsors Needed Triple X was twelfth fast in time trials, placed sixth in his heat race, and now sits twelfth in the championship points.
Veteran driver Matt Day of Bakersfield, California claimed the Wilwood Disc Brakes "Lucky 13 Award" after starting sixteenth in the main event. The owner / driver of the #97 Undercover Innovations / H&S Body Works Stinger qualified fifteenth overall, ran fourth in his heat race, and has climbed to eighteenth in the point standings.
The non-winged 360 sprint cars will return to action on Saturday, June 17th at Ventura Raceway and the Ventura County Fairgrounds for the "Wagsdash Reunion in Honor of Mrs. Wags." To get involved or donate to the event, call Ken Wagner at 949-981-5497 or visit his website at wagtimes.com. For ticket information and times, visit venturaraceway.com.
The USAC West Coast Sprint Car Series thanks BR Motorsports, Brown & Miller Racing Solutions, Competition Suspension Incorporated, Extreme Mufflers, High Tech Performance, Hoosier Racing Tires, Rod End Supply, Saldana Racing Products, Steve Lafond / Tear-Off Heaven Fotos, Wagtimers, Wilwood Disc Brakes, and Woodland Auto Display for their support.
For more information on the USAC West Coast Sprint Car Series, visit usacracing.com and the social media for USAC Racing. You can also find exclusive content on the USAC West Coast Facebook, Twitter and Instagram pages.
USAC WEST COAST SPRINT CAR SERIES RACE RESULTS: June 3, 2023 – Bakersfield Speedway – Bakersfield, California
WOODLAND AUTO DISPLAY QUALIFICATONS: 1. Ryan Timmons, 29T, Timmons-13.416; 2. Kyle Edwards, 39, Edwards-13.440; 3. David Gasper, 18, Gasper/Kittle-13.581; 4. Ron LaPlant, 69, LaPlant-14.011; 5. Cody Majors, 54, Majors-14.028; 6. Chris Ennis, 86, Ennis-14.088; 7. Trent Carter, 13SS, Carter-14.089; 8. James Herrera, 5J, Herrera-14.215; 9. Tyler Hatzikian, 27, Hatzikian-14.304; 10. Tom Hendricks, 14, Hendricks-14.348; 11. Jon DeWees, 63D, DeWees-14.373; 12. Adam Christian, 12, Christian-14.379; 13. Tanner Boul, 99T, Boul-14.442; 14. Camie Bell, 29C, Bell-14.730; 15. Matt Day, 97, Day-15.145; 16. Elexa Herrera, 5E, Herrera-15.227; 17. Hannah Mayhew, 43, Mayhew-15.873; 18. Brody Fuson, 51, Van Meter-NT.
EXTREME MUFFLERS FIRST HEAT: (10 laps) 1. Boul, 2. Carter, 3. Timmons, 4. LaPlant, 5. Hendricks, 6. E.Herrera. NT.
BROWN & MILLER RACING SOLUTIONS SECOND HEAT: (10 laps) 1. Edwards, 2. Majors, 3. Mayhew, 4. Bell, 5. J.Herrera, 6. DeWees. NT.
COMPETITION SUSPENSION INCORPORATED THIRD HEAT: (10 laps) 1. Fuson, 2. Gasper, 3. Ennis, 4. Day, 5. Hatzikian, 6. Christian. NT.
SAMMY BAHR & RAY STANSBERRY FEATURE: (30 laps, With Starting Positions) 1. Ryan Timmons (6), 2. Ron LaPlant (3), 3. Tanner Boul (7), 4. Chris Ennis (1), 5. Kyle Edwards (5), 6. Tyler Hatzikian (11), 7. Adam Christian (14), 8. Jon DeWees (13), 9. James Herrera (10), 10. Tom Hendricks (12), 11. Hannah Mayhew (18), 12. Camie Bell (15), 13. Matt Day (16), 14. Trent Carter (9), 15. David Gasper (4), 16. Brody Fuson (8), 17. Cody Majors (2), 18. Elexa Herrera (17). NT.
—————————-
FEATURE LAP LEADERS: Laps 1-18 LaPlant, Laps 19-27 Carter, Laps 28-30 Timmons
BR MOTORSPORTS / ROD END SUPPLY HARD CHARGER: Adam Christian (14th to 7th)
WILWOOD DISC BRAKES LUCKY 13 AWARD: Matt Day
NEW USAC WEST COAST SPRINT CAR POINTS: 1-Ryan Timmons-233, 2-Ron LaPlant-199, 3-Kyle Edwards-178, 4-Tyler Hatzikian-175, 5-David Gasper-169, 6-Brody Fuson-163, 7-Cody Majors-145, –Tom Hendricks-145, 9-Jon DeWees-143, 10-Chris Ennis-135.
NEW WOODLAND AUTO DISPLAY TOP QUALIFIER POINTS: 1-Ryan Timmons-14, 2-David Gasper-12, 3-Cody Majors-9, –Kyle Edwards-9, 5-Brody Fuson-8, 6-Troy Rutherford-6, 7-Ron LaPlant-3, 8-Tyler Hatzikian-1, –Chris Ennis-1.
NEW SAMMY BAHR & RAY STANSBERRY FEATURE POINTS: 1-Ryan Timmons-198, 2-Ron LaPlant-180, 3-Tyler Hatzikian-159, 4-Kyle Edwards-148, 5-David Gasper-138, 6-Jon DeWees-134, 7-Brody Fuson-132, –Tom Hendricks-132, 9-Chris Ennis-122, 10-Cody Majors-119.
NEW PASSING MASTER POINTS: 1-Jon DeWees-18, 2-Ron LaPlant-12, –Tom Hendricks-12, –Adam Christian-12, 5-Elexa Herrera-11, 6-Hannah Mayhew-10, 7-Heath Holdsclaw-8, –Ryan Timmons-8, 9-Brody Fuson-7, 10-Chris Ennis-6, –Trent Carter-6.
NEXT USAC WEST COAST SPRINT CAR RACE: June 17 – Ventura Raceway – Ventura, California – "Wagsdash Reunion in honor of Mrs. Wags"