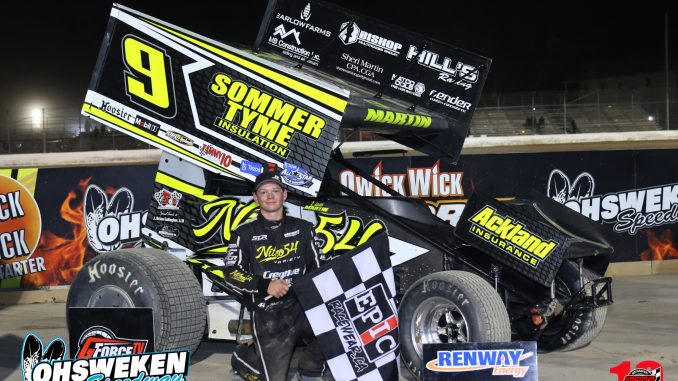 By Brent Otchere
OHSWEKEN, Ont. (June 2, 2023) – Renway Energy presented Friday Night Excitement At Ohsweken on Friday; Liam Martin, Dale Curran, Dave Bailey, and Jeff Elsliger took A-Main wins.
Kool Kidz-Corr/Pak 360 Sprint Cars
Darren Dryden and Josh Hansen brought the field to the green flag for the 25 lap 360 Sprint Car A-Main. Dryden led the first lap as John Burbidge Jr came to a stop in turn one, bringing out the first caution. Another caution soon followed as Aaron Turkey and Eric Gledhill both stopped on the track with flat tires. Dylan Westbrook's race then came to an early end as he suffered a drivetrain failure which brought out the final caution flag of the race.
Liam Martin timed the final restart perfectly and took the lead. Meanwhile, Glenn Styres worked himself toward the top three as he began to battle Dryden for the third position. Martin checked out for the rest of the race and took the win by more than three seconds. DJ Christie finished in second, while Styres edged out Dryden for third. Rounding out the top five were Dryden and Hansen in fourth and fifth respectively. Hansen now leads over Ryan Turner by 17 points in the overall standings.
Strickland's Crate Sprint Cars
The front row of the grid featured Greg Wilson and Brett Stratford to begin the 20 lap Crate Sprint Car A-Main. Stratford quickly took the lead from Wilson, looking as if he were driving on rails. It was all Stratford until the first caution of the race came out due to a stopped Sheldon Bender in turn three. Three more cautions occurred consecutively, including one for Wilson losing a wheel; each time Stratford held off second place to retain his lead. Mack DeMan began to battle Dale Curran for second place, allowing Stratford to drive further away in the lead.
Just four laps separated Stratford from his maiden Crate Sprint Car victory when an untimely caution flag came out due to an Ashton VanEvery crash. Curran capitalized on the restart, snatching the lead from Stratford with only three laps to go. Stratford watched Curran run away with the win, settling for second place for the second week in the row. Rounding out the top five were Steve Murdock in third, DeMan fourth, and Austin Roes in fifth. Stratford now leads over Curran by nine points in the overall standings.
Middleport Mechanical Thunder Stocks
George Grosul started on pole alongside Braedan Burning to take the green flag for the 20 lap Thunder Stock A-Main. Burning enjoyed a brief lead until row five starter Dave Bailey took it away from him on lap three. Points leader Kyle Wert spun and brought out the first caution of the race as Bailey had a four second lead over the field. May 26 winner Ryan Beagle worked himself into the second position after the restart, passing 18 cars to do so. Lap ten featured Beagle finally overtaking Bailey for the lead.
With only five laps remaining, Rodney Rutherford spun out and brought out another caution flag. Ryan Dinning restarted in the third position and rocketed his car into the lead by passing both Bailey and Beagle. Bailey caught back up to Dinning and retook the lead with two laps left to go. Gofast Teeple and Burning tangled and got stuck together to bring out the final caution. Bailey, being the veteran driver he is, had a textbook restart which allowed him to retain his lead to go on to his 36th career Thunder Stock win at Ohsweken. Beagle finished second over Dinning who took third, while Wert finished in fourth and Christopher Hale finished in fifth. Wert now leads over Beagle by eight points in the overall standings.
HRW Automotive Mini Stocks
Mark Martin and Kylie Dixon brought the 27 car field to the green flag for the 15 lap Mini Stock A-Main. Fourth place starter Niko Hansen led the first lap, while Dusty DeBoer could be found racing in the fourth spot by lap four after starting in the 14th position.
Meanwhile, the race stayed green for the entirety despite the mid pack going five wide multiple times throughout the race. Jeff Elsliger finally got around Hansen with six laps to go. With a brilliant drive, Elsliger drove to his first career Mini Stock victory. Next to cross the finish line were Hansen in second, DeBoer third, Fabio Olivieri fourth, and Jason Tolton in fifth. Ryan Hillar now leads over Olivieri by one point in the overall standings.
Up Next at Ohsweken Speedway
Core-Mark presents the Late Model Open and the Stickland's Crate Sprint Cars on Friday, June 9, plus Duel on the Dirt Home Track Points Night #2 for the Middleport Mechanical Thunder Stocks and HRW Automotive Mini Stocks. Visit www.ohswekenspeedway.com for more information.
________________________
Ohsweken Speedway Statistical Report
Friday, June 2, 2023
Ohsweken, Ontario, Canada
Renway Energy Presents Friday Night Excitement
Total Entries: 110
________________________
Kool Kidz-Corr/Pak 360 Sprint Cars (24 Entries)
A-Main [Started] 25 laps – NT
1. 9-Liam Martin[5]; 2. 5-DJ Christie[4]; 3. 0-Glenn Styres[11]; 4. 12DD-Darren Dryden[1]; 5. 88H-Josh Hansen[2]; 6. 15-Ryan Turner[3]; 7. 70-Baily Heard[16]; 8. 17X-Cory Turner[6]; 9. 1-Holly Porter[19]; 10. 49L-Lucas Smith[17]; 11. 10-Mitch Brown[9]; 12. 46-Kevin Pauls[18]; 13. 68-Aaron Turkey[12]; 14. 19D-Allan Downey[22]; 15. 7-Eric Gledhill[10]; 16. 77T-Tyeller Powless[13]; 17. 87X-Shone Evans[23]; 18. 11-Jamie Turner[21]; 19. 21-John Burbridge Jr[20]; 20. 81-Derek Jonathan[15]; 21. (DNF) 71-Mike Bowman[14]; 22. (DNF) 47X-Dylan Westbrook[8]; 23. (DNS) 45-Nick Sheridan; 24. (DNS) 94X-Scott Hall
Hard Charger – Holly Porter +10
Heat Race 1 [Started] 8 laps – NT
1. 5-DJ Christie[3]; 2. 10-Mitch Brown[1]; 3. 88H-Josh Hansen[5]; 4. 81-Derek Jonathan[2]; 5. 68-Aaron Turkey[6]; 6. 49L-Lucas Smith[4]; 7. 70-Baily Heard[8]; 8. (DNF) 87X-Shone Evans[7]
Heat Race 2 [Started] 8 laps – 1:51.946
1. 47X-Dylan Westbrook[1]; 2. 15-Ryan Turner[2]; 3. 17X-Cory Turner[5]; 4. 0-Glenn Styres[4]; 5. 77T-Tyeller Powless[6]; 6. 46-Kevin Pauls[3]; 7. 21-John Burbridge Jr[7]; 8. 19D-Allan Downey[8]
Heat Race 3 [Started] 8 laps – NT
1. 9-Liam Martin[1]; 2. 45-Nick Sheridan[3]; 3. 7-Eric Gledhill[4]; 4. 12DD-Darren Dryden[8]; 5. 71-Mike Bowman[6]; 6. 1-Holly Porter[2]; 7. 11-Jamie Turner[7]; 8. (DNF) 94X-Scott Hall[5]
________________________
Strickland's Crate Sprint Cars (30 Entries)
A-Main [Started] 25 laps – NT
1. 31-Dale Curran[5]; 2. BS39-Brett Stratford[2]; 3. 2M-Steve Murdock[4]; 4. 4-Mack DeMan[7]; 5. 3S-Austin Roes[8]; 6. 14-Larry Gledhill[9]; 7. 45-Curtis Gartly[11]; 8. 71C-John Cadman[14]; 9. 20-Johnny Miller[12]; 10. 72-Tanner Podwinski[22]; 11. 99-Joshua Hill[18]; 12. 16X-Keegan Baker[3]; 13. 94-Ryan Fraser[10]; 14. 88-Lance Erskine[21]; 15. 50LS-Adrian Stahle[19]; 16. 51-Trevor Young[13]; 17. 29W-Tyler Ward[24]; 18. 2-Travis Hofstetter[25]; 19. 00-Greg Smulders[20]; 20. 52-Jesse Costa[28]; 21. MK8-Matt Hill[16]; 22. 70MM-Gabby Darling[27]; 23. 97-Sheldon Bender[6]; 24. 77E-Ashton VanEvery[15]; 25. 14W-Greg Wilson[1]; 26. 28-Cameron Thomson[23]; 27. 69K-Ken Hamilton[17]; 28. (DNS) 9C-Brian Nanticoke
Hard Charger – Tanner Podwinski +12
Heat Race 1 [Started] 8 laps – NT
1. 2M-Steve Murdock[1]; 2. 16X-Keegan Baker[3]; 3. 3S-Austin Roes[9]; 4. 51-Trevor Young[4]; 5. 14-Larry Gledhill[8]; 6. 69K-Ken Hamilton[5]; 7. 50LS-Adrian Stahle[7]; 8. 88-Lance Erskine[6]; 9. 29W-Tyler Ward[10]; 10. (DNF) 9C-Brian Nanticoke[2]
Heat Race 2 [Started] 8 laps – NT
1. 14W-Greg Wilson[1]; 2. 31-Dale Curran[2]; 3. 94-Ryan Fraser[3]; 4. 71C-John Cadman[4]; 5. 77E-Ashton VanEvery[6]; 6. 20-Johnny Miller[9]; 7. 99-Joshua Hill[8]; 8. 72-Tanner Podwinski[7]; 9. 2-Travis Hofstetter[5]; 10. (DNF) 70MM-Gabby Darling[10]
Heat Race 3 [Started] 8 laps – NT
1. 4-Mack DeMan[3]; 2. BS39-Brett Stratford[5]; 3. 45-Curtis Gartly[2]; 4. 97-Sheldon Bender[6]; 5. MK8-Matt Hill[4]; 6. 11W-Braeden Chastney[7]; 7. 00-Greg Smulders[1]; 8. (DNF) 28-Cameron Thomson[8]; 9. (DNF) 5-Tom Pellezari[9]; 10. (DNF) 52-Jesse Costa[10]