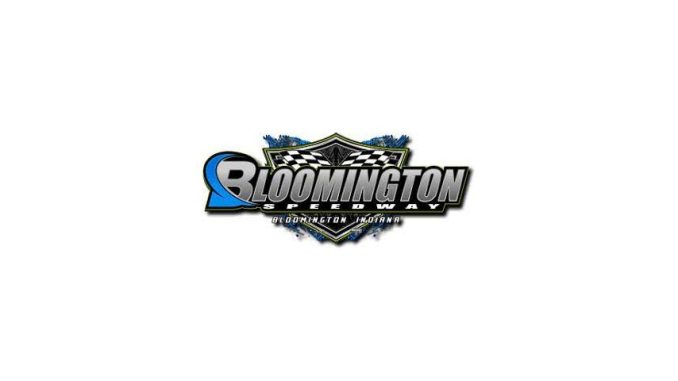 BLOOMINGTON, Ind. (June 16, 2023) — Harley Burns and Ethan Barrow won feature events during the Kevin Huntley Memorial Friday at Bloomington Speedway.
Burns won the non-wing sprint car feature over Baxton Cummings, Tye Mihocko, Geoff Ensign, and Brady Short.
Barrow won the special 35-lap feature for the Indiana RaceSaver Sprint Car Series feature over Ryan Tusing, Andy Bradley, Nate Franklin, and Jeremy Kornbau rounded out the top five.
Kevin Huntley Memorial
Bloomington Speedway
Bloomington, Indiana
Friday, June 16, 2023
Non-Wing 410 Sprint Cars
Heat Race #1 (8 Laps)
1. 71B-Braxton Cummings[1]
2. 36-Dave Darland[4]
3. 99-Alec Sipes[2]
4. 10G-Gabriel Gilbert[5]
5. 24M-Hunter Maddox[3]
6. 314-Michael Daugherty[6]
7. 37-Dave Gross[7]
Heat Race #2 (8 Laps)
1. 16-Harley Burns[1]
2. 22-Brandon Spencer[2]
3. 3F-Geoff Ensign[3]
4. 04-Jordan Kinser[4]
5. 26-Matt Thompson[5]
6. 78-Rob Caho Jr[6]
7. 100-Justin Meneely[7]
Heat Race #3 (8 Laps)
1. 36S-Brady Short[3]
2. 24P-Tye Mihocko[5]
3. 6T-Trey Osborne[2]
4. 53-Brayden Fox[1]
5. 4R-John Sluss[6]
6. 2H-Brian Hayden[4]
DNS: 118-Scott Evans
A-Main (25 Laps)
1. 16-Harley Burns[1]
2. 71B-Braxton Cummings[2]
3. 24P-Tye Mihocko[6]
4. 3F-Geoff Ensign[8]
5. 36S-Brady Short[3]
6. 53-Brayden Fox[12]
7. 04-Jordan Kinser[11]
8. 36-Dave Darland[4]
9. 99-Alec Sipes[7]
10. 22-Brandon Spencer[5]
11. 2H-Brian Hayden[18]
12. 10G-Gabriel Gilbert[10]
13. 26-Matt Thompson[14]
14. 24M-Hunter Maddox[13]
15. 4R-John Sluss[15]
16. 78-Rob Caho Jr[17]
17. 100-Justin Meneely[20]
18. 314-Michael Daugherty[16]
19. 6T-Trey Osborne[9]
20. 37-Dave Gross[19]
DNS: 118-Scott Evans
Indiana RaceSaver Sprint Car Series
Heat Race #1 (8 Laps)
1. 4J-Jacob Gomola[1]
2. 83-Carson Dillion[3]
3. 26-Keith Langley[2]
4. 14N-Kevin Newton[4]
5. 67B-Dillan Baldwin[5]
6. 17P-Austin Powell[7]
7. 11M-Kayla Martin[6]
DNS: 23F-Dustin Clark
Heat Race #2 (8 Laps)
1. 27K-Jeremy Kornbau[1]
2. 41M-Dirk McGuyer[2]
3. 11R-Blayne Ridgley[4]
4. I1-Ivan Glotzbach[5]
5. 18N-Alex Nalon[6]
6. 24X-Levi Winget[7]
7. 71-Brad Sexton[8]
DNS: 18H-AJ Hopkins
Heat Race #3 (8 Laps)
1. 15J-Jeff Wimmenauer[1]
2. 14-Ethan Barrow[4]
3. 79-Chris Miller[2]
4. 88D-Greg Dobrosky[3]
5. 13-Tyson Lady[5]
6. 75-Cody Trammell[6]
7. 36M-Barry Miller[7]
Heat Race #4 (8 Laps)
1. 39-Justin Mathews[1]
2. 22H-Rod Henning[2]
3. 23-John Paynter Jr[4]
4. 21G-Roman Gephart[5]
5. 88S-Charlie Stines[7]
6. 22-Schuyler Nahre[6]
7. 21A-Bradley Sterrett[3]
Heat Race #5 (8 Laps)
1. 23J-Jordan Welch[1]
2. 21X-Andy Bradley[2]
3. 3M-Tres Mehler[5]
4. 14C-Logan Anderson[4]
5. 79H-Ryan Hall[3]
6. 45-Eric Perrott[6]
7. 88R-James Ross[7]
Heat Race #6 (8 Laps)
1. 87-Nate Franklin[1]
2. 3C-Ryan Tusing[2]
3. 37-Bryce Norris[4]
4. 19-Bradley Galedrige[5]
5. 37G-Max Guilford[7]
6. 5-Terry Arthur[3]
7. 64S-Blake Sholders[6]
B-Main #1 (12 Laps)
1. 26-Keith Langley[1]
2. 79-Chris Miller[2]
3. 14N-Kevin Newton[4]
4. 14C-Logan Anderson[6]
5. 67B-Dillan Baldwin[7]
6. 3M-Tres Mehler[3]
7. 75-Cody Trammell[11]
8. 88D-Greg Dobrosky[5]
9. 79H-Ryan Hall[9]
10. 17P-Austin Powell[10]
11. 11M-Kayla Martin[13]
12. 13-Tyson Lady[8]
13. 23F-Dustin Clark[16]
14. 45-Eric Perrott[12]
15. 36M-Barry Miller[14]
16. 88R-James Ross[15]
B-Main #2 (12 Laps)
1. 23-John Paynter Jr[2]
2. 21G-Roman Gephart[5]
3. 37-Bryce Norris[3]
4. 19-Bradley Galedrige[6]
5. 11R-Blayne Ridgley[1]
6. 21A-Bradley Sterrett[14]
7. 22-Schuyler Nahre[11]
8. I1-Ivan Glotzbach[4]
9. 37G-Max Guilford[9]
10. 24X-Levi Winget[10]
11. 88S-Charlie Stines[8]
12. 5-Terry Arthur[12]
13. 71-Brad Sexton[13]
14. 18H-AJ Hopkins[16]
DNS: 18N-Alex Nalon
DNS: 64S-Blake Sholders
A-Main (35 Laps)
1. 14-Ethan Barrow[4]
2. 3C-Ryan Tusing[1]
3. 21X-Andy Bradley[2]
4. 87-Nate Franklin[7]
5. 27K-Jeremy Kornbau[11]
6. 15J-Jeff Wimmenauer[10]
7. 23-John Paynter Jr[14]
8. 83-Carson Dillion[6]
9. 23J-Jordan Welch[8]
10. 79-Chris Miller[15]
11. 4J-Jacob Gomola[12]
12. 14N-Kevin Newton[17]
13. 19-Bradley Galedrige[20]
14. 21G-Roman Gephart[16]
15. 14C-Logan Anderson[19]
16. 26-Keith Langley[13]
17. 41M-Dirk McGuyer[5]
18. 22H-Rod Henning[3]
19. 39-Justin Mathews[9]
20. 37-Bryce Norris[18]