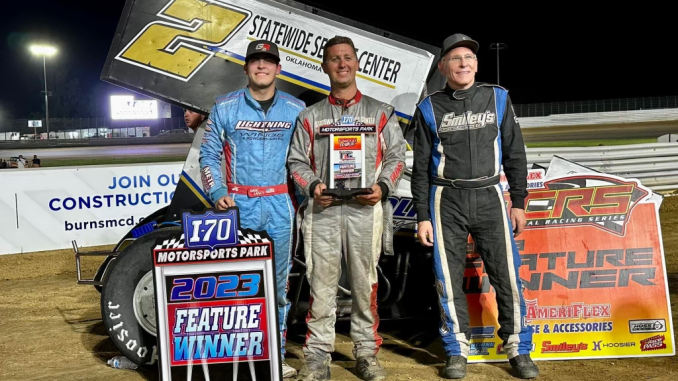 By John Rittenoure
– ODESSA, Mo. (June 16, 2023) – Whit Gastineau became the 7th different AmeriFlex Hose & Accessories OCRS Sprint Car winner of the season Friday night at I-70 Motorsports Park.
Gastineau, the career wins leader, won for the 34th time with the series.
Veteran Danny Wood led the first four laps of the main then gave the lead up to 5th starting Gastineau. Wood held on to second over the remaining 15 laps and moved into the series points lead displacing Johnny Kent who has led since the season began. Kent did not finish and was credited with 22nd. Fourth starting Gage Laney was third over two-time winner Zach Blurton in fourth. Fellow Kansas competitor Jon Freeman was fifth.
The three-race weekend concludes on Saturday with a stop at Lake Ozark Speedway in Eldon, Missouri.
AmeriFlex Hose & Accessories OCRS Sprint Car Results
I-70 Motorsports Park – Odessa, Missouri
June 16, 2023
AmeriFlex Hose Accessories A Feature 1 (25 Laps): 1. 2-Whit Gastineau[5]; 2. 55W-Danny Wood[1]; 3. 22RL-Gage Laney[4]; 4. 2J-Zach Blurton[11]; 5. 81-Jon Freeman[7]; 6. 88-Terry Easum[12]; 7. 7T-Landon Thompson[13]; 8. 17E-Blake Edwards[10]; 9. 20S-Sheldon Barksdale[3]; 10. 22M-Rees Moran[15]; 11. 4-Brett Combs[20]; 12. 122-Lane Warner[6]; 13. 1T-Joshua Tyre[9]; 14. 74-Natalie Doney[17]; 15. 61A-Doug Fry[21]; 16. 1-Greg Murry[23]; 17. (DNF) 5-Joe Bob Lee[8]; 18. (DNF) 50Z-Zach Chappell[2]; 19. (DNF) 9-Emilio Hoover[18]; 20. (DNF) 2L-Brandon Leland[22]; 21. (DNF) 8R-Ryker Pace[16]; 22. (DNF) 55-Johnny Kent[14]; 23. (DNF) 20C-Randy Corpening[19]; 24. (DNF) 9X-Abigayle Lett[24]; 25. (DNF) 12M-Mitchell Barros[26]; 26. (DQ) 22C-Alex DeCamp[25]
Schure Built Suspensions Heat 1 (8 Laps): 1. 81-Jon Freeman[1]; 2. 20S-Sheldon Barksdale[2]; 3. 2J-Zach Blurton[3]; 4. 2-Whit Gastineau[8]; 5. 17E-Blake Edwards[9]; 6. 74-Natalie Doney[4]; 7. 20C-Randy Corpening[6]; 8. 2L-Brandon Leland[7]; 9. 22C-Alex DeCamp[5]
Lightning Wings Powder Coating Heat 2 (8 Laps): 1. 122-Lane Warner[1]; 2. 50Z-Zach Chappell[4]; 3. 22RL-Gage Laney[5]; 4. 1T-Joshua Tyre[2]; 5. 55-Johnny Kent[7]; 6. 8R-Ryker Pace[8]; 7. 61A-Doug Fry[3]; 8. 1-Greg Murry[6]; 9. 9X-Abigayle Lett[9]
Smith Titanium Heat 3 (8 Laps): 1. 55W-Danny Wood[1]; 2. 5-Joe Bob Lee[2]; 3. 88-Terry Easum[3]; 4. 7T-Landon Thompson[5]; 5. 22M-Rees Moran[7]; 6. 9-Emilio Hoover[4]; 7. 4-Brett Combs[6]; 8. 12M-Mitchell Barros[8]
Lap Leaders: Danny Wood 1-4, Whit Gastineau 5-20
Margin of Victory: 1.470
D&G Contracting Hard Charger: Brett Combs +9