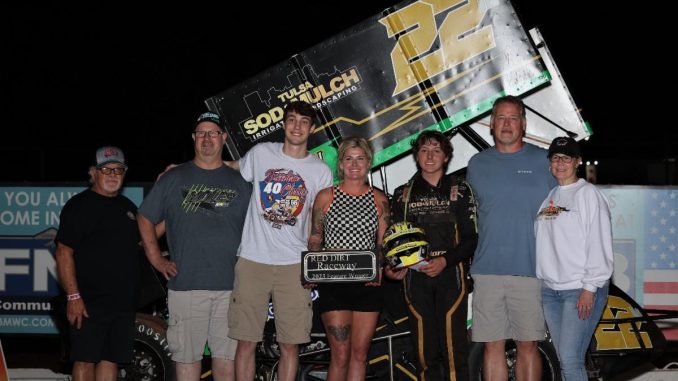 From John Rittenoure
MEEKER, Ok. (June 23, 2023) — Over the last month Rees Moran has been hard to beat. That was clearly evident during Friday's AmeriFlex Hose & Accessories Sprint Car event at Red Dirt Raceway.
Not even a 40-lap feature was too much for the young Oklahoman. Moran won the Mike Peters Freedom 40 Classic leading all but one lap on the way to capturing his second straight and third win of the season.
"My crew chief has this thing running on rails,"Moran said of his recent streak of victories. "Now the car is good. It is easy to drive and has the same attitude all the time. It pretty much goes wherever I put it."
Sheldon Bariksdale led the first lap, but Moran was quick to challenge from his fourth starting position and took away the lead on lap two. Moran set a very fast pace pulling away from the field and winning by over six seconds.
"There was moisture all over the track and multiple lines," Moran said of his decision to run up high. "I figured everyone would go the shortest way around so I gave it a shot and it worked in my favor."
The only worry Moran had was trying to determine if his lead was safe.
"Leading the race you don't how to really push it because you don't know if they are closing on you," Moran said. "I think the lapped cars really helped."
Barksdale ran second until lap 26 when three-time champion Sean McClelland passed him. McClelland had to battle Tanner Conn for the runner-up position. Conn, who won the March 11 OCRS season opener at Red Dirt Raceway, settled for third at the finish. Barksdale dropped to 8th.
Series points leader Danny Wood earned the D&G Contracting Hard Charger award advancing 9 positions to finish 7th.
Oil Capital Racing Series
Red Dirt Raceway
Meeker, Oklahoma
Friday, June 23, 2023
Schure Built Suspensions Heat Race #1 (8 Laps)
1. 938-Bradley Fezard[5]
2. 6-Cody Carter[1]
3. 72C-Kayden Cole[3]
4. 55-Johnny Kent[4]
5. 55W-Danny Wood[2]
6. 37-Jack Hall[6]
7. 21X-Taylor Velasquez[7]
8. 9K-Kody Jenkins[8]
Lightning Wings Powder Coating Heat Race #2 (8 Laps)
1. 5-Joe Bob Lee[1]
2. 42-Grady Mercer[3]
3. 31-Casey Wills[2]
4. 20S-Sheldon Barksdale[8]
5. 1T-Joshua Tyre[6]
6. 55M-Corey McGehee[4]
7. 22T-Frank Taft[5]
8. 24R-Kyle Roller[7]
Smith Titanium Heat Race #3 (8 Laps)
1. 22M-Rees Moran[1]
2. 1H-Hank Davis[3]
3. 9$-Kyle Clark[8]
4. 28-Joe Wood Jr[5]
5. 21-Brandon Jennings[4]
6. 38-Jimmy Forrester[6]
7. 5B-Brock Cottrell[7]
8. 2L-Brandon Leland[2]
DSO Heat Race #4 (8 Laps)
1. 78-Tanner Conn[3]
2. 1-Sean McClelland[7]
3. 5$-Danny Smith[2]
4. 50Z-Zach Chappell[6]
5. 12M-Mitchell Barros[1]
6. 69-Greg York[4]
7. 39-Kimberly Tyre[5]
8. 6K-Brylee Kilmer[8]
Hoosier Racing Tire B-Main (12 Laps)
1. 28-Joe Wood Jr[1]
2. 1T-Joshua Tyre[3]
3. 55-Johnny Kent[2]
4. 55W-Danny Wood[5]
5. 21-Brandon Jennings[4]
6. 38-Jimmy Forrester[8]
7. 21X-Taylor Velasquez[11]
8. 55M-Corey McGehee[9]
9. 5B-Brock Cottrell[12]
10. 12M-Mitchell Barros[6]
11. 37-Jack Hall[7]
12. 2L-Brandon Leland[18]
13. 69-Greg York[10]
14. 24R-Kyle Roller[17]
15. 22T-Frank Taft[13]
16. 6K-Brylee Kilmer[16]
17. 39-Kimberly Tyre[14]
18. 9K-Kody Jenkins[15]
AmeriFlex Hose Accessories A-Main (40 Laps)
1. 22M-Rees Moran[6]
2. 1-Sean McClelland[4]
3. 78-Tanner Conn[5]
4. 9$-Kyle Clark[8]
5. 72C-Kayden Cole[10]
6. 42-Grady Mercer[2]
7. 55W-Danny Wood[16]
8. 20S-Sheldon Barksdale[1]
9. 5-Joe Bob Lee[7]
10. 31-Casey Wills[13]
11. 28-Joe Wood Jr[15]
12. 1T-Joshua Tyre[14]
13. 6-Cody Carter[20]
14. 5$-Danny Smith[12]
15. 938-Bradley Fezard[3]
16. 21-Brandon Jennings[19]
17. 38-Jimmy Forrester[18]
18. 55-Johnny Kent[17]
19. 1H-Hank Davis[9]
20. 50Z-Zach Chappell[11]
Lap Leaders: Sheldon Barksdale 1; Rees Moran 2-39
Margin of Victory: 6.493
D&G Contracting Hard Charger: Danny Wood +9