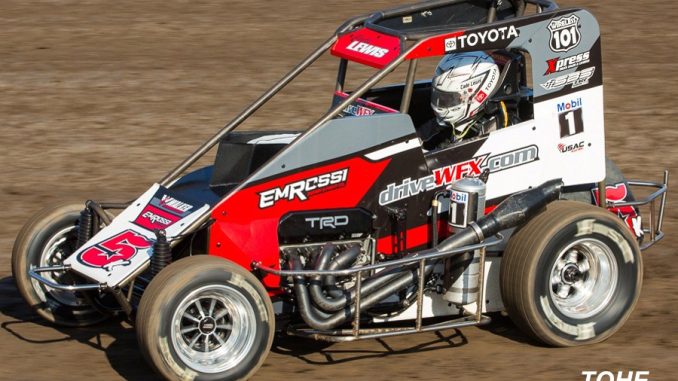 From USAC
MERCED, CALIFORNIA – JUNE 25, 2023… In one of the wildest USAC Western States Midget features in recent history, Bakersfield, California's Cade Lewis emerged victorious at Merced Speedway. With six official lead changes between Lewis, Blake Bower, and Brody Fuson, there were at least three other changes for the top spot. When the checkered flags waved, the night belonged to Lewis, who earned $1,500 for his efforts over Bower, fast qualifier Fuson, Randi Pankratz, and C.J. Sarna.
Before earning his first win of the season, Lewis piloted Dean "Kiwi" Alexander's #5K Wireless 101 / Mobil 1 Spike to second quick in time trials and won the night's 10-lap Hot Head Competition Engine Heaters Second Heat Race victory. With two career triumphs, Cade also earned the night's Ebbco Offroad / Tear-Off Heaven Fotos Hard Charger Award after starting fifth.
Brody Fuson of Bakersfield, California claimed the Woodland Auto Display Fast Time Award with a time of 12.481 seconds over the modest 10-car roster. Racing Rusty Carlile's #51 RPM Motorsports / Van Meter Motorsports Spike, Fuson took home $100 for his qualifying efforts, won the 10-lap Jordan Hanni Well Drilling First Heat Race, and led multiple times before finishing third in the main event. The point leader left the Merced County Fairgrounds with a 26-point advantage over the competition.
On Saturday, July 8th, the USAC Western States Midget Series will travel to Placerville Speedway for their only appearance at the El Dorado County Fairgrounds. For more event information, visit placervillespeedway.com.
The USAC Western States Midget Series thanks BR Motorsports, Brown & Miller Racing Solutions, Competition Suspension Incorporated, Ebbco Offroad, Esslinger Engineering, Extreme Mufflers, FloRacing, Graunstadt Enterprises, High Tech Performance, Hoosier Racing Tires, Hot Head Competition Engine Heaters, Jordan Hanni Well Drilling, Rod End Supply, Saldana Racing Products, Steve Lafond / Tear-Off Heaven Fotos, Wilwood Disc Brakes, Wireless 101, and Woodland Auto Display for their support.
For more information on the USAC Western States Midget Series, visit usacracing.com and the social media for USAC Racing. You can also find exclusive content on the USAC Western States Midget Facebook, Twitter and Instagram pages.
USAC WESTERN STATES MIDGET SERIES RACE RESULTS: June 24, 2023 – Merced Speedway – Merced, California
WOODLAND AUTO DISPLAY QUALIFICATONS: 1. Brody Fuson, 51, Carlile-12.481; 2. Cade Lewis, 5K, Alexander-12.688; 3. Ben Worth, 14J, Graustadt-12.740; 4. Blake Bower, 00, Davis-12.750; 5. C.J. Sarna, 20, Sarna-13.048; 6. Garrett Twitty, 4, Twitty-13.068; 7. Randi Pankratz, 8, Pankratz-13.106; 8. Danika Jo Faccinto, 13, Parker-13.438; 9. Ron Hazelton, 15, Hazelton-13.754; 10. Ben Covich, 65, Covich-NT.
JORDAN HANNI WELL DRILLING FIRST HEAT: (10 laps) 1. Fuson, 2. Worth, 3. Sarna, 4. Pankratz, 5. Hazelton. NT.
HOT HEAD COMPETITION ENGINE HEATERS SECOND HEAT: (10 laps) 1. Lewis, 2. Bower, 3. Faccinto, 4. Covich, 5. Twitty. NT.
SAMMY BAHR FEATURE: (30 laps, With Starting Positions) 1. Cade Lewis (5), 2. Blake Bower (3), 3. Brody Fuson (6), 4. Randi Pankratz (1), 5. C.J. Sarna (2), 6. Danika Jo Faccinto (8), 7. Ben Covich (10), 8. Ron Hazelton (9), 9. Ben Worth (4), 10. Garrett Twitty (7). NT.
—————————-
FEATURE LAP LEADERS: Laps 1-6 Bower, Laps 7-14 Lewis, Laps 15-17 Fuson, Laps 18-21 Lewis, Laps 22-26 Fuson, Laps 27-30 Lewis.
EBBCO OFFROAD / TEAR-OFF HEAVEN FOTOS HARD CHARGER: Cade Lewis (5th to 1st)
NEW USAC WESTERN STATES MIDGET POINTS: 1-Brody Fuson-390, 2-Cade Lewis-364, 3-Ben Worth-301, 4-Ron Hazelton-239, 5-Steve Paden-220, 6-C.J. Sarna-214, 7-Blake Bower-204, 8-Samuel May-193, 9-Randi Pankratz-173, 10-Bryan Drollinger-168.
NEW WOODLAND AUTO DISPLAY TOP QUALIFIER POINTS: 1-Brody Fuson-26, 2-Cade Lewis-14, 3-Caden Sarale-8, –Ben Worth-8, 5-C.J. Sarna-7, –Blake Bower-7, 7-Jake Andreotti-6, –Robby Josett-6, 9-David Gasper-5, 10-A.J. Bender-3, –Mitchel Moles-3, –Chase Johnson-3, –Randi Pankratz-3.
NEW SAMMY BAHR FEATURE POINTS: 1-Brody Fuson-329, 2-Cade Lewis-320, –Ben Worth-266, 4-Ron Hazelton-221, 5-Steve Paden-199, 6-C.J. Sarna-188, 7-Blake Bower-177, 8-Samuel May-167, 9-Bryan Drollinger-157, 10-Randi Pankratz-154.
NEW PASSING MASTER POINTS: 1-Cade Lewis-29, 2-Brody Fuson-15, 3-Ron Hazelton-14, 4-Steve Paden-7, –David Gasper-7, –Robby Josett-7, 7-Ben Covich-6, 8-Jake Andreotti-4, –Bryan Drollinger-4, –Garrett Twitty-4, –C.J. Sarna-4.
NEXT USAC WESTERN STATES MIDGET RACE: July 8 – Placerville Speedway – Placerville, California