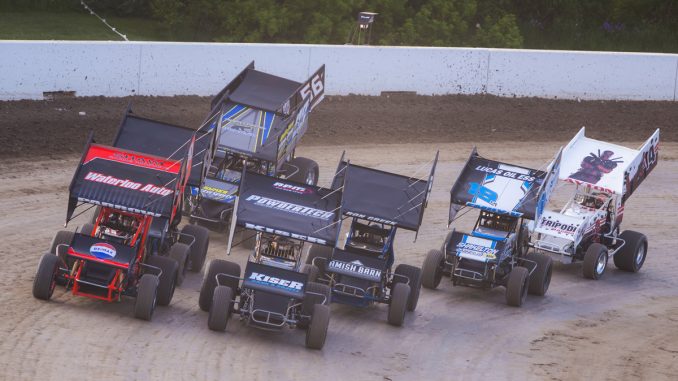 By Steven Ovens
(SODUS, NY) – The A-Verdi Storage Containers CRSA Sprints powered by Super Gen Products teams have spent the last several weeks preparing for their biggest stretch of races they have had so far in the 2023 season.
Rain has been an underlying story for half of the planned events going into Independence Day Weekend, however the heat will get turned up on Friday night at Penn Can Speedway. "The Can" will kick off a three races in four days stretch with stops Friday night at Penn Can, Sunday night at Thunder Mountain Speedway and Monday night at Land of Legends Raceway. If you include the Friday July 7 rescheduled event at Outlaw Speedway- the series will operate four times in eight days.
In recent years the drivers touring with CRSA have built a reputation for high levels of action and excitement. That effort on behalf of the series' teams is being rewarded on Friday night. A local sponsor, impressed by the traveling 305 sprint car series, has offered up two free pit passes per team for this Friday night's event at Penn Can Speedway. Any questions or clarifications on this offering can be handled by contacting Series Director Mike Emhof.
"Our teams have elevated the stature of 305 sprint car racing in the Northeast and we are extremely fortunate to have those efforts being rewarded by those in the racing community," noted Emhof.
Penn Can and their fans have annually welcomed the drivers of the CRSA Sprints with big crowds and have been treated to close racing, great battles for the lead and plenty of action. Friday night will be only the fourth race of the young 2023 season.
Following the Friday night visit to the state of Pennsylvania, the series will migrate North to the Spoonhower-owned Thunder Mountain Speedway for a Sunday night showdown during their Wade & Randy Decker Memorial event. First-time CRSA Sprints winners Peter Dance and Ronnie Greek are the defending winners on the mountain.
The next night, CRSA shares center stage with the Super DIRTcar Series as part of the Stars and Stripes 70 event and Round 2 of the DisBatch Brewing Company Challenge Series at Paul Cole's Land of Legends Raceway. Point leader Jordan Hutton is the defending winner from May at LOLR, also leading the points in the DisBatch Challenge.
Just four days later the series will head to Tyler Siri's Outlaw Speedway for a battle royale on the "Fast Four-Tenths-Mile" in Dundee, NY. Hutton won at Outlaw last year but it is 2020 Series Champion Darryl Ruggles who leads CRSA in victories at the Yates County speedplant with checkered flags in 2014 and 2016.
History will show that the CRSA event at Outlaw will be the sixth appearance of the organization dating back to 2012 in a co-promotion between Mike "Cruisin" VanDusen and then track owner, Dean Hoag.
Make your plans to be at the races over the course of these four nights! If you can't make it to the track- Friday June 30 will be covered on Race Report TV, Sunday July 2 will be broadcast on Dirt Track Digest TV and Monday July 3 will be carried exclusively on DIRTVision.
The A-Verdi Storage Containers CRSA Sprints are powered by Super Gen Products. Associate sponsors for 2023 include Pit Stop Convenience Stores, DisBatch Brewing Company, the Maguire Family of Dealerships, Powdertech Powdercoating, PJC Sprayfoam, Profab Enterprises, Magsarus Ignitions, Hoosier Racing Tire, Insinger Performance with their Stinger Race Fuel, My Race Pass and is owned and operated by Mike Emhof Motorsports.
For more information on the series, results, points and 2023 schedule please visit our website www.crsasprints.com