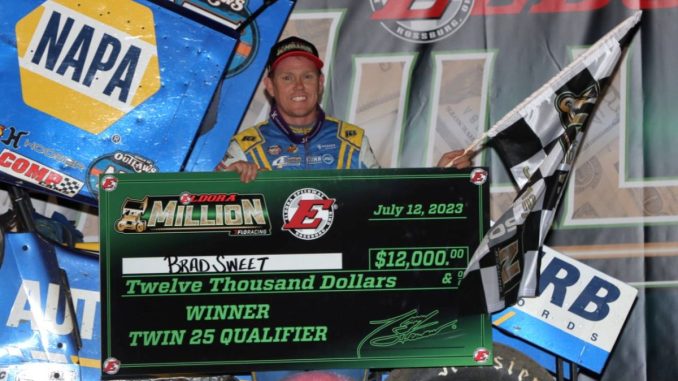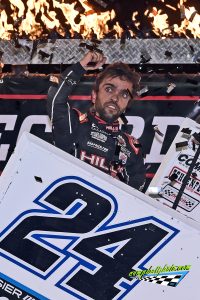 By T.J. Buffenbarger
ROSSBURG, Ohio (July 12, 2023) – The opening night of the Eldora Million at Eldora Speedway saw a pair of California natives in victory lane with Brad Sweet and Rico Abreu picking up wins in the twin 25-lap features.
Sweet, from Grass Valley, took home his sixth career feature at Eldora Speedway and eighth feature of the 2023 season passing Aaron Reutzel on lap 13 and drove away to victory.
Abreu, from St. Helena, came on after dropping back to third early to take the lead on lap 11 and held on through traffic as fellow Californian Carson Macedo surged up to second position for the win.
Feature Event #1
Retuzel took the lead on the initial start of the 25-lap main in group A while Donny Schatz drove into second position with Sweet in third. Sweet started to pressure Schatz on lap two while Kyle Larson drove back up to join the battle in fourth.
Sweet moved by Schatz to take second position on lap eight and closed in quickly on Reutzel for the lead when the caution flag appeared on lap 12 when Austin Bishop slowed with a flat right rear tire in turns one and two. Bishop's team made repairs and joined the tail of the field.
During the double file restart Sweet took the lead while Larson drove to second position, only for Reutzel to take the runner up spot back from Larson in the next corner.
Reutzel was able to start tracking down Sweet in the late stages of the race, but Sweet used traffic to his advantage to maintain the top position for the victory. Reutzel, Larson, fast qualifier Logan Schuchart, and James McFadden rounded out the top five.
Afterwards Sweet inicated the fast pace Reutzel used during restarts played to his strengths.
"My car was great. My guys gave me a great race car," said Sweet. "Those restarts were tricky. (Reutzel) carried a lot of pace, which I thought kind of gave me the advantage.I was surprised he chose the top, you know,
there wasn't a lot of meat out there. So I wasn't sure how it was gonna play out. He won the first one. The second one he waited a little longer. It gave me just a little bit more of an advantage. And once I got clean air my car was really good."
For Reutzel, part of the reason for the quick pace during restarts was due to his engine not taking off.
Feature Event #2
The second main event got off to a shocking start when front row starter Shane Stewart pulled off with mechanical issues. Stewart's team was unable to make repairs to start the feature.
This moved up Brian Brown to the front row, which he took advantage of to take the lead as Abreu dropped back to third behind David Gravel, who took the second position on lap two.
Gravel pressured Brown for the lead five laps into the main event while Carson Macedo moved up to fourth with a three wide move around Cole Duncan and Justin Peck on lap six.
Abreu's car came to life on lap 9, which allowed him to dispose of Gravel for second on lap 10 and one lap later pass Brian Brown for the lead.
Abreu pulled away as Macedo worked by Gravel on lap 12 and then passed Brown for second on lap 17.
Macedo started to close in on Abreu while running through slower traffic in the closing stages of the main event, but Abreu was able to hold on for the victory. Macedo, Gravel, Brown, and Peck rounded out the top five.
In victory lane Abreu was already looking towards the 50-lap finale on Thursday.
The Eldora Million – Twin 25's Night
Eldora Speedway
Rossburg, Ohio
Wednesday, July 12, 2023
Group A Qualifying
1. 1S-Logan Schuchart, 12.908[24]
2. 48-Danny Dietrich, 12.991[8]
3. 18-Giovanni Scelzi, 13.070[37]
4. 49X-Cale Thomas, 13.071[5]
5. 55P-Daryn Pittman, 13.084[19]
6. 19-Brent Marks, 13.089[1]
7. 49-Brad Sweet, 13.099[27]
8. 57-Kyle Larson, 13.108[20]
9. 15-Donny Schatz, 13.114[7]
10. 55T-McKenna Haase, 13.129[10]
11. 8-Aaron Reutzel, 13.139[26]
12. 35-Zach Hampton, 13.144[25]
13. 7-Ian Madsen, 13.151[30]
14. 11K-Kraig Kinser, 13.155[21]
15. 9-Kasey Kahne, 13.191[17]
16. 19L-CJ Leary, 13.192[12]
17. 83-James McFadden, 13.196[33]
18. 52-Blake Hahn, 13.211[22]
19. 91-Kyle Reinhardt, 13.211[3]
20. 20G-Noah Gass, 13.248[29]
21. 21H-Brady Bacon, 13.248[34]
22. 5-Spencer Bayston, 13.257[40]
23. 35B-Austin Bishop, 13.282[14]
24. 1M-Landon Myers, 13.292[15]
25. 24W-Garet Williamson, 13.302[18]
26. 17B-Bill Balog, 13.311[35]
27. 11T-TJ Stutts, 13.346[36]
28. 39-Hunter Schuerenberg, 13.350[41]
29. 99-Skylar Gee, 13.362[9]
30. 21T-Cole Macedo, 13.411[28]
31. 19W-Trent Pigdon, 13.438[23]
32. W20-Greg Wilson, 13.442[16]
33. 7S-Robbie Price, 13.443[38]
34. 26-Zeb Wise, 13.480[39]
35. 46-Michael Bauer, 13.486[13]
36. 11N-Harli White, 13.508[32]
37. 20B-Cody Bova, 13.544[31]
38. 13M-Brandon Matus, 13.550[4]
39. 3-Denny Peebles, 13.564[2]
40. 56R-Ryan Myers, 13.621[11]
41. 29-Carl Bowser, 13.758[42]
DNS: 15M-Mitch Harble, 13.411
Group B Qualifying
1. 2-David Gravel, 13.383[6]
2. 13-Justin Peck, 13.412[21]
3. 1A-Jacob Allen, 13.456[41]
4. 41-Carson Macedo, 13.503[9]
5. 55-Kerry Madsen, 13.542[5]
6. 9P-Parker Price Miller, 13.620[1]
7. 11-Cory Eliason, 13.641[13]
8. 22-Cole Duncan, 13.661[3]
9. 24-Rico Abreu, 13.680[29]
10. 45-Tim Shaffer, 13.700[18]
11. 71-Shane Stewart, 13.704[16]
12. 39M-Lance Dewease, 13.728[4]
13. 21-Brian Brown, 13.761[40]
14. 83JR-Michael Kofoid, 13.770[36]
15. 9R-Chase Randall, 13.795[23]
16. 25-Lachlan McHugh, 13.805[33]
17. 3Z-Brock Zearfoss, 13.813[11]
18. 5C-Dylan Cisney, 13.851[20]
19. 17-Sheldon Haudenschild, 13.865[35]
20. 4TS-Tyler Street, 13.886[24]
21. 15H-Sam Hafertepe Jr, 13.901[30]
22. 23Z-Zane DeVault, 13.904[28]
23. 42-Sye Lynch, 13.936[19]
24. 4-Chris Windom, 13.943[27]
25. 7BC-Tyler Courtney, 13.974[37]
26. 25R-Jordan Ryan, 13.986[34]
27. 17AU-Jamie Veal, 14.003[31]
28. 67-Justin Whittall, 14.012[32]
29. 81-Lee Jacobs, 14.073[15]
30. 15C-Chris Andrews, 14.095[14]
31. 2MD-Conner Morrell, 14.097[39]
32. 19P-Paige Polyak, 14.107[22]
33. 101-Cody Maroske, 14.140[10]
34. 11C-Kory Crabtree, 14.308[26]
35. 97-JJ Hickle, 14.314[38]
36. 4X-Bradley Ashford, 14.332[7]
37. 5T-Travis Philo, 14.381[25]
38. 4S-Danny Smith, 14.384[8]
39. 33-Brent Matus, 14.741[2]
40. 6X-Frank Rodgers III, 14.761[12]
41. 23M-Michael Millard, 14.936[17]
Group A Heat Race #1 (10 Laps)
1. 1S-Logan Schuchart[8]
2. 15-Donny Schatz[6]
3. 83-James McFadden[4]
4. 21H-Brady Bacon[3]
5. 7-Ian Madsen[5]
6. 99-Skylar Gee[1]
7. 7S-Robbie Price[9]
8. 55P-Daryn Pittman[7]
9. 20B-Cody Bova[10]
10. 29-Carl Bowser[11]
11. 24W-Garet Williamson[2]
Group A Heat Race #2 (10 Laps)
1. 21T-Cole Macedo[1]
2. 17B-Bill Balog[2]
3. 5-Spencer Bayston[3]
4. 52-Blake Hahn[4]
5. 55T-McKenna Haase[6]
6. 48-Danny Dietrich[8]
7. 19-Brent Marks[7]
8. 11K-Kraig Kinser[5]
9. 26-Zeb Wise[9]
10. 13M-Brandon Matus[10]
11. 15M-Mitch Harble[11]
Group A Heat Race #3 (10 Laps)
1. 35B-Austin Bishop[3]
2. 8-Aaron Reutzel[6]
3. 18-Giovanni Scelzi[8]
4. 49-Brad Sweet[7]
5. 91-Kyle Reinhardt[4]
6. 9-Kasey Kahne[5]
7. 11T-TJ Stutts[2]
8. 19W-Trent Pigdon[1]
9. 46-Michael Bauer[9]
10. 3-Denny Peebles[10]
Group A Heat Race #4 (10 Laps)
1. 39-Hunter Schuerenberg[2]
2. 57-Kyle Larson[7]
3. W20-Greg Wilson[1]
4. 20G-Noah Gass[4]
5. 49X-Cale Thomas[8]
6. 1M-Landon Myers[3]
7. 19L-CJ Leary[5]
8. 35-Zach Hampton[6]
9. 11N-Harli White[9]
10. 56R-Ryan Myers[10]
Group B Heat Race #1 (10 Laps)
1. 81-Lee Jacobs[1]
2. 21-Brian Brown[5]
3. 7BC-Tyler Courtney[2]
4. 2-David Gravel[8]
5. 24-Rico Abreu[6]
6. 15H-Sam Hafertepe Jr[3]
7. 55-Kerry Madsen[7]
8. 3Z-Brock Zearfoss[4]
9. 5T-Travis Philo[10]
10. 23M-Michael Millard[11]
11. 101-Cody Maroske[9]
Group B Heat Race #2 (10 Laps)
1. 5C-Dylan Cisney[4]
2. 25R-Jordan Ryan[2]
3. 83JR-Michael Kofoid[5]
4. 13-Justin Peck[8]
5. 23Z-Zane DeVault[3]
6. 45-Tim Shaffer[6]
7. 9P-Parker Price Miller[7]
8. 15C-Chris Andrews[1]
9. 11C-Kory Crabtree[9]
10. 4S-Danny Smith[10]
Group B Heat Race #3 (10 Laps)
1. 17-Sheldon Haudenschild[4]
2. 17AU-Jamie Veal[2]
3. 1A-Jacob Allen[8]
4. 71-Shane Stewart[6]
5. 2MD-Conner Morrell[1]
6. 42-Sye Lynch[3]
7. 33-Brent Matus[10]
8. 97-JJ Hickle[9]
9. 9R-Chase Randall[5]
10. 11-Cory Eliason[7]
Group B Heat Race #4 (10 Laps)
1. 41-Carson Macedo[8]
2. 19P-Paige Polyak[1]
3. 4-Chris Windom[3]
4. 67-Justin Whittall[2]
5. 22-Cole Duncan[7]
6. 25-Lachlan McHugh[5]
7. 39M-Lance Dewease[6]
8. 4TS-Tyler Street[4]
9. 6X-Frank Rodgers III[10]
10. 4X-Bradley Ashford[9]
Group A B-Main (12 Laps)
1. 48-Danny Dietrich[1]
2. 19-Brent Marks[2]
3. 55P-Daryn Pittman[3]
4. 26-Zeb Wise[14]
5. 9-Kasey Kahne[5]
6. 19L-CJ Leary[7]
7. 11K-Kraig Kinser[6]
8. 24W-Garet Williamson[11]
9. 99-Skylar Gee[10]
10. 7S-Robbie Price[13]
11. 35-Zach Hampton[4]
12. 11T-TJ Stutts[9]
13. 29-Carl Bowser[21]
14. 56R-Ryan Myers[20]
15. 11N-Harli White[16]
16. 46-Michael Bauer[15]
17. 20B-Cody Bova[17]
18. 15M-Mitch Harble[22]
19. 3-Denny Peebles[19]
20. 19W-Trent Pigdon[12]
21. 13M-Brandon Matus[18]
22. 1M-Landon Myers[8]
Group B B-Main (12 Laps)
1. 9P-Parker Price Miller[2]
2. 55-Kerry Madsen[1]
3. 25-Lachlan McHugh[6]
4. 11-Cory Eliason[4]
5. 3Z-Brock Zearfoss[8]
6. 39M-Lance Dewease[5]
7. 45-Tim Shaffer[3]
8. 15H-Sam Hafertepe Jr[9]
9. 4TS-Tyler Street[10]
10. 9R-Chase Randall[7]
11. 5T-Travis Philo[17]
12. 101-Cody Maroske[15]
13. 4X-Bradley Ashford[18]
14. 6X-Frank Rodgers III[20]
15. 33-Brent Matus[16]
16. 23M-Michael Millard[21]
17. 11C-Kory Crabtree[14]
18. 4S-Danny Smith[19]
DNS: 42-Sye Lynch
DNS: 15C-Chris Andrews
DNS: 97-JJ Hickle
A-Feature Twin 1 (25 Laps)
1. 49-Brad Sweet[6]
2. 8-Aaron Reutzel[7]
3. 57-Kyle Larson[3]
4. 1S-Logan Schuchart[1]
5. 83-James McFadden[10]
6. 19-Brent Marks[22]
7. 15-Donny Schatz[5]
8. 18-Giovanni Scelzi[2]
9. 26-Zeb Wise[24]
10. 5-Spencer Bayston[15]
11. 21H-Brady Bacon[16]
12. 49X-Cale Thomas[4]
13. 21T-Cole Macedo[19]
14. 91-Kyle Reinhardt[14]
15. W20-Greg Wilson[20]
16. 52-Blake Hahn[11]
17. 48-Danny Dietrich[21]
18. 55T-McKenna Haase[8]
19. 17B-Bill Balog[17]
20. 55P-Daryn Pittman[23]
21. 20G-Noah Gass[13]
22. 35B-Austin Bishop[12]
23. 7-Ian Madsen[9]
24. 39-Hunter Schuerenberg[18]
A-Feature Twin 2 (25 Laps)
1. 24-Rico Abreu[2]
2. 41-Carson Macedo[8]
3. 2-David Gravel[7]
4. 21-Brian Brown[3]
5. 13-Justin Peck[5]
6. 83JR-Michael Kofoid[9]
7. 1A-Jacob Allen[6]
8. 22-Cole Duncan[4]
9. 17-Sheldon Haudenschild[11]
10. 7BC-Tyler Courtney[15]
11. 9P-Parker Price Miller[21]
12. 5C-Dylan Cisney[10]
13. 11-Cory Eliason[24]
14. 25R-Jordan Ryan[13]
15. 55-Kerry Madsen[22]
16. 67-Justin Whittall[18]
17. 4-Chris Windom[12]
18. 81-Lee Jacobs[17]
19. 25-Lachlan McHugh[23]
20. 19P-Paige Polyak[19]
21. 2MD-Conner Morrell[20]
22. 23Z-Zane DeVault[14]
23. 17AU-Jamie Veal[16]
DNS: 71-Shane Stewart