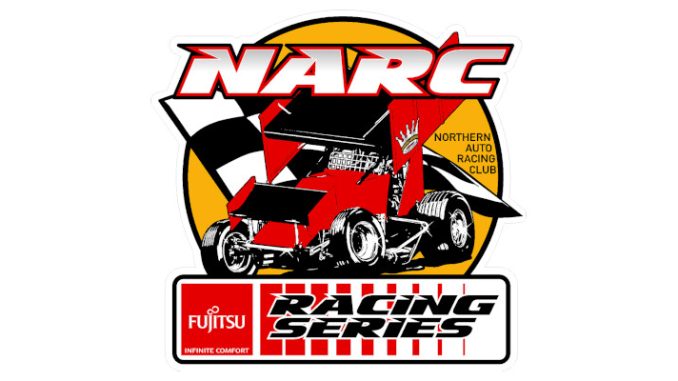 By Ben Deatherage
(7/15/23 ) Watsonville, CA … After finishing second three times, Shane Golobic scored an impressive $6,900 payday at Ocean Speedway, capturing the Howard Kaeding Classic. It was Golobic's 15th NARC 410 Sprint Car Series victory of his career, this one coming aboard the Matt Wood Racing NOS Energy Drink/Southern Pacific Farms #17W KPC.
"I'm happy to get this NOS Energy Drink car in victory lane at the HK for the first time," said a super excited Golobic. "I've wanted to win this for so many years and just never was able to get it done. These guys race hard out here in California and you have to be up on the wheel every lap."
Tim Kaeding set the initial pace in the 30-lap headliner aboard the Williams Motorsports/Dalton's Landscaping #0 Maxim. Kaeding was lightning fast in the open racetrack, but got hung up when slower traffic came into play on the seventh circuit. Golobic turned up the heat on Kaeding and managed to power underneath the leader in the fourth corner on the tenth circuit.
Golobic was not out of the woods, as he had to then deal with the challenges of NARC championship point leader Corey Day. Golobic survived several slide jobs, the last one which resulted in contact between the two frontrunners. With less than a mile remaining, Day and Golobic got tangled up in the second corner and Day limped to a stop with a flat tire. Golobic continued to roll forward.
Once the race resumed, Sanders challenged the leader, looking to score his second consecutive win at the event. Driving the MittryConstruciton.com/North County Plastering #2X Maxim, Sanders shadowed Golobic's every move but was unable to move past.
"I knew Corey (Day) and Justin (Sanders) were behind me, and their two of the best in the business; you got to go!" Golobic continued, after scoring his fifth win at the track. "This just feels really good. I can't thank these guys enough and my brother (Dustin) does an awesome job. He's the most underrated crew chief in my opinion."
Sanders collected $2500 for his second-place effort.
Kaeding managed to bounce back on the podium for a third-place $2100 run for his best career Howard Kaeding Classic performance. Kaeding also won the Sunnyvalley "Powered by Bacon" dash.
"This was amazing!" stated an ecstatic Tim Kaeding. "To be able to jump in the #0 car and be just as competitive as I have been in the last few years racing is an amazing feeling.
2017 champion Bud Kaeding in his Kaeding Performance/Alviso Rock #69 Maxim, finished fourth ahead of two-time defending NARC title winner Dominic Scelzi in the Whipple Superchargers/Scelzi Enterprises #41 Maxim.
Colby Copeland was sixth. Kaleb Montgomery, started 18th and finished seventh to earn the Williams Roofing Hard Charger Award. Sean Becker rallied to finish eighth after getting caught up in an opening lap incident. The balance of the Top 10 included 2019 NARC champ D.J. Netto and teenager Joey Ancona.
Tanner Carrick was the winner of the Kaeding Performance consolation feature.
Caleb DeDem and Gauge Garcia flipped in the heat race competition, while Justyn Cox and Dylan Bloomfield did so in the feature. All drivers escaped unharmed.
Golobic was the fastest driver in ARP Qualifying.
Heat race victories were collected by Copeland, Bud Kaeding, Tim Kaeding, and Ryan Bernal. Tim Kaeding would win the Sunnyvale Bacon Trophy Dash to earn inside pole starting honors.
FLORACING A-FEATURE (30 Laps): 1. 17W-Shane Golobic [2]; 2. 2X-Justin Sanders [4]; 3. 0-Tim Kaeding [1]; 4. 69-Bud Kaeding [7]; 5. 41-Dominic Scelzi [9]; 6. 5V-Colby Copeland [5]; 7. 3-Kaleb Montgomery [18]; 8. 7B-Sean Becker [6]; 9. 88N-DJ Netto [11]; 10. 88A-Joey Ancona [13]; 11. 83T-Tanner Carrick [20]; 12. 14-Corey Day [3]; 13. 26-Billy Aton [14]; 14. 72W-Kurt Nelson [17]; 15. 17-Kalib Henry [21]; 16. 24-Chase Johnson [16]; 17. 3D-Caleb Debem [23]; 18. 121-Caeden Steele [12]; 19. 12J-John Clark [19]; 20. 115-Nick Parker [10]; 21. 83V-Dylan Bloomfield [15]; 22. 42X-Justyn Cox [8]; 23. 25Z-Jason Chisum [22]; 24. 8-Jeremy Chisum [24]
METTEC TITANIUM LAP LEADERS: Tim Kaeding 1-9; Shane Golobic 10-30
WILLIAMS ROOFING HARDCHARGER: Kaleb Montgomery +11
ARP FAST QUALIFIER (31 Cars): Shane Golobic, 11.334 seconds
BROWN AND MILLER RACING SOLUTIONS HEAT ONE (10 Laps): 1. 5V-Colby Copeland [1]; 2. 2X-Justin Sanders [4]; 3. 115-Nick Parker [2]; 4. 26-Billy Aton [3]; 5. 72W-Kurt Nelson [5]; 6. 3D-Caleb Debem [7]; 7. 3M-Adam Kaeding [8]; 8. 4-Burt Foland Jr [6]
KIMO'S TROPICAL CAR WASH HEAT TWO (10 Laps): 1. 69-Bud Kaeding [2]; 2. 41-Dominic Scelzi [1]; 3. 17W-Shane Golobic [4]; 4. 24-Chase Johnson [6]; 5. 3-Kaleb Montgomery [5]; 6. 83T-Tanner Carrick [3]; 7. 37-Michael Pombo [8]; 8. 8-Jeremy Chisum [7]
BEACON WEALTH STRATEGIES & RAYMOND JAMES FINANCIAL HEAT THREE (10 Laps): 1. 0-Tim Kaeding [1]; 2. 42X-Justyn Cox [2]; 3. 88N-DJ Netto [6]; 4. 83V-Dylan Bloomfield [3]; 5. 7B-Sean Becker [4]; 6. 17-Kalib Henry [7]; 7. 09S-Geoffrey Strole [8]; 8. 2K-Gauge Garcia [5]
LIFELINE USA HEAT FOUR (10 Laps): 1. 22-Ryan Bernal [2]; 2. 14-Corey Day [4]; 3. 121-Caeden Steele [3]; 4. 88A-Joey Ancona [1]; 5. 12J-John Clark [6]; 6. 25Z-Jason Chisum [5]; 7. 75-Dalton Smith [7]
SUNNYVALLEY "POWERED BY BACON" TROPHY DASH (6 Laps): 1. 0-Tim Kaeding [2]; 2. 17W-Shane Golobic [1]; 3. 14-Corey Day [4]; 4.2X-Justin Sanders [6]; 5. 5V-Colby Copeland [3]; 6. 7B-Sean Becker [7]; 7. 69-Bud Kaeding [5]
KAEDING PERFORMANCE CENTER B-FEATURE (12 Laps): 1. 83T-Tanner Carrick [1]; 2. 17-Kalib Henry [5]; 3. 25Z-Jason Chisum [4]; 4. 3D-Caleb Debem [3]; 5. 8-Jeremy Chisum [11]; 6. 4-Burt Foland Jr [10]; 7. 75-Dalton Smith [9]; 8. 3M-Adam Kaeding [7]; 9. 37-Michael Pombo [6]; DNS 2K-Gauge Garcia; DNS 09S-Geoffrey Strole