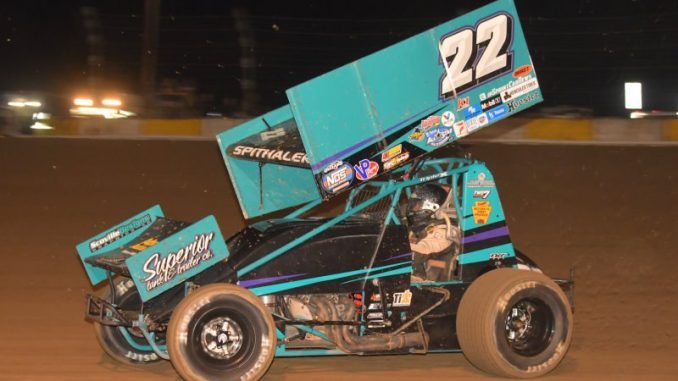 By Aaron Fry
Following a weekend off, the Ti22 Performance FAST On Dirt winged 410 sprint cars are ready to kick off the second half of the 2023 season. With eight events already completed, the battle for the championship couldn't be much closer. Evans City, Pennsylvania's Brandon Spithaler now holds a one point lead over Rawson, Ohio's Ricky Peterson after Peterson ran into some tough luck at the most recent event at Ohio Valley Speedway.
Justin Clark, a rookie in the 410 sprint car ranks, but a national champion in 305 racing, now holds down the third position, just 12 points ahead of Jordan Ryan who also ran into some terrible luck at Ohio Valley. Pennsylvania young gun Jeremy "Dream" Weaver is up into the 5th position, just 79 points behind Ryan. Jack Sodeman Jr, Danny Sams III, Sean Rayhall, Mitch Harble and Kasey Jedrzejek round out the current top 10.
The FAST tour will kick-off the second half of the season this weekend with a tripleheader weekend. On Friday night, the winged warriors will try once again to initiate the Hilltop Speedway in Millersburg, Ohio. On Saturday, the tour will make its fourth of 5 2023 appearances at its unofficial home, the historic Wayne County Speedway near Orrville, Ohio. Finally, on Sunday, the weekend will conclude at the beautiful Tri-City Speedway near Franklin, Pennsylvania.
For competing teams, the standard FAST purse is in effect all 3 nights and will pay out as follows: 3000, 1500, 1000, 750, 650, 550, 500, 475, 450, 425, 400, 390, 380, 370, 360, 350, 350, 350, 350, 350. Heat races also pay the top 4: 40, 30, 20, 10 thanks to NAPA Of Fremont, Mad Tree Brewing of Cincinnati, and Outsider's Merchandise & Apparel, the official merchandiser of BOSS and FAST! Hard Charger and Hard Luck awards of $50 each are provided by All Star Performance and E A Home Supply of Chillicothe, Ohio.
All competing cars must be on 4 corner Hoosier Racing Tires. The rears must be a 2022 or 2023 national spec compound. Left rears can be the H12 or D12A and right rears must be the Medium, H15 or D15A. You do not have to run the same right rear all night. There will be tires and fuel at all 3 race tracks. Wings must be flat top with a maximum 2″ wickerbill. We will be using the yellow Westhold transponders both Friday and Saturday night and the series will have them for rent for $5 per night. On Sunday at Tri-City, we will be using the red or gray "my laps" transponders and rental there will be $10. Raceceiver radios are madatory anytime cars are under power on the race track, including engine heat. Mufflers ARE REQUIRED Saturday at Wayne County. There are never any entry fees or membership fees with the FAST tour!
Friday night at Hilltop, gates open at 4 pm with driver meeting set for 6:30 with hot laps at 7 and racing at 8. Adult general admission is $20 while pit passes are $40. On Saturday at Wayne County, gates will open at 3 pm with driver meeting at 5:30, hot laps at 6 and racing at 7. Adult general admission is $20 with pit passes $35. There IS a $100 fast time bonus at Wayne County courtesy of Integrity Auto & Truck Sales of Bucyrus. Finally, on Sunday, pit gates open at 2:30 with driver meeting at 5:30, hot laps at 6 and racing at 7.
We look forward to seeing everyone this weekend! Please get out and support the race tracks with your presence in the grandstands. If you can't, try to support a race track near you to keep our industry healthy. If you can't make it out, remember, our FAST and BOSS tour events are available live on TheCushion.com.