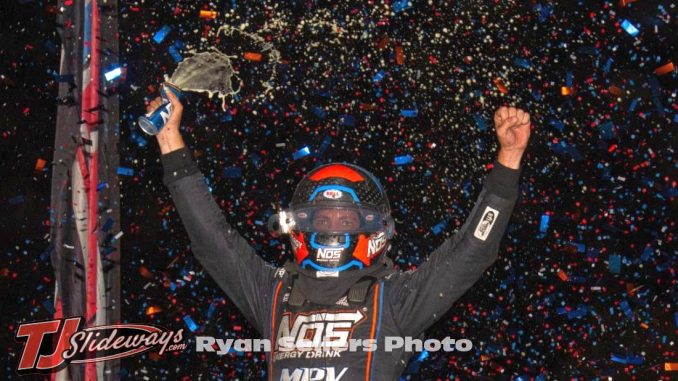 GAS CITY, In. (July 21, 2023) — Justin Grant opened Indiana Sprint Week in spectacular style losing the lead coming to the white flag to Robert Ballou only to pass Ballou on the final corner to win by 0.005 seconds Friday at Gas City I-69 Speedway with the USAC AMSOIL National Sprint Car Series. The victory was the fourth of the year for the driver from Ione, California.
After the race Grant indicated he knew he might be under fire once slower cars came into play during that feature event.
"I tried to kind of circle that lap car on the outside and I was like, 'Oh, that wasn't good!'" said Grant in victory lane. "I knew if Robert jammed in there we're able to get back by. Fortunately we had a really good race car so I would have hated to lose that one for for Kevin Birchmeier and, and TOPP Motorsports, NOS Energy Drink, MPV Express, they all give me a heck of an opportunity to drive this to drive this number four car and I'm super grateful. super thankful for it."
Grant enlisted in some help for Indiana Sprint Week from one of the first car owners that hired him after leaving the West Coast.
"I'm really really grateful for my old buddy, my old pal, Jeff Walker, coming back and then crew chief for me again," said Grant. "t's pretty cool for me. You know, Jeff was the first guy to hire me and now I've gotten to hire Jeff and we're having a lot of fun racing and it feels good to get us in victory lane."
The initial start of the main event was short lived when Bayden Fox flipped between turns three and four. Fox emerged from the car under his own power.
Grant took the lead on the second attempt to the start that only lasted one lap when Alex Bright, who was running second, spun while challenging Grant for the lead. Bright stayed under power, but has to go to the tail due to being charged with the caution flag. Thomas Meseraull also was swept up in the incident and restarted at the tail of the field.
After the restart Grant continued to lead with Colton Cottle and Bacon in third.
The red flag appeared again for a big crash between Larry Kingseed and C.J. Leary in turn one. Both drivers exited the cars under their own power, but the cleanup was extensive.
Grant continued to pull away from the field while Ballou drove up to the third spot and started to pressure Cottle for second. On lap 10 Bacon was able to drive by both Ballou and Cottle for the runner up position off turn four.
Bacon's time in second was short lived as he swapped positions with Ballou multiple times before Ballou grasped the second position on lap 13 off turn four.
On lap 22 Grant started overtaking the back of the field and allowed Ballou and Bacon to close. Eventually Grant and Ballou separated themselves from Bacon and setup a memorable finish.
Ballou kept working the back bumper of Grant, and made his moving coming to the white flag off turn four to take the lead. Grant refused to give up and was able to move a lapped car up a lane off the bottom while Ballou went to the top of the track. Grant got just enough of a run off turn four to win by the narrowest of margins. Ballou was second with Bacon, Mitchel Moles, and Kevin Thomas Jr. rounding out the top five.
USAC AMSOIL SPRINT CAR NATIONAL CHAMPIONSHIP RACE RESULTS: July 21, 2023 – Gas City I-69 Speedway – Gas City, Indiana – 1/4-Mile Dirt Track – 36th Annual USAC NOS Energy Drink Indiana Sprint Week Presented by Honest Abe Roofing
HONEST ABE ROOFING QUALIFYING: 1. Brayden Fox, 53, Fox-11.639; 2. Emerson Axsom, 47BC, Clauson Marshall Newman-11.715; 3. Matt Westfall, 33m, Marshall-11.740; 4. Alex Bright, 27, Heffner-11.756; 5. Brady Bacon, 69, Dynamics-11.771; 6. Kyle Cummins, 3R, Rock Steady-11.779; 7. Justin Grant, 4, TOPP-11.797; 8. Colten Cottle, 57, Hazen-11.805; 9. Robert Ballou, 12, Ballou-11.809; 10. Max Adams, 17GP, Dutcher-11.825; 11. Mitchel Moles, 19AZ, Reinbold/Underwood-11.853; 12. Harley Burns, 16, Burns-11.856; 13. Braxton Cummings, 71B, Cummings-11.917; 14. Carson Garrett, 15, BGE Dougherty-11.930; 15. Tim Creech, 31, Creech-11.931; 16. Geoff Ensign, 3F, Ensign-11.950; 17. Cole Bodine, 57B, Bodine-11.961; 18. C.J. Leary, 15x, BGE Dougherty-11.965; 19. Larry Kingseed Jr., 21, Kingseed-11.966; 20. Saban Bibent, 98, Wedgewood-11.972; 21. Kevin Thomas Jr., 42, Cheney-11.973; 22. Thomas Meseraull, 23K, NIKSTE-11.991; 23. Logan Seavey, 2B, 2B Racing-12.034; 24. Xavier Doney, 74, Doney/Lawson-12.058; 25. Tayte Williamson, 20, Williamson-12.091; 26. Stevie Sussex, 77s, Sturgeon-12.102; 27. Jadon Rogers, 14, 4J Motorsports-12.106; 28. Shane Cottle, 2E, Epperson-12.106; 29. Jake Swanson, 21AZ, Team AZ-12.123; 30. Joey Amantea, 88J, Amantea-12.133; 31. Zack Pretorius, 9z, Pretorius-12.171; 32. Brandon Mattox, 28, Mattox-12.173; 33. Chase Stockon, 5s, KO-12.181; 34. Dustin Ingle, 2DI, Ingle-12.214; 35. Logan Calderwood, 6, Calderwood-12.224; 36. Ryan Barr, 21B, Barr-12.245; 37. Matt Goodnight, 39, Goodnight-12.247; 38. Colin Grissom, 00, Grissom-12.277; 39. Eddie Tafoya Jr., 51T, Tafoya-12.295; 40. Dave Darland, 36D, Darland/Curb-Agajanian-12.309; 41. Charles Davis Jr., 47, Davis-12.318; 42. Dalton Stevens, 99x, Stevens-12.320; 43. Rylan Gray, 06, Gray-12.334; 44. Marcus Smith, 28s, Smith-12.336; 45. Evan Mosley, 27m, Barkdull-12.354; 46. Brent Beauchamp, 11, Beauchamp-12.354; 47. Sterling Cling, 34, Cling-12.365; 48. Brayden Clark, 42G, Jackson/Clark-12.421; 49. Kobe Simpson, 21K, Simpson-12.508; 50. Scott Evans, 118, Evans-12.514; 51. Justin Zimmerman, 1, D-Up-12.583; 52. Devan Myers, 75, Myers-12.599; 53. Travis Thompson, 7, Thompson-12.637; 54. Daison Pursley, 5p, KO-12.824; 55. Troy Carey, 45N, Carey-12.850; 56. Travis Millar, 93AU, Millar-13.054; 57. Noah Whitehouse, 00w, Whitehouse-13.190; 58. Jack James, 99, James-NT
SIMPSON RACE PRODUCTS FIRST HEAT: (10 laps, top-4 transfer to the feature) 1. Kevin Thomas Jr., 2. Robert Ballou, 3. Brayden Fox, 4. Brady Bacon, 5. Jake Swanson, 6. Chase Stockon, 7. Cole Bodine, 8. Charles Davis Jr., 9. Evan Mosley, 10. Braxton Cummings, 11. Travis Thompson, 12. Noah Whitehouse, 13. Tayte Williamson, 14. Kobe Simpson, 15. Matt Goodnight. NT
ROD END SUPPLY SECOND HEAT: (10 laps, top-4 transfer to the feature) 1. C.J. Leary, 2. Thomas Meseraull, 3. Carson Garrett, 4. Emerson Axsom, 5. Stevie Sussex, 6. Kyle Cummins, 7. Max Adams, 8. Joey Amantea, 9. Brent Beauchamp, 10. Daison Pursley, 11. Dustin Ingle, 12. Dalton Stevens, 13. Colin Grissom, 14. Scott Evans. 2:01.78
T.J. FORGED THIRD HEAT: (10 laps, top-4 transfer to the feature) 1. Larry Kingseed Jr., 2. Logan Seavey, 3. Justin Grant, 4. Jadon Rogers, 5. Tim Creech, 6. Mitchel Moles, 7. Matt Westfall, 8. Zack Pretorius, 9. Sterling Cling, 10. Eddie Tafoya Jr., 11. Logan Calderwood, 12. Rylan Gray, 13. Justin Zimmerman, 14. Troy Carey. 2:05.55
CAR IQ FOURTH HEAT: (10 laps, top-4 transfer to the feature) 1. Colten Cottle, 2. Xavier Doney, 3. Geoff Ensign, 4. Alex Bright, 5. Harley Burns, 6. Dave Darland, 7. Travis Millar, 8. Brayden Clark, 9. Ryan Barr, 10. Devan Myers, 11. Marcus Smith, 12. Saban Bibent, 13. Shane Cottle, 14. Brandon Mattox. NT
THE FROLIC BAR & GRILL D-MAIN: (8 laps, top-2 transfer to the C-Main) 1. Brayden Clark, 2. Evan Mosley, 3. Sterling Cling, 4. Justin Zimmerman, 5. Kobe Simpson, 6. Daison Pursley, 7. Devan Myers, 8. Travis Millar, 9. Travis Thompson, 10. Noah Whitehouse, 11. Troy Carey, 12. Scott Evans. 1:42.39
STEEL-IT C-MAIN: (10 laps, top-4 transfer to the semi) 1. Dustin Ingle, 2. Brandon Mattox, 3. Colin Grissom, 4. Ryan Barr, 5. Chase Stockon, 6. Zack Pretorius, 7. Dalton Stevens, 8. Dave Darland, 9. Evan Mosley, 10. Charles Davis Jr., 11. Matt Goodnight, 12. Logan Calderwood, 13. Brayden Clark, 14. Rylan Gray, 15. Eddie Tafoya Jr. 2:11.42
ELLIOTT'S CUSTOM TRAILERS & CARTS SEMI: (12 laps, top-6 transfer to the feature) 1. Kyle Cummins, 2. Matt Westfall, 3. Mitchel Moles, 4. Max Adams, 5. Braxton Cummings, 6. Shane Cottle, 7. Cole Bodine, 8. Jake Swanson, 9. Harley Burns, 10. Brandon Mattox, 11. Joey Amantea, 12. Tim Creech, 13. Ryan Barr, 14. Colin Grissom, 15. Stevie Sussex, 16. Saban Bibent, 17. Tayte Williamson, 18. Dustin Ingle. 2:36.19
FEATURE: (30 laps, starting positions in parentheses) 1. Justin Grant (2), 2. Robert Ballou (12), 3. Brady Bacon (3), 4. Mitchel Moles (14), 5. Kevin Thomas Jr. (9), 6. Kyle Cummins (11), 7. Emerson Axsom (5), 8. Colten Cottle (1), 9. Logan Seavey (19), 10. Matt Westfall (10), 11. Shane Cottle (22), 12. Braxton Cummings (15), 13. Alex Bright (4), 14. Geoff Ensign (17), 15. Jadon Rogers (21), 16. Jake Swanson (23-P), 17. Xavier Doney (20), 18. Chase Stockon (24-P), 19. Max Adams (13), 20. Carson Garrett (16), 21. Larry Kingseed Jr. (8), 22. C.J. Leary (7), 23. Thomas Meseraull (18), 24. Brayden Fox (6). NT
(P) represents a provisional starter
FEATURE LAP LEADERS: Laps 1-28 Justin Grant, Lap 29 Robert Ballou, Lap 30 Justin Grant.
**Mitchel Moles flipped during qualifying. Brandon Mattox flipped during the fourth heat. Shane Cottle flipped during the fourth heat. Stevie Sussex flipped during the semi. Brayden Fox flipped on lap 1 of the feature. Larry Kingseed Jr. & C.J. Leary flipped on lap 8 of the feature.
USAC AMSOIL SPRINT CAR NATIONAL CHAMPIONSHIP POINTS: 1-Emerson Axsom-1255, 2-Brady Bacon-1235, 3-Jake Swanson-1227, 4-Justin Grant-1225, 5-Kyle Cummins-1196, 6-C.J. Leary-1129, 7-Mitchel Moles-1100, 8-Robert Ballou-1028, 9-Chase Stockon-1021, 10-Daison Pursley-999.
USAC NOS ENERGY DRINK INDIANA SPRINT WEEK PRESENTED BY HONEST ABE ROOFING POINTS: 1-Justin Grant-76, 2-Robert Ballou-74, 3-Brady Bacon-71, 4-Kevin Thomas Jr.-66, 5-Mitchel Moles-63, 6-Emerson Axsom-62, 7-Kyle Cummins-60, 8-Colten Cottle-57, 9-Logan Seavey-53, 10-Matt Westfall-50.
OVERALL PROSOURCE PASSING MASTER POINTS: 1-Daison Pursley-116, 2-Logan Seavey-78, 3-Matt Westfall-70, 4-Justin Grant-62, 5-Robert Ballou-61, 6-Chase Stockon-60, 7-Brady Bacon-48, 8-Mitchel Moles-45, 9-Emerson Axsom-43, 10-Carson Garrett-43.
USAC INDIANA SPRINT WEEK PROSOURCE PASSING MASTER POINTS: 1-Shane Cottle-17, 2-Robert Ballou-12, 3-Mitchel Moles-11, 4-Logan Seavey-10, 5-Evan Mosley-10, 6-Travis Millar-10, 7-Jadon Rogers-9, 8-Jake Swanson-8, 9-Colin Grissom-8, 10-Ryan Barr-7.
NEXT USAC AMSOIL SPRINT CAR NATIONAL CHAMPIONSHIP RACE: July 22, 2023 – Kokomo Speedway – Kokomo, Indiana – 1/4-Mile Dirt Track – 36th Annual USAC NOS Energy Drink Indiana Sprint Week Presented by Honest Abe Roofing