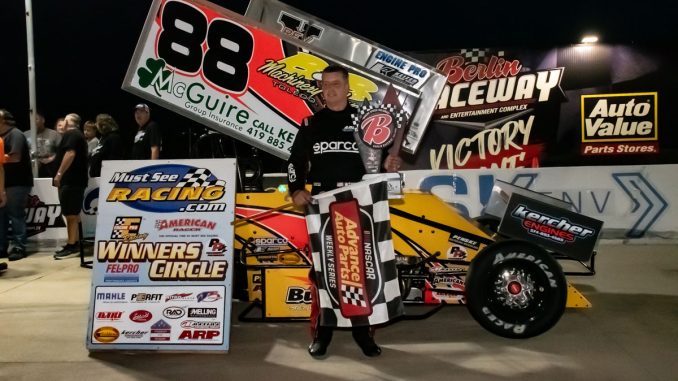 From Must See Racing
MARNE, Mich. (July 22, 2023) – If Jimmy McCune's Friday night Must See Racing Engine Pro Sprint Car Series win was a wild fight, his Saturday night victory at Berlin Raceway was a simple, sunset cruise.
McCune made it look easy at the seven-sixteenths-mile oval en route to scoring his second trophy in as many days. He started from the outside pole, took the lead at the outset, and never trailed in the 30-lap feature, holding off Davey Hamilton Jr. the whole way for his fourth feature win of the season.
The five-time series champion from Toledo, Ohio, weathered two caution periods and subsequent restarts before taking the checkered flag in front by 1.872 seconds.
"That was a special car, right there," said McCune after his 42nd career Must See Racing win and third series victory at Berlin. "Kerch (Engine builder Dick Kercher) had this motor set on kill tonight. The car would do anything that I wanted or needed it to. We've worked our tails off trying to get this thing to run right over the past couple of months and it's nice to see those efforts finally rewarded with the finishes this team is capable of.
"I know a lot of people might have doubted us after the rough start to the season, but we're back where we need to be now and we're looking forward to carrying this momentum into the last month of the tour."
The first slowdown in the main event was for an ailing Quintin Saayman on the backstretch with nine laps complete, while the second yellow flag waved with nine laps to go after Anthony McCune spun entering turn three and smacked the inside wall with the back end of his familiar No. 8 machine.
Hamilton ran second to McCune for all 30 laps Saturday night, trying several different things in traffic in an event to get around the race-long leader, to no avail.
"Our restart speed wasn't the best in the feature tonight," Hamilton lamented. "We weren't where we needed to be on the short runs, but as the laps went on we got better and better … and just didn't need that last caution, I don't think. We were better in traffic, but that last yellow hurt us and just got Jimmy back in the clean air where he was a little stronger than we were.
"We had nothing for him at the end, but still a really strong effort for this team and we feel like a victory this year is coming; I feel good about where our program is at."
Series point leader Jason Blonde maintained his advantage over defending champion Charlie Schultz with a third-place finish. Mike McVetta used a pass on the final restart to claim fourth and Schultz was fifth. Polesitter Teddy Alberts faded to eighth from the top starting position in the main event.
Schultz limited the ground lost by kicking off the night with his third fast time of the season, touring Berlin's semi-banked oval in 13.300 seconds (118.421 mph) in qualifying with his Star Customs-backed No. 9s sprint car.
Bobby Komisarski and Tommy Nichols split the first two heat race victories, while Rick Holley claimed the fully-inverted Engine Pro Fast Car Dash heat race that featured the fastest eight cars from qualifying.
The Must See Racing Engine Pro Sprint Car Series season continues back at Berlin Raceway on Aug. 12 with the tour's third and final visit this season to the historic facility.
For more information on Must See Racing, visit www.mustseeracing.com.
The finish:
1. 88-Jimmy McCune [2], 2. 14-Davey Hamilton Jr. [4], 3. 42-Jason Blonde [5], 4. 50m-Mike McVetta [6], 5. 9s-Charlie Schultz [7], 6. 7-Bobby Komisarski [10], 7. 99-Dorman Snyder [9], 8. 44-Teddy Alberts [1], 9. 55-Tommy Nichols [11], 10. 17-Andrew Bogusz [14], 11. Z10-Kevin Mingus [15], 12. 23-Charlie Baur [17], 13. 72s-Joe Speakman [12], 14. 85-Rick Holley [8], 15. 8-Anthony McCune [3], 16. 11g-Tom Geren [18], 17. 77-Quintin Saayman [16], 18. 81-Johnny Petrozelle III [13].
Lap Leader(s): Jimmy McCune 1-30.
Hard Charger: #23 – Charlie Baur (+5)