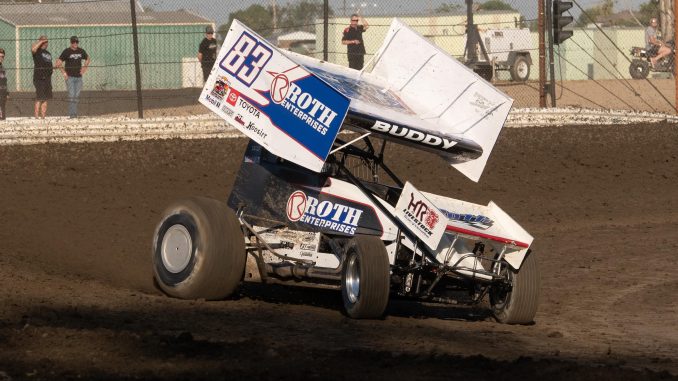 By Tyler Altmeyer
ODESSA, Mo. (July 28, 2023) – Penngrove, California's Buddy Kofoid made it look almost easy on Friday night at I-70 Motorsports Park in Odessa, Missouri, conquering Tezos All Star Circuit of Champions presented by Mobil 1 competition for his first Series victory of the 2023 season. The All Star Invasion presented by El Bandido Yankee Tequila triumph secured Kofoid an $8,000 payday, leading all 30 circuits around I-70's state-of-the-art complex while keeping Lake Ozark winner, Aaron Reutzel, and recent High Limit victor, Rico Abreu, at bay.
Lining up third on the A-Main grid, the initial start was all it took for Kofoid to claim command, earning the advantage to lead lap one over Zeb Wise and Rico Abreu. The only hiccup in Kofoid's perfect campaign, the main event's lone caution flew on lap 22 setting up a nine-lap dash to the finish. The field restack did not matter, as Kofoid sailed away for the victory.
Aaron Reutzel and Rico Abreu did their fair share of sliders for second, eventually settling into their finishing positions in the closing circuits.
Clovis, California's Corey Day would race home fourth after starting 17th, followed by fellow California hotshoe, Justin Sanders.
"I feel like we've been knocking at the door for a while. I knew I was really good here last year, and ultimately could be even better here this year. Just so happy to get a win for Roth Motorsports and Toyota Racing. This is a team I've always admired growing up and it was always a dream to have the opportunity to race for them," Kofoid, ace of the Roth Motorsports No. 83JR sprint car, said. "This track is really demanding. People wouldn't think that considering how big and wide it is, but it really takes a lot out of you. Everyone did one hell of a job and I'm so happy to be here."
ON DECK:
Concluding the Series' Midwest takeover, the Sprint Car Capital of the World, Knoxville Raceway in Knoxville, Iowa, will host "America's Series" on Saturday, July 29, welcoming the Tony Stewart-owned organization for the first and only time in 2023. The Saturday night staple will award $8,000, simultaneously giving All Star competitors a taste of Knoxville Raceway prior to the coveted Knoxville Nationals in mid-August.
For those who can not witness the All Star Circuit of Champions live and in person, FloRacing.com, the official media partner and broadcast provider of the All Stars, has you covered. To access live and on-demand racing action from the All Star Circuit of Champions, visit FloRacing.com and become an annual PRO subscriber. Race fans can see all the USAC and dirt late-model action they want in addition to Eldora Speedway's slate of races and those of the All Star Circuit of Champions. The subscription unlocks access to premium content across the entire FloSports network. Watch the events across all screens by downloading the FloSports app on iOS, Android, Apple TV, Roku, Amazon Fire and Chromecast. Find subscription here: https://flosports.link/3XJOg5Z
Contingency Awards/Results: I-70 Motorsports Park | July 28, 2023:
All Star Invasion presented by El Bandido Yankee Tequila
$8,000-to-win
Kistler Racing Products Pill Draw | Entries: 28
Macri Concrete/Nunzi's Advertising Hot Laps: Rico Abreu | 13.631
Hercules Tires Fast Qualifier: Rico Abreu | 13.663
Hunt Brothers Pizza Heat #1 Winner: Zeb Wise
Competition Suspension Inc Heat #2 Winner: Buddy Kofoid
All Pro Aluminum Cylinder Heads Heat #3 Winner: Kerry Madsen
Elliott's Custom Trailers and Carts Dash Winner: Zeb Wise
Classic Ink USA B-Main Winner: Cody Maroske
Rayce Rudeen Foundation Contingency Award: J.J. Hickle
Tezos A-Main Winner: Buddy Kofoid
Tezos A-Main Hard Charger: Corey Day (+13)
Carquest Perseverance Award: Sye Lynch
Tezos A Feature (30 Laps): 1. 83JR-Michael Kofoid[3]; 2. 8-Aaron Reutzel[4]; 3. 24-Rico Abreu[2]; 4. 14-Corey Day[17]; 5. 39M-Justin Sanders[10]; 6. 26-Zeb Wise[1]; 7. 55-Kerry Madsen[5]; 8. 24W-Garet Williamson[9]; 9. 21-Brian Brown[6]; 10. 9-Kasey Kahne[18]; 11. 15H-Sam Hafertepe Jr[8]; 12. 12X-Ayrton Gennetten[7]; 13. 17AU-Jamie Veal[14]; 14. 16TH-Parker Price Miller[16]; 15. 7BC-Anthony Macri[11]; 16. 45-Tim Shaffer[21]; 17. 18T-Tanner Holmes[15]; 18. 4-Chris Windom[22]; 19. 29-Sye Lynch[23]; 20. 45AU-Rusty Hickman[20]; 21. 6-Mario Clouser[24]; 22. 25-Lachlan McHugh[12]; 23. 21T-Cole Macedo[13]; 24. 97-JJ Hickle[25]; 25. 101-Cody Maroske[19] LAP LEADERS: Buddy Kofoid (1-30)
Classic Ink USA B Feature (8 Laps): 1. 101-Cody Maroske[1]; 2. 45AU-Rusty Hickman[2]; 3. 45-Tim Shaffer[4]; 4. 4-Chris Windom[3]; 5. 29-Sye Lynch[8]; 6. 6-Mario Clouser[7]; 7. 97-JJ Hickle[5]; 8. 16THH-Kevin Newton[10]; 9. (DNS) 28M-Conner Morrell; 10. (DNS) 7-Paul Solomon
Elliotts Custom Trailers and Carts Dash (6 Laps): 1. 26-Zeb Wise[1]; 2. 24-Rico Abreu[3]; 3. 83JR-Michael Kofoid[2]; 4. 8-Aaron Reutzel[6]; 5. 55-Kerry Madsen[5]; 6. 21-Brian Brown[4]
Hunt Brothers Pizza Heat 1 (8 Laps): 1. 26-Zeb Wise[1]; 2. 12X-Ayrton Gennetten[2]; 3. 24-Rico Abreu[4]; 4. 39M-Justin Sanders[3]; 5. 21T-Cole Macedo[5]; 6. 14-Corey Day[7]; 7. 45-Tim Shaffer[8]; 8. 101-Cody Maroske[6]; 9. 6-Mario Clouser[9]; 10. 16THH-Kevin Newton[10]
CSI Shocks Heat 2 (8 Laps): 1. 83JR-Michael Kofoid[1]; 2. 21-Brian Brown[4]; 3. 24W-Garet Williamson[2]; 4. 7BC-Anthony Macri[3]; 5. 17AU-Jamie Veal[5]; 6. 9-Kasey Kahne[8]; 7. 45AU-Rusty Hickman[6]; 8. 97-JJ Hickle[7]; 9. 29-Sye Lynch[9]
All Pro Aluminum Cylinder Heads Heat 3 (8 Laps): 1. 55-Kerry Madsen[1]; 2. 15H-Sam Hafertepe Jr[2]; 3. 8-Aaron Reutzel[4]; 4. 25-Lachlan McHugh[3]; 5. 18T-Tanner Holmes[5]; 6. 16TH-Parker Price Miller[6]; 7. 4-Chris Windom[7]; 8. 28M-Conner Morrell[8]; 9. 7-Paul Solomon[9]
Hercules Tire Qualifying: 1. 24-Rico Abreu, 00:13.663[23]; 2. 21-Brian Brown, 00:13.770[2]; 3. 8-Aaron Reutzel, 00:13.801[16]; 4. 26-Zeb Wise, 00:13.819[11]; 5. 83JR-Michael Kofoid, 00:13.857[12]; 6. 55-Kerry Madsen, 00:13.857[3]; 7. 12X-Ayrton Gennetten, 00:13.887[4]; 8. 24W-Garet Williamson, 00:13.906[18]; 9. 15H-Sam Hafertepe Jr, 00:13.953[8]; 10. 39M-Justin Sanders, 00:13.960[25]; 11. 7BC-Anthony Macri, 00:13.964[5]; 12. 25-Lachlan McHugh, 00:13.971[1]; 13. 21T-Cole Macedo, 00:13.997[15]; 14. 17AU-Jamie Veal, 00:14.028[6]; 15. 18T-Tanner Holmes, 00:14.066[28]; 16. 101-Cody Maroske, 00:14.092[10]; 17. 45AU-Rusty Hickman, 00:14.124[9]; 18. 16TH-Parker Price Miller, 00:14.126[24]; 19. 14-Corey Day, 00:14.130[14]; 20. 97-JJ Hickle, 00:14.197[22]; 21. 4-Chris Windom, 00:14.198[7]; 22. 45-Tim Shaffer, 00:14.212[26]; 23. 9-Kasey Kahne, 00:14.243[21]; 24. 28M-Conner Morrell, 00:14.297[13]; 25. 6-Mario Clouser, 00:14.374[27]; 26. 29-Sye Lynch, 00:14.397[20]; 27. 7-Paul Solomon, 00:14.908[17]; 28. 16THH-Kevin Newton, 00:15.267[19]
2023 All Star Circuit of Champions OWNER Standings (As of 7/28):
Rudeen Racing – 3712
Clauson Marshall Racing – 3688
Vermeer Motorsports – 3592
Lane Racing – 3536
Bryan Grove Racing – 3452
Seeling Motorsports – 3266
Bill McCandless Ford – 3216
D3 Motorsports Group – 2928
Premier Motorsports – 2224
2023 All Star Circuit of Champions DRIVER Standings (As of 7/28):
Zeb Wise – 3602
Chris Windom – 3536
Tim Shaffer – 3452
J.J. Hickle – 3266
Tyler Courtney – 3023
Conner Morrell -2928
Sye Lynch – 2888
Parker Price-Miller – 2224
Scotty Thiel – 2114
Anthony Macri – 1928