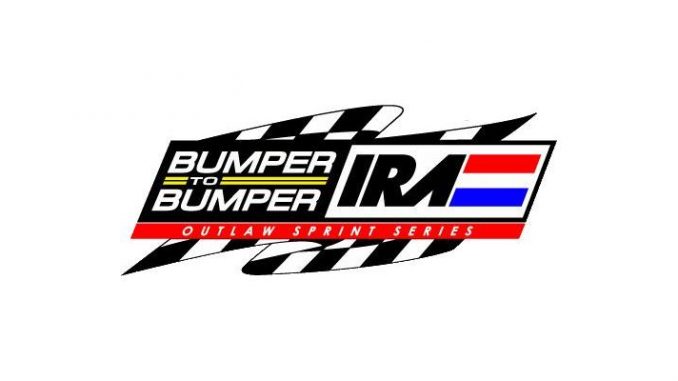 By Mike Babicz
(Wilmot, Wis., Saturday, July 29, 2023)–Brenham Crouch of Lubbock, Texas made his first Bumper to Bumper Interstates Racing Association Outlaw Winged feature win memorable by capturing the 25-lap IRA Founder's Night presented by Body Craft of Antioch, IL feature Saturday, July 29 at Wilmot Raceway.
"I heard a lot about this race and the prestige of winning here at Wilmot," said the 17-year-old of his first ever IRA feature win coming at the original home track of the IRA. "My team and our sponsors have been very supportive and it feels great to finally get a feature win. I appreciate the crowd coming out with the weather kind of iffy. We will be back for the Fair race(August 19)."
Crouch's name will join the previous Founder's Night winners on the trophy sponsored by the Southeastern Wisconsin Short Track Racing Hall of Fame and the perennial trophy will be displayed at the HOF in Hartford. Previous winners are Dale Blaney in 2014 and 2015, Bill Balog in 2016, 2017 and 2020; Jake Blackhurst in 2018, Jeremy Schultz in 2019, Scott Neitzel in 2021 and Danny Schlafer in the rain delayed 2022 event. Founder's Night is in recognition of the original founders of the IRA, Whitey Harris, the late Ray Toft and the late Junior Dodd.
Scotty Thiel of Sheboygan took the initial lead in the main, with Bill Balog of Hartford, originally from North Pole, AK, taking over the point as the pair encountered traffic on lap 17. Balog appeared headed for a fourth Founder's Night win when he spun off the cushion in turn four with three laps to go. Crouch took the lead on the restart, with a final yellow coming a lap later setting up a green-white-checkered finish.
With traffic cleared Crouch maintained the lead going on to the prestigious win for the IRA season pointleader. Thiel held on for second. Joel Myers Jr. of Santa Rosa, CA was third. Tim Estenson of Fargo, ND fourth. Travis Arenz of Sheboygan Falls came from 14th starting spot to finish fifth.
"We kind of put this thing together at the last minute, and to lead for a while and run up front, plus end up second to Brenham, makes it feel good," said Thiel.
"We had a good battle with Scotty Thiel at the end, and to finish on the podium in our first ever time here feels good," said Myers.
Ryan Zielski of Oconomowoc won his third CK Contractors/AutoMeter Wisconsin Wingless Sprints Powered by Gandrud Performance Parts feature at Wilmot this season.
The feature was shortened due to curfew following a red flag when Tate Hensley flipped in turn four and Ryan Marshall collided with the upside down mount. Neither were injured. A caution for a spin three laps later set up a green-white-checkered finish due to curfew. Zielski shot to the outside on the backstretch on the white flag lap, powering past Allen Hafford of Beach Park, IL who had led to that point with Clayton Rossmann of Wadsworth, IL who was second at the time.
At the finish it was Zielski with the win. Hafford took second edging out Rossmann who was third. Watertown's Greg Alt was fourth. Zach Raidart of Gurnee, IL fifth.
"I have to thank my dad who is back with me in victory lane which means a lot, and our team and local sponsors," said Zielski. "It was fun racing with Allen and Clayton."
Due to the curfew, the Pfeiffer Trailer Sales IRA Lightning Sprints feature was not run. Pleasant Prairie's Mike Neau and Nick Petska of Spring Grove, IL each won heat races. Oak Creek's Mark Heinert posted fast time.
Several Vintage IRA race cars were on display. Mel Babel brought the Ron Marish/Bill Klein Car #1. MJ Both had his uncle Johnny Reimer's A3, which was also driven by Whitey Harris and owned originally by Fred Nielsen of Lake Villa. Bob Jors the owner of the #4 driven by Whitey Harris and Billy Schmidt. Jeff Allard owner of the #16 of the late Allen Kautz. Jim Moulis of Fox Lake, IL who won the first feature ever held at the current Wilmot track location was on hand with his winged sprint car which he last drove in 2006 in a asphalt race at Lake Geneva Raceway. Dan Erikson, who put together the Vintage display, brought the #60 which was driven by his late grandfather William "Pop" Klein who won the first ever race, a heat race, held on the Wilmot track in its current location when it opened there in 1973.
Wilmot Raceway returns to action on Saturday, August 5 with Family Night featuring the CK Contractors/AutoMeter Wisconsin Wingless Sprints Powered by Gandrud Performance Parts, Modifieds, Street Stocks and Bandit 4-Cylinder Stock Cars. Grandstands open at 5 p.m. with on track activity slated at 5:30 p.m. and racing planned for 6:45 p.m. Grandstand admission is $15.00 for adults ages 12 & over, with everyone ages 11 & under admitted free. Pits open at 3 p.m. with all pit passes being $30.00.
Media Results for 7/29/2023 at Wilmot Raceway – Wilmot, WI
410 Sprints – Winged 38 Entries
A Feature 25 Laps
1. 1-Brenham Crouch[5]; 2. 73-Scotty Thiel[2]; 3. 46-Joel Myers Jr[7]; 4. 14T-Tim Estenson[1]; 5. 25T-Travis Arenz[14]; 6.
3N-Jake Neuman[8]; 7. 10W-Mike Reinke[6]; 8. 23-Russel Borland[15]; 9. W20-Greg Wilson[12]; 10. 17B-Bill Balog[3]; 11.
25-Danny Schlafer[9]; 12. 2W-Scott Neitzel[13]; 13. 26-Tyler Tischendorf[16]; 14. 7A-Will Armitage[18]; 15. 79-Blake
Nimee[19]; 16. 68-Dave Uttech[4]; 17. 19-Todd Daun[17]; 18. 10V-Matt VandeVere[23]; 19. 49-Josh Schneiderman[22]; 20.
U2-Jack Vanderboom[20]; 21. 4K-Kris Spitz[24]; 22. 87A-Austin Hartmann[10]; 23. (DNS) 65-Jordan Goldesberry; 24. (DNS)
16C-Tylar Rankin
B Feature 12 Laps | 00:08:55.000
1. 16C-Tylar Rankin[1]; 2. 49-Josh Schneiderman[2]; 3. 10V-Matt VandeVere[6]; 4. 4K-Kris Spitz[17]; 5. 21-Will Gerrits[4]; 6.
19CW-Ion Stear[3]; 7. 70-Chris Klemko[5]; 8. 3B-Shelby Bosie[10]; 9. 34-Kevin Hinich[9]; 10. 43-Jereme Schroeder[8]; 11.
38-Allen Hafford[11]; 12. 39D-Michael Decker[13]; 13. 16-Anthony Knierim[12]; 14. 65X-Russell Deblauw[15]; 15. (DNS) 99-
Tyler Brabant; 16. (DNS) 24-Scott Conger; 17. (DNS) 55-Austin Deblauw
Dash 1 4 Laps
1. 14T-Tim Estenson[1]; 2. 17B-Bill Balog[5]; 3. 1-Brenham Crouch[4]; 4. 46-Joel Myers Jr[3]; 5. 25-Danny Schlafer[2]
Dash 2 4 Laps
1. 73-Scotty Thiel[1]; 2. 68-Dave Uttech[2]; 3. 10W-Mike Reinke[3]; 4. 3N-Jake Neuman[5]; 5. 87A-Austin Hartmann[4]
Heat 1 8 Laps
1. 17B-Bill Balog[4]; 2. 65-Jordan Goldesberry[1]; 3. 2W-Scott Neitzel[2]; 4. 1-Brenham Crouch[3]; 5. 79-Blake Nimee[7]; 6.
16C-Tylar Rankin[5]; 7. 24-Scott Conger[9]; 8. 34-Kevin Hinich[8]; 9. 65X-Russell Deblauw[10]; 10. (DNF) 9K-Kyle
Schuett[6]
Heat 2 8 Laps
1. 14T-Tim Estenson[2]; 2. 25-Danny Schlafer[3]; 3. 23-Russel Borland[1]; 4. 46-Joel Myers Jr[4]; 5. 19-Todd Daun[6]; 6.
19CW-Ion Stear[7]; 7. 70-Chris Klemko[5]; 8. 38-Allen Hafford[8]; 9. 39D-Michael Decker[9]
Heat 3 8 Laps
1. 68-Dave Uttech[2]; 2. 25T-Travis Arenz[9]; 3. 10W-Mike Reinke[4]; 4. 87A-Austin Hartmann[1]; 5. 7A-Will Armitage[6]; 6.
49-Josh Schneiderman[3]; 7. 43-Jereme Schroeder[8]; 8. 3B-Shelby Bosie[5]; 9. 99-Tyler Brabant[10]; 10. 4K-Kris Spitz[7]
Heat 4 8 Laps
1. 73-Scotty Thiel[4]; 2. W20-Greg Wilson[1]; 3. 3N-Jake Neuman[3]; 4. 26-Tyler Tischendorf[5]; 5. U2-Jack Vanderboom[9];
6. 21-Will Gerrits[2]; 7. 10V-Matt VandeVere[6]; 8. 16-Anthony Knierim[8]; 9. (DNF) 55-Austin Deblauw[7]
Qualifying A | 00:11:24.000
1. 17B-Bill Balog, 00:12.649[12]; 2. 46-Joel Myers Jr, 00:12.696[9]; 3. 1-Brenham Crouch, 00:12.739[11]; 4. 25-Danny
Schlafer, 00:12.772[1]; 5. 2W-Scott Neitzel, 00:12.775[6]; 6. 14T-Tim Estenson, 00:12.875[5]; 7. 65-Jordan Goldesberry,
00:12.944[16]; 8. 23-Russel Borland, 00:13.035[3]; 9. 16C-Tylar Rankin, 00:13.154[7]; 10. 70-Chris Klemko, 00:13.162[10];
11. 9K-Kyle Schuett, 00:13.218[19]; 12. 19-Todd Daun, 00:13.239[13]; 13. 79-Blake Nimee, 00:13.252[4]; 14. 19CW-Ion
Stear, 00:13.421[14]; 15. 34-Kevin Hinich, 00:13.483[15]; 16. 38-Allen Hafford, 00:13.578[17]; 17. 24-Scott Conger,
00:13.592[2]; 18. 39D-Michael Decker, 00:13.969[8]; 19. 65X-Russell Deblauw, 00:14.504[18]
Qualifying B | 00:09:22.000
1. 10W-Mike Reinke, 00:12.647[12]; 2. 73-Scotty Thiel, 00:12.815[10]; 3. 49-Josh Schneiderman, 00:12.978[13]; 4. 3N-Jake
Neuman, 00:13.002[16]; 5. 68-Dave Uttech, 00:13.045[3]; 6. 21-Will Gerrits, 00:13.053[2]; 7. 87A-Austin Hartmann,
00:13.091[5]; 8. W20-Greg Wilson, 00:13.117[9]; 9. 3B-Shelby Bosie, 00:13.158[18]; 10. 26-Tyler Tischendorf,
Powered by MyRacePass 7/30/2023 1:50AM CST
00:13.286[14]; 11. 7A-Will Armitage, 00:13.294[19]; 12. 10V-Matt VandeVere, 00:13.306[8]; 13. 4K-Kris Spitz, 00:13.331[7];
14. 55-Austin Deblauw, 00:13.400[4]; 15. 43-Jereme Schroeder, 00:13.415[11]; 16. 16-Anthony Knierim, 00:13.423[15]; 17.
25T-Travis Arenz, 00:13.450[17]; 18. U2-Jack Vanderboom, 00:13.451[6]; 19. 99-Tyler Brabant, 00:13.592[1]
Hot Laps | 00:11:35.000
1. 10W-Mike Reinke[31]; 2. 73-Scotty Thiel[29]; 3. 16-Anthony Knierim[34]; 4. 7A-Will Armitage[38]; 5. 17B-Bill Balog[12]; 6.
3N-Jake Neuman[35]; 7. 49-Josh Schneiderman[32]; 8. 3B-Shelby Bosie[37]; 9. 25T-Travis Arenz[36]; 10. 21-Will
Gerrits[21]; 11. 19CW-Ion Stear[14]; 12. 25-Danny Schlafer[1]; 13. 65-Jordan Goldesberry[16]; 14. 19-Todd Daun[13]; 15.
10V-Matt VandeVere[27]; 16. 1-Brenham Crouch[11]; 17. U2-Jack Vanderboom[25]; 18. W20-Greg Wilson[28]; 19. 9K-Kyle
Schuett[19]; 20. 26-Tyler Tischendorf[33]; 21. 43-Jereme Schroeder[30]; 22. 16C-Tylar Rankin[7]; 23. 14T-Tim
Estenson[5]; 24. 2W-Scott Neitzel[6]; 25. 68-Dave Uttech[22]; 26. 4K-Kris Spitz[26]; 27. 23-Russel Borland[3]; 28. 34-Kevin
Hinich[15]; 29. 38-Allen Hafford[17]; 30. 79-Blake Nimee[4]; 31. 24-Scott Conger[2]; 32. 70-Chris Klemko[10]; 33. 39D-
Michael Decker[8]; 34. 99-Tyler Brabant[20]; 35. 65X-Russell Deblauw[18]; 36. 87A-Austin Hartmann[24]; 37. 55-Austin
Deblauw[23]; 38. 46-Joel Mye