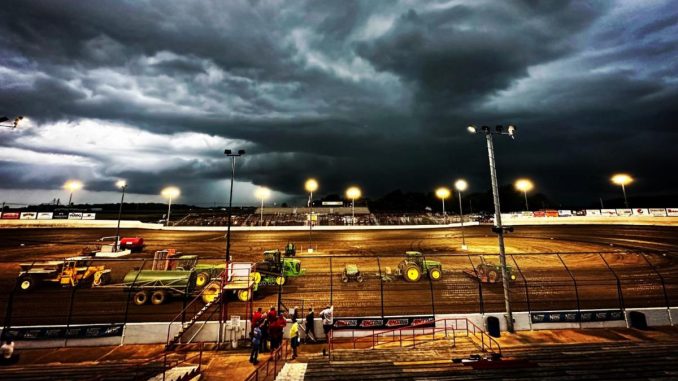 From USAC
Haubstadt, Indiana (July 29, 2023)………Mother nature slammed Tri-State Speedway just before hot laps on Saturday night, forcing cancellation of the finale of the 36th annual edition of USAC NOS Energy Drink Indiana Sprint Week Presented By Honest Abe Roofing.
Torrential rainstorms heavily saturated the racetrack, infield and pit area as tornado sirens sounded when the racing program was just about set to begin. There will be no makeup date, putting an end to
Brady Bacon (Broken Arrow, Okla.) is officially the champion of USAC Indiana Sprint Week 2023 by an eight-point margin over Justin Grant. It's Bacon's second Indiana Sprint Week championship after previously taking the crown in 2016.
Thirty-eight (38) cars and drivers were on hand for the Tri-State event before the rain came.
=====================
USAC AMSOIL SPRINT CAR NATIONAL CHAMPIONSHIP RACE RESULTS: July 29, 2023 – Tri-State Speedway – Haubstadt, Indiana – 1/4-Mile Dirt Track – 36th Annual USAC NOS Energy Drink Indiana Sprint Week Presented by Honest Abe Roofing
CARS & DRIVERS IN ATTENDANCE: (38) Justin Zimmerman (#1 D-Up), Logan Seavey (#2B 2B Racing), Kyle Cummins (#3R Rock Steady), Justin Grant (#4 TOPP), Donny Brackett (#4B Brackett), Kayla Roell (#5K KO), Daison Pursley (#5p KO), Chase Stockon (#5s KO), Trey Osborne (#6T Osborne), Sam Scott (#7s Scott), Eddie Vancil (#7v Vancil), Aric Gentry (#10 Gentry), Robert Ballou (#12 Ballou), Adyn Schmidt (#12s Schmidt), Jadon Rogers (#14 4J Motorsports), Carson Garrett (#15 BGE Dougherty), C.J. Leary (#15x BGE Dougherty), Kendall Ruble (#17 Ruble), Mitchel Moles (#19AZ Reinbold-Underwood), Tayte Williamson (#20 Williamson), Jake Swanson (#21AZ Team AZ), Brandon Mattox (#28 Mattox), Matt Westfall (#33m Marshall), Briggs Danner (#39 Hogue), Stephen Schnapf (#39F Hoosier Speed-Fortune), Kevin Thomas Jr. (#42 Cheney), Troy Carey (#45N Carey), Charles Davis Jr. (#47 Davis), Emerson Axsom (#47BC Clauson Marshall Newman), Johnny Ivers (#55 Ivers-Thomas), Brady Short (#61m Edwards), Brady Bacon (#69 Dynamics), Braxton Cummings (#71B Cummings), Dustin Beck (#75 Hensen-Rupp), J.J. Hughes (#76 Hughes), Stan Beadles (#84 Beadles), Joey Amantea (#88J Amantea) & Travis Millar (#93AU Millar).
USAC AMSOIL SPRINT CAR NATIONAL CHAMPIONSHIP POINTS: 1-Brady Bacon-1638, 2-Emerson Axsom-1619, 3-Justin Grant-1615, 4-Jake Swanson-1559, 5-Kyle Cummins-1539, 6-C.J. Leary-1469, 7-Robert Ballou-1372, 8-Mitchel Moles-1364, 9-Chase Stockon-1325, 10-Daison Pursley-1275.
FINAL USAC NOS ENERGY DRINK INDIANA SPRINT WEEK PRESENTED BY HONEST ABE ROOFING POINTS: 1-Brady Bacon-474, 2-Justin Grant-466, 3-Robert Ballou-418, 4-Kyle Cummins-403, 5-Emerson Axsom-399, 6-C.J. Leary-371, 7-Kevin Thomas Jr.-366, 8-Shane Cottle-346, 9-Jake Swanson-342, 10-Carson Garrett-340.
OVERALL PROSOURCE PASSING MASTER POINTS: 1-Daison Pursley-145, 2-Logan Seavey-84, 3-Robert Ballou-81, 4-Shane Cottle-81, 5-Matt Westfall-79, 6-Brady Bacon-77, 7-Justin Grant-70, 8-Emerson Axsom-64, 9-Chase Stockon-63, 10-C.J. Leary-51.
FINAL USAC INDIANA SPRINT WEEK PROSOURCE PASSING MASTER POINTS: 1-Shane Cottle-82, 2-Brady Bacon-49, 3-Joey Amantea-46, 4-Robert Ballou-45, 5-Daison Pursley-37, 6-Logan Seavey-33, 7-Emerson Axsom-31, 8-Kevin Thomas Jr.-30, 9-Braxton Cummings-29, 10-Mitchel Moles-28.
NEXT USAC AMSOIL SPRINT CAR NATIONAL CHAMPIONSHIP RACES: August 24-25-26, 2023 – Kokomo Speedway – Kokomo, Indiana – 1/4-Mile Dirt Track – Elliott's Custom Trailers & Carts Sprint Car Smackdown XII