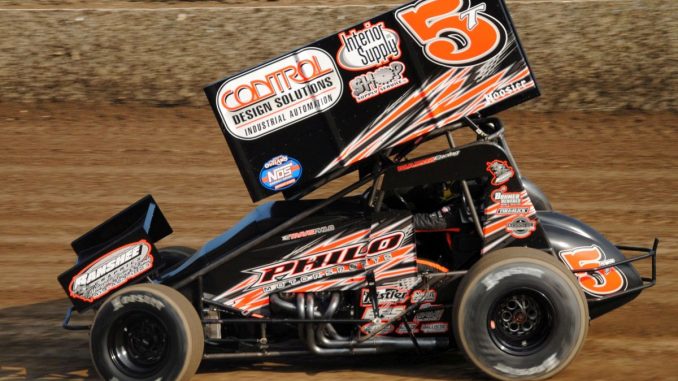 By Brian Liskai
FREMONT, Ohio –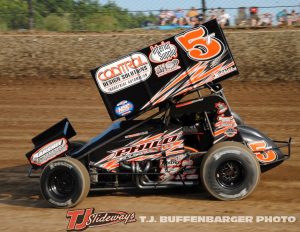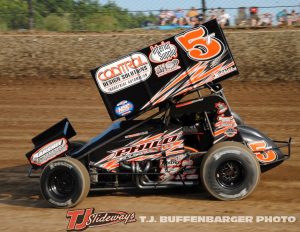 Waterville, Ohio's Travis Philo banged wheels with Cap Henry coming to the checkers of the Fort Ball Pizza Palace 410 Sprint feature to claim his second career win at "The Track That Action Built." Henry's second place finish increases his point lead in the All Pro Aluminum Cylinder Heads/Kistler Racing Products Attica Fremont Championship Series presented by the Baumann Auto Group.
Cale Thomas, Nate Dussel and Stuart Brubaker rounded out the top five in a 30-lap feature that did not see a caution until 10 laps to go. A caution with three laps remaining set up the dramatic finish with Philo winning by .123 seconds
"We didn't need those yellows. That last lap was definitely my worst lap of the race. Hats off to my guys. We had a hell of a car. I have to thank my dad first off…I wouldn't be here without him. AJ Havens and Kayden…they are doing a hell of a job. We have a really fast car right now," said Philo beside his Control Design Solutions, Tire Slick, Banshee Graphics, Columbus Equipment, Bohmer Rentals, Kistler Engines, Berryman Racing Shocks, Classic Ink USA backed #5T.
In the Great Lakes Super Sprints (360 sprints) feature Elida, Ohio's Max Stambaugh led all 25 laps but coming to the checkers former Fremont track champion Nate Dussel made it exciting. The duo raced side by side for the win and Stambaugh got the win by .004 seconds for his first career victory at the track. Jared Horstman, Phil Gressman and Brandon Moore rounded out the top five.
"This place beats me up. Every time we come here I just think about going to the casino in Toledo. I might have to do that a little bit tonight. Hats off to my race team. It's a hot day out and they worked really hard and it paid off. I got a little lackadaisical there…Nate is a really good racer and to hold him off…we're getting to crunch time with our group and it's going to be fast. I need to thank Smith Motorsports…they give me an opportunity to race. My buddy Tyson, Zac, Ty, Steve…my guys…I have a really good group of people around me," said Stambaugh beside his TC Powersports, Jim Coffey and Son Plumbing, Sharkbite Plumbing Products, Polaris Off-Road backed machine.
In the Fremont Federal Credit Union 305 Sprint feature, Dustin Stroup jumped into the early lead but eighth place starter Paul Weaver, a four time and defending Fremont Speedway champion, used lapped traffic to catch and pass Stroup for the lead on lap 15. In the non-stop 25 lap affair, Weaver drove away for his third win of the season at the track with Stroup, John Ivy, Jamie Miller and Logan Riel rounding out the top five.
It is Weaver's 74th career victory at Fremont Speedway, putting him into a tie for second on the all-time win list, just two away from Art Ball atop the standings. The victory also pads Weaver's lead for a fourth straight NAPA of Bryan Attica Fremont Championship Series presented by Jason Dietsch Trailer Sales title.
"We had all kinds of problems at Attica this year…it's like going from zero to hero when we come to Fremont. It was a real racy track. I'd rather have this than a wide open no passing track. The rear-end in this car came from Jimmy Colvin who hasn't raced in six or eight years. The chassis is a 2009. The right rear tire I bought from my nephew Jason Keckler who hasn't raced in four or five years. I have to thank Bob Hampshire, Pam and Steve Brown, Mike from M&L Excavating and my great crew," said Weaver of his B&B Drain Service, Hampshire Engines, M&L Excavating backed #1W.
Fremont Speedway will be back in action for a big weekend double-header, Friday and Saturday, Aug. 4 and 5 with the AFCS 410 and 305 sprints and dirt trucks in action. Thanks to great support from area businesses and individuals, added money has been put into the purses both nights. There will be a classic car drive-in at the campground on Saturday and lots of fun and games planned beside the racing.
On Friday, Aug. 4 the pit booth will open at 4 p.m. with pit gates at 4:30 p.m. and grandstand gates opening at 5 p.m. with racing under way at 7:45 p.m. Saturday the pit booth will open at 3 p.m. with the pit gates opening at 3:30 p.m., general admission gates at 4 p.m. and racing at 7 p.m.
Keep up to date with Fremont Speedway by going to www.fremontohspeedway.com or on Facebook at www.facebook/FremontSpeedway or on Twitter at https://twitter.com/FremontSpeedway.
Fremont Speedway 2
Saturday, July 29, 2023
410 Sprints – Fort Ball Pizza Palace
Qualifying
1.29-Zeth Sabo, 13.643; 2.23-Cale Thomas, 13.714; 3.33w-Cap Henry, 13.947; 4.5T-Travis Philo, 14.108; 5.X-Mike Keegan, 14.133; 6.15C-Chris Andrews, 14.323; 7.8M-TJ Michael, 14.461; 8.32-Bryce Lucius, 14.468; 9.35-Stuart Brubaker, 14.513; 10.10-Justin Adams, 14.612; 11.21-Larry Kingseed, 14.796; 12.9Z-Duane Zablocki, 14.935; 13.26W-Cody White, 14.936; 14.5-Byron Reed, 14.938; 15.98-Robert Robenalt, 14.996; 16.75-Jerry Dahms, 14.996; 17.2-AJ Aldrich, 15.012; 18.88-Jimmy McCune, 15.181; 19.1-Nate Dussel, 99.999;
Heat 1, Group A – (8 Laps)
1. 5T-Travis Philo[1] ; 2. 29-Zeth Sabo[4] ; 3. 1-Nate Dussel[7] ; 4. 33w-Cap Henry[2] ; 5. 23-Cale Thomas[3] ; 6. 2-AJ Aldrich[6] ; 7. 98-Robert Robenalt[5]
Heat 2, Group B – (8 Laps)
1. X-Mike Keegan[4] ; 2. 21-Larry Kingseed[1] ; 3. 10-Justin Adams[2] ; 4. 9Z-Duane Zablocki[5] ; 5. 15C-Chris Andrews[3] ; 6. 75-Jerry Dahms[6]
Heat 3, Group C – (8 Laps)
1. 35-Stuart Brubaker[2] ; 2. 5-Byron Reed[5] ; 3. 26W-Cody White[1] ; 4. 8M-TJ Michael[4] ; 5. 32-Bryce Lucius[3] ; 6. 88-Jimmy McCune[6]
A-Main 1 – (30 Laps)
1. 5T-Travis Philo[4] ; 2. 33w-Cap Henry[3] ; 3. 23-Cale Thomas[7] ; 4. 1-Nate Dussel[9] ; 5. 35-Stuart Brubaker[5] ; 6. 29-Zeth Sabo[6] ; 7. X-Mike Keegan[2] ; 8. 5-Byron Reed[1] ; 9. 32-Bryce Lucius[15] ; 10. 8M-TJ Michael[13] ; 11. 26W-Cody White[11] ; 12. 9Z-Duane Zablocki[12] ; 13. 21-Larry Kingseed[8] ; 14. 75-Jerry Dahms[17] ; 15. 88-Jimmy McCune[18] ; 16. 98-Robert Robenalt[19] ; 17. 2-AJ Aldrich[16] ; 18. 10-Justin Adams[10] ; 19. 15C-Chris Andrews[14]
Great Lakes Super Sprints
A Feature 1 (25 Laps): 1. 71H-Max Stambaugh[1]; 2. 1-Nate Dussel[3]; 3. 17-Jared Horstman[5]; 4. 7C-Phil Gressman[7]; 5. 7M-Brandon Moore[9]; 6. X-Mike Keegan[8]; 7. 22M-Dan McCarron[14]; 8. 24-Kobe Allison[4]; 9. 11G-Luke Griffith[2]; 10. 15K-Creed Kemenah[13]; 11. 23-Devon Dobie[16]; 12. 10-Jason Blonde[10]; 13. 86-Keith Sheffer Jr[20]; 14. 20I-Kelsey Ivy[17]; 15. 31-Jac Nickles[19]; 16. G5-Gunnar Setser[12]; 17. 49T-Gregg Dalman[6]; 18. 11H-Caleb Harmon[15]; 19. 73C-Cody Fendley[22]; 20. 17H-Hud Horton[18]; 21. 2-Kyle Sauder[21]; 22. 27-Brad Lamberson[11]
B Feature 1 (12 Laps): 1. 20I-Kelsey Ivy[1]; 2. 17H-Hud Horton[2]; 3. 31-Jac Nickles[4]; 4. 86-Keith Sheffer Jr[9]; 5. 2-Kyle Sauder[6]; 6. 73C-Cody Fendley[3]; 7. 51-Caleb Helms[7]; 8. 0-Brayton Phillips[5]; 9. 97-Kyle Peters[11]; 10. 20A-Andy Chehowski[8]; 11. 21T-Troy Chehowski[10]
Heat 1 (8 Laps): 1. X-Mike Keegan[4]; 2. 1-Nate Dussel[3]; 3. 7M-Brandon Moore[1]; 4. 15K-Creed Kemenah[2]; 5. 20I-Kelsey Ivy[5]; 6. 0-Brayton Phillips[6]; 7. 86-Keith Sheffer Jr[7]
Heat 2 (8 Laps): 1. 71H-Max Stambaugh[2]; 2. 17-Jared Horstman[4]; 3. 10-Jason Blonde[1]; 4. 22M-Dan McCarron[3]; 5. 17H-Hud Horton[6]; 6. 2-Kyle Sauder[5]; 7. 21T-Troy Chehowski[7]
Heat 3 (8 Laps): 1. 11G-Luke Griffith[4]; 2. 24-Kobe Allison[2]; 3. 27-Brad Lamberson[3]; 4. 11H-Caleb Harmon[6]; 5. 73C-Cody Fendley[7]; 6. 51-Caleb Helms[5]; 7. 97-Kyle Peters[1]
Heat 4 (8 Laps): 1. 7C-Phil Gressman[2]; 2. 49T-Gregg Dalman[4]; 3. G5-Gunnar Setser[1]; 4. 23-Devon Dobie[6]; 5. 31-Jac Nickles[5]; 6. 20A-Andy Chehowski[3]
Qualifying 1: 1. X-Mike Keegan, 00:15.077[4]; 2. 17-Jared Horstman, 00:15.084[2]; 3. 11G-Luke Griffith, 00:15.089[1]; 4. 49T-Gregg Dalman, 00:15.225[6]; 5. 1-Nate Dussel, 00:15.248[11]; 6. 22M-Dan McCarron, 00:15.282[7]; 7. 27-Brad Lamberson, 00:15.307[10]; 8. 20A-Andy Chehowski, 00:15.341[3]; 9. 15K-Creed Kemenah, 00:15.385[24]; 10. 71H-Max Stambaugh, 00:15.467[22]; 11. 24-Kobe Allison, 00:15.592[19]; 12. 7C-Phil Gressman, 00:15.619[12]; 13. 7M-Brandon Moore, 00:15.646[16]; 14. 10-Jason Blonde, 00:15.775[9]; 15. 97-Kyle Peters, 00:15.800[5]; 16. G5-Gunnar Setser, 00:15.808[13]; 17. 20I-Kelsey Ivy, 00:15.955[20]; 18. 2-Kyle Sauder, 00:15.965[26]; 19. 51-Caleb Helms, 00:15.979[18]; 20. 31-Jac Nickles, 00:16.019[27]; 21. 0-Brayton Phillips, 00:16.124[21]; 22. 17H-Hud Horton, 00:16.202[17]; 23. 11H-Caleb Harmon, 00:16.315[25]; 24. 23-Devon Dobie, 00:16.371[23]; 25. 86-Keith Sheffer Jr, 00:16.720[15]; 26. 21T-Troy Chehowski, 00:16.855[14]; 27. (DNS) 73C-Cody Fendley, 00:16.999
305 Sprints – Fremont Federal Credit Union
Qualifying
1.1W-Paul Weaver, 15.451; 2.10X-Dustin Stroup, 15.581; 3.49I-John Ivy, 15.741; 4.X15-Kasey Ziebold, 15.832; 5.4K-Blayne Keckler, 15.836; 6.0-Bradley Bateson, 15.846; 7.48-Mike Burkin, 15.939; 8.9R-Logan Riehl, 16.057; 9.2-Brenden Torok, 16.097; 10.26-Jamie Miller, 16.126; 11.98-Dave Hoppes, 16.141; 12.28-Shawn Valenti, 16.165; 13.5DD-Dustin Dinan, 16.196; 14.51M-Haldon Miller, 16.255; 15.16-Lee Sommers, 16.269; 16.5-Kody Brewer, 16.281; 17.7M-Brandon Moore, 16.306; 18.34-Jud Dickerson, 16.346; 19.4T-Austin Troyer, 16.365; 20.10TS-Tyler Schiets, 16.428; 21.X15J-Jody Keegan, 16.522; 22.4X-Bobby Clark, 16.554; 23.3M-Logan Mongeau, 16.572; 24.63-Randy Ruble, 16.677; 25.11TS-Tate Schiets, 16.801; 26.2s-Jackson Sebetto, 16.827; 27.78-Austin Black , 16.899; 28.8-Jim Leaser, 17.082; 29.13-Jeremy Duposki, 17.101;
Heat 1, Group A – (8 Laps)
1. 1W-Paul Weaver[4] ; 2. X15-Kasey Ziebold[2] ; 3. 49I-John Ivy[3] ; 4. 34-Jud Dickerson[7] ; 5. 0-Bradley Bateson[1] ; 6. 28-Shawn Valenti[6] ; 7. 11TS-Tate Schiets[8] ; 8. 98-Dave Hoppes[5]
Heat 2, Group B – (8 Laps)
1. 10X-Dustin Stroup[4] ; 2. 5DD-Dustin Dinan[2] ; 3. 5-Kody Brewer[1] ; 4. 2-Brenden Torok[3] ; 5. 63-Randy Ruble[6] ; 6. 8-Jim Leaser[7] ; 7. 4T-Austin Troyer[5]
Heat 3, Group C – (8 Laps)
1. 26-Jamie Miller[2] ; 2. 48-Mike Burkin[3] ; 3. 4X-Bobby Clark[6] ; 4. 51M-Haldon Miller[1] ; 5. 4K-Blayne Keckler[4] ; 6. 13-Jeremy Duposki[7] ; 7. X15J-Jody Keegan[5]
Heat 4, Group D – (8 Laps)
1. 7M-Brandon Moore[2] ; 2. 10TS-Tyler Schiets[1] ; 3. 9R-Logan Riehl[4] ; 4. 3M-Logan Mongeau[5] ; 5. 16-Lee Sommers[3] ; 6. 2s-Jackson Sebetto[6] ; 7. 78-Austin Black [7]
B-Main 1 – (10 Laps)
1. 28-Shawn Valenti[5] ; 2. 0-Bradley Bateson[1] ; 3. 16-Lee Sommers[4] ; 4. X15J-Jody Keegan[11] ; 5. 63-Randy Ruble[2] ; 6. 4K-Blayne Keckler[3] ; 7. 8-Jim Leaser[6] ; 8. 13-Jeremy Duposki[7] ; 9. 2s-Jackson Sebetto[8] ; 10. 78-Austin Black [12] ; 11. 4T-Austin Troyer[10] ; 12. 11TS-Tate Schiets[9] ; 13. 98-Dave Hoppes[13]
A-Main 1 – (25 Laps)
1. 1W-Paul Weaver[8] ; 2. 10X-Dustin Stroup[1] ; 3. 49I-John Ivy[6] ; 4. 26-Jamie Miller[4] ; 5. 9R-Logan Riehl[3] ; 6. 48-Mike Burkin[5] ; 7. X15-Kasey Ziebold[2] ; 8. 7M-Brandon Moore[9] ; 9. 5-Kody Brewer[11] ; 10. 5DD-Dustin Dinan[10] ; 11. 28-Shawn Valenti[17] ; 12. 10TS-Tyler Schiets[7] ; 13. 0-Bradley Bateson[18] ; 14. 4X-Bobby Clark[12] ; 15. 16-Lee Sommers[19] ; 16. 2-Brenden Torok[14] ; 17. X15J-Jody Keegan[20] ; 18. 3M-Logan Mongeau[16] ; 19. 51M-Haldon Miller[15] ; 20. 63-Randy Ruble[21] ; 21. 4K-Blayne Keckler[22] ; 22. 34-Jud Dickerson[13]