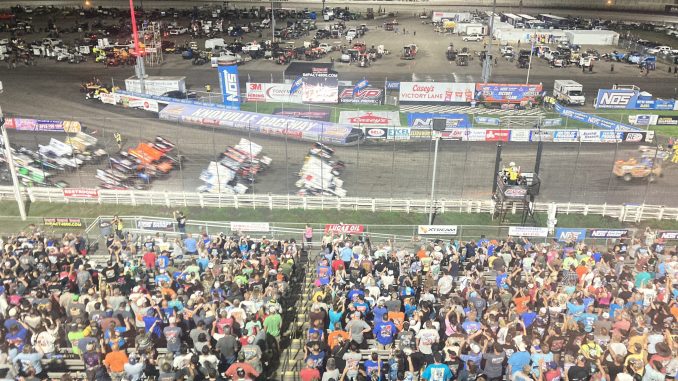 By T.J. Buffenbarger
KNOXVILLE, Iowa (August 11, 2023) — Another fun "Hard Knox" night at the Knoxville Natioanls is in the books. Here are my takeaways from one of the most interesting nights of racing each year at the Nationals.
• Storylines that we witnessed on Friday at the Knoxville Nationals is why I enjoy the "Hard Knox" program so much.
At one end of the spectrum, we had David Gravel and Aaron Reutzel breathing new life into their Knoxville Nationals by earning starting positions, all be it at the back of the lineup, for Saturday's finale. Both had higher expectations for their week but were able to perform well on Friday to get one more shot at the biggest prize in sprint car racing.
To contrast Gravel and Reutzel we witnessed Scott Bogucki and Davey Heskin overjoyed to make the Knoxville Nationals finale. Bogucki has been through the ringer this year at Knoxville after being disqualified at the 360 Nationals, destroying a car as Southern Iowa Speedway at the Front Row Challenge on Tuesday, and not securing enough points to lock into Saturday's program through his preliminary night.
Bogucki was able to turn his quick time qualifying effort into a strong performance through the whole program on Friday. It was the culmination of beating up and down the road racing 360's with ASCS, trying to break into 410 sprint car racing, and putting a full night together to make the A-Main for the first time after coming close on several other occasions.
Heskin's drive out of nowhere in the late stages of the feature are the types of things that bring 100 teams to Iowa every August, many of which open the can be a Cinderella story like Heskin. After some struggles Heskin and the Tony Moro team started to hit their stride the second half of the season at Knoxville and gave the local fans something to leave with their heads held high on Friday.
All of this beats the old format where you would congratulate a driver for getting a feature win at Knoxville, and their reward was starting 11th in the C-Main.
• There has been a lot of debate about if the Knoxville Nationals format needs to be modernized because of how equal the cars are and the quality of the drivers front to back. I think Thursday and Friday have been good arguments on to not change the format.
Friday's program was extremely deep and will have some heavy hitting cars that many would consider favorites to make the A-Mai now having to come through the alphabet.
Drivers like Justin Sanders, Lynch Jeffrey, and Tim Kaeding that have found themselves in Saturday's A-Main in the past are in the C-Main. Justin Peck, James McFadden, Brian Brown, Shane Stewart, Parker Price-Miller, Sheldon Haudenschild, and a host of others are in a loaded B-Main event.
The Cinderellas and seeing top drivers have overcome adversity every night is why Knoxville, Iowa swells to more than five times it's size every August.
I don't think the adjustment needs to be in the format, but in how the preliminary nights are picked. I feel the prelims should be setup based on the previous year's Knoxville Nationals finish. From there rookies can be seeded in. I feel this could help even out the preliminary nights and avoid situations like this year where I felt Wednesday night was deep in talent through the middle of the field while Thursday was very top heavy.
• I've spent all week working at my regular job at times during the day and writing for all of you every night. Friday is where I tend to kick back and relax a bit. So my third takeaway tonight is if you are at the Knoxville Nationals for business, no matter how hard you might be working, make sure to stop and smell the roses and enjoy the event just a little.
Maybe it's just a lunch at cattleman, staying after the races to see the band one night, but make sure to have a little fun. That is what I'm about to do now, shortening take three considerably.
If you don't see a tweet from me by 2:00 tomorrow, send out the search party 😊