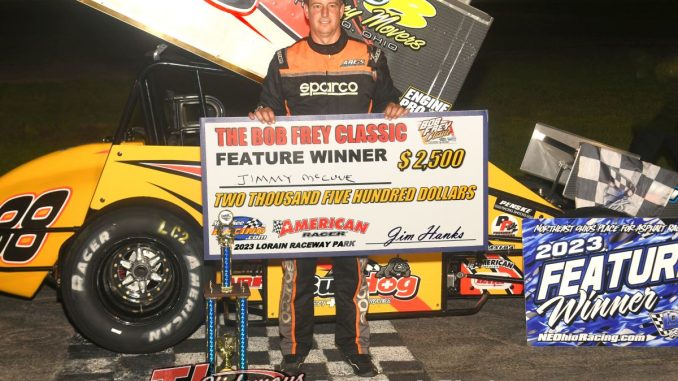 From Must See Racing
SOUTH AMHERST, Ohio (Aug. 19, 2023) – One week after his three-race Must See Racing Engine Pro Sprint Car Series winning streak was snapped, Jimmy McCune started a new run of success.
McCune rolled to his series-leading fifth win of the season Saturday night during the Jerry Caryer Memorial 40, the headlining act of the second annual Bob Frey Classic at Lorain Raceway Park.
The five-time champion from Toledo, Ohio, started on the outside pole after an eight-car inversion from qualifying and led the entire distance, comfortably besting defending series titlist Charlie Schultz by 2.234 seconds.
It marked the 43rd career feature victory of McCune's storied Must See Racing career; however, the veteran admitted afterward that it didn't come easy at the three-eighths-mile paved oval.
"The car started out good this weekend; I thought we were solid on older tires … and then today when we put the fresh rubber on, we were out to lunch for a while," McCune explained in victory lane. "I think we ended up changing everything but the front bumper and the driver when it was all said and done. We struggled and we fought, just like the 'Bulldog' always does, and we didn't quit until we got it right.
"Traffic was a challenge at the end of the race, but thankfully it all worked out in our favor there."
Once McCune jumped past polesitter Todd McQuillen on the initial start, he never looked back. A lap-eight caution for the spinning car of Joe Speakman, however, set up one restart for Schultz to try and capitalize on.
But that chance never came, as Schultz spent the balance of the race trying to play defense, fending off the charges of Davey Hamilton Jr. the entire way as the pair raced through slower traffic.
"Hats off to Jimmy; he really had everyone's number tonight," said Schultz. "They're always the ones to beat. … I could somewhat keep pace with him once I got to second, but on the restart, he chose the bottom, had a good start and that was it.
"We didn't have enough to get it done this time, but we'll be back next time for another go at it."
Hamilton completed the podium for his third top-three finish of the season. Point leader Jason Blonde was fourth ahead of McQuillen, who salvaged a strong fifth-place run for veteran owner Dave Koyan.
June Lorain winner Bobby Santos III struggled in the 40-lap main event and finished sixth, one spot ahead of surprise fast qualifier Craig Mintz.
Mintz, a regular dirt sprint car competitor, turned a lap of 12.561 seconds (107.476 mph) in time trials, banking a $750 bonus for his efforts.
Rookie Kevin Mingus and Schultz split the pair of eight-lap heat races held prior to the main event.
Seventeen-year-old Andrew Bogusz starred in the undercard Must See Racing Midwest Lights Series feature, leading the final 27 laps of the 30-lap feature for 602 Chevrolet crate-powered sprint cars.
Bogusz passed fellow teenager Charlie Baur on lap four and held off defending Midwest Lights champion Cody Gallogly through two restarts to secure the win, including a three-lap dash to the checkered flag.
J.J. Henes closed out the podium, followed by Joshua Sexton and Sawyer Stout.
The Must See Racing national sprint cars return to action Friday, June 25 at Michigan's Birch Run Speedway, while the Midwest Lights take a week off before racing at Owosso Speedway on Sept. 2.
For more information on Must See Racing, visit the series website at www.mustseeracing.com.
RESULTS: Must See Racing Bob Frey Classic; Lorain Raceway Park; South Amherst, Ohio; Aug. 19, 2023
National Sprint Car Feature (40 laps): 1. 88-Jimmy McCune [2], 2. 9s-Charlie Schultz [4], 3. 14-Davey Hamilton Jr. [6], 4. 42-Jason Blonde [5], 5. 3k-Todd McQuillen [1], 6. 22a-Bobby Santos III [7], 7. 29-Craig Mintz [8], 8. 7-Bobby Komisarski [11], 9. 36-Tyler Roahrig [3], 10. 85-Rick Holley [9], 11. Z10-Kevin Mingus [12], 12. 12-Brian Lay [10], 13. 72s-Joe Speakman [14], 14. 55-Tommy Nichols [13], 15. 8-Anthony McCune [15].
Lap Leader(s): J. McCune 1-40.
Hard Charger: 14-Davey Hamilton Jr. (+3)
Midwest Lights Feature (30 laps): 1. 17-Andrew Bogusz [4], 2. 27-Cody Gallogly [3], 3. 36-J.J. Henes [6], 4. 51s-Joshua Sexton [2], 5. 40-Sawyer Stout [5], 6. 14x-Matt Double [9], 7. 77p-Parker Corbin [10], 8. 38-J.D. Evans [11], 9. 21-Dale McQuillen [8], 10. 23-Charlie Baur [1], 11. 32-Todd McQuillen [7].
Lap Leader(s): Baur 1-3, Bogusz 4-30.
Hard Charger: 17-Andrew Bogusz (+3)