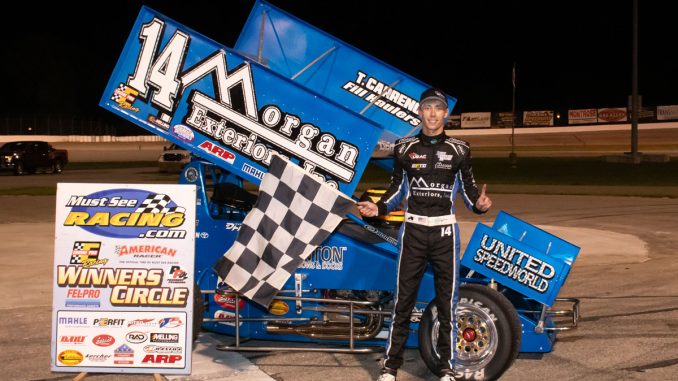 From Must See Racing
BIRCH RUN, Mich. (Aug. 25, 2023) – A month earlier, Davey Hamilton Jr. said he needed to work on his restarts in order to win with the Must See Racing Engine Pro Sprint Car Series.
Friday night at Birch Run Speedway and Event Center, Hamilton proved that the work he's put in over recent weeks has paid off.
Hamilton bested open-wheel pavement veteran Bobby Santos III on a mid-race restart and then drove away from Ryan Litt down the home stretch, ending the night in Must See Racing victory lane for the first time.
The third-generation driver wheeled his Kirk Morgan-owned, blue No. 14 to a 2.5-second margin of victory over Litt, leading all 30 laps after passing polesitter Jason Blonde on the initial green flag.
"It feels fantastic to finally be in victory lane with this tour; we've worked hard for this," said Hamilton. "I'm not really a dirty driver … but I know the squeeze I put on Bobby there on that restart was a bit tight. I knew we had the car, though, and that it was my turn to win in this series, and I'm glad we finally conquered that challenge."
After finishing second multiple times earlier in the season, Hamilton tipped that his motivation was high to get "one more spot" and show that he belonged among the best drivers in the series.
"I just had to stay in the throttle longer, I guess," he chuckled. "Restarts this year have been my Achilles heel, but tonight showed that we made a big step in the right direction, I think."
While a five inversion placed incoming point leader Blonde on the pole, his time out front was short-lived as Hamilton roared around the outside to lead the race when the green flag waved to begin the 30-lapper.
Santos followed into second by the lap-five benchmark, but had little to be able to match Hamilton's pace in the early going until Hamilton reached some slower traffic just before lap 10.
The only slowdown of the main event came one lap prior to halfway, when Anthony McCune slowed to a stop at the top of turns one and two with a mechanical issue.
That led to the double-file restart where Hamilton elected the outside groove for the restart, a decision that ultimately propelled him into the winner's circle.
Litt snuck past Santos for second on the restart, but could do nothing in the second half but watch Hamilton drive into the distance with what the Canadian termed as "a better car" than what he had.
"My car got super tight in the middle of that race, and then we got lucky with that restart where I could send it down into [turn] one on the high side," explained Litt. "It stuck well enough, and I almost made the pass … but we were a tick to tight to get it done. Hats off to Davey and his guys on a job well done."
Santos closed out the podium finishers ahead of Jimmy McCune, who drove from the back of the field to fourth after a damaged tire necessitated a tire change prior to the main event.
Blonde finished fifth after starting on the pole.
Charlie Schultz kicked off the Friday Night Thunder program by setting the fastest time in qualifying around the four-tenths-mile Birch Run oval, turning a lap of 13.602 seconds (105.864 mph) in his familiar No. 9s.
Though he wasn't able to finish the main event, Schultz accrued enough points in the preliminaries to leave Birch Run unofficially tied with Blonde in the chase for the 2023 Must See Racing sprint car championship.
Rick Holley and Hamilton split the pair of eight-lap heat races held prior to the main event.
The Must See Racing Engine Pro Sprint Car Series season heads to Michigan's Owosso Speedway for its penultimate race of the season, competing Saturday, Sept. 2 during Labor Day weekend.
For more information on Must See Racing, visit the series website at www.mustseeracing.com.
RESULTS: Must See Racing Engine Pro Sprint Car Series; Birch Run (Mich.) Speedway; Aug. 25, 2023
Qualifying (best of two laps): 1. Charlie Schultz, 9s, IBT-13.602; 2. Ryan Litt, 07L, Litt-13.663; 3. Bobby Santos III, 22a, Fieler-13.672; 4. Davey Hamilton Jr., 14, Morgan-13.699; 5. Jason Blonde, 42, Nosal-13.753; 6. Jimmy McCune, 88, McCune-14.086; 7. Kevin Mingus, Z10, Mingus-14.102; 8. Tommy Nichols, 55, Nichols-14.125; 9. Rick Holley, 85, Holley-14.201; 10. Joe Speakman, 72s, Speakman-14.231; 11. Todd McQuillen, 3k, Koyan-14.316; 12. Anthony McCune, 8, McCune-14.561; 13. Andrew Bogusz, 17, Bogusz-15.207; 14. Tyler Roahrig, 36, Statham-NT.
Heat #1 (8 laps, all transfer): 1. Rick Holley [2], 2. Joe Speakman [1], 3. Tommy Nichols [3], 4. Kevin Mingus [4], 5. Todd McQuillen [5], 6. Anthony McCune [6], 7. Andrew Bogusz [7].
Heat #2 (8 laps, all transfer): 1. Davey Hamilton Jr. [1], 2. Bobby Santos III [2], 3. Charlie Schultz [4], 4. Jason Blonde [5], 5. Ryan Litt [3], 6. Jimmy McCune [6].
American Racer A-Feature (30 laps): 1. 14-Davey Hamilton Jr. [2], 2. 07-Ryan Litt [4], 3. 22a-Bobby Santos III [3], 4. 88-Jimmy McCune [10], 5. 42-Jason Blonde [1], 6. Z10-Kevin Mingus [7], 7. 55-Tommy Nichols [6], 8. 3k-Todd McQuillen [11], 9. 8-Anthony McCune [8], 10. 9s-Charlie Schultz [5], 11. 17-Andrew Bogusz [12], 12. 72s-Joe Speakman [13], 13. 85-Rick Holley [9], 14. 36-Tyler Roahrig (DNS).
Lap Leader(s): Blonde Grid, Hamilton 1-30.
Hard Charger: #88 – Jimmy McCune (+6)