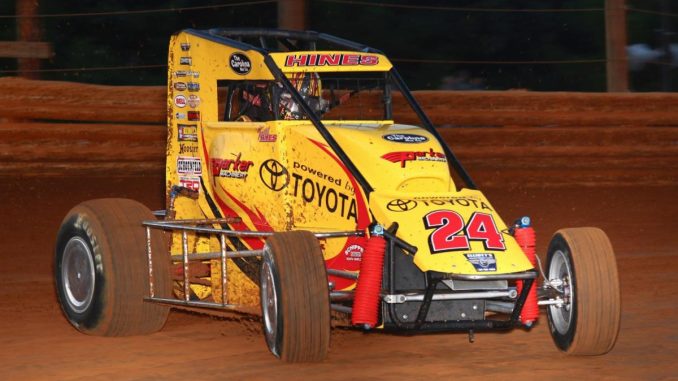 By Richie Murray
Speedway, Indiana (August 28, 2023)………The United States Auto Club's newest class of Hall of Fame inductees for 2023 will be honored during a ceremony at USAC headquarters on Friday afternoon, September 29.
The USAC Hall of Fame luncheon will start at Noon Eastern with the official induction ceremony slated to begin at 1:30pm at USAC's main offices located at 4910 W. 16th Street in Speedway, Indiana.
The USAC Hall of Fame luncheon and induction ceremony is open to the public and tickets are now on sale for $30 apiece at https://usacracing.ticketspice.com/hof-award-ceremony. The ticket includes a catered meal and drinks.
USAC's 11th hall of fame class includes champion driver Bobby East; safety innovator Ted Halibrand; champion driver Tracy Hines; television producer Terry Lingner; vice president/general manager/editor/media man Bill Marvel; and team owners and contributors, The Wilke Family.
The event will be held just down the street from the Indianapolis Motor Speedway prior to the start of Friday night's Driven2SaveLives BC39 USAC NOS Energy Drink Midget National Championship event, an event which runs for four straight nights on September 27-28-29-30.
Additionally, the USAC Hall of Fame ceremony will be shown live on FloRacing.
USAC HALL OF FAME INDUCTEES:
2012: J.C. Agajanian, Mario Andretti, Gary Bettenhausen, Tom Binford, Jimmy Bryan, Duane Carter, A.J. Foyt, Tony Hulman, Parnelli Jones, Mel Kenyon, Roger McCluskey & Rich Vogler
2013: Earl Baltes, Henry Banks, Tony Bettenhausen, Tom Bigelow, Pancho Carter, Jack Hewitt, Johnny Rutherford, Al Unser, Bobby Unser, A.J. Watson, Don White & Bob Wilke
2014: Rollie Beale, George Bignotti, Don Branson, Larry Dickson, Gus Hoffman, Jud Larson, Norm Nelson, Eddie Sachs, Don Smith, Bob Stroud, Rodger Ward & Bob Wente
2015: Clint Brawner, Jimmy Caruthers, Butch Hartman, Lindsey Hopkins, Jim Hurtubise, Don Kenyon, Sheldon Kinser, Fred Lorenzen, Roger Penske, Larry Rice, Shorty Templeman & Sleepy Tripp
2016: Steve Butler, Russ Clendenen, Jimmy Davies, Willie Davis, Bob Higman, Tommy Hinnershitz, Dick King, Rick Mears, Pat O'Connor, Kevin Olson, Tony Stewart & Bob Tattersall
2017: Donald Davidson, Frankie DelRoy, Bob East, Chuck Gurney, Gene Hartley, Steve Lewis, Howard Linne, Lloyd Ruby, Ken Schrader, Robbie Stanley, Steve Stapp & Johnny Thomson
2018: Mike Devin, Tony Elliott, Paul Goldsmith, Jason Leffler, Bill Lipkey, Troy Ruttman, Bob/Gene Shannon & Jimmy Sills
2019: Bryan Clauson, Johnny Capels, Dick Jordan & Dave Steele
2020: None
2021: None
2022: Doug Caruthers, Jay Drake, Galen Fox, Jeff Gordon, Dan Gurney, Ray Nichels, Johnny Vance & Joe Shaheen
2023: Bobby East, Ted Halibrand, Tracy Hines, Terry Lingner, Bill Marvel & The Wilke Family