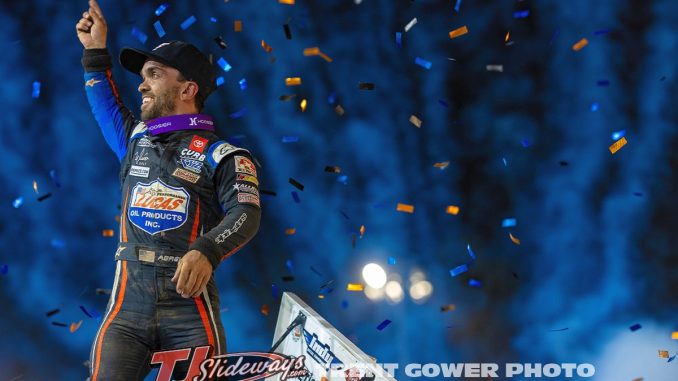 From Alex Nieten
ALGER, Wa. (September 1, 2023) — The magical 2023 season for Rico Abreu continues.
Since he won his first Sprint Car race of 2023 back in March at Lincoln Speedway, Abreu hasn't slowed down as he's put together a career year. The trend continued on Friday at Skagit Speedway as the St. Helena, CA native controlled all 30 laps of the Feature to top night two of the Sage Fruit Skagit Nationals.
With renowned crew chief – Ricky Warner – leading a crew filled out by Zack Middlebrooks and Brady Forbrook, Abreu and company have been one of the fastest cars in the nation. And Abreu was quick to show appreciation for their efforts in helping him continue to arrive in Victory Lane.
"Hats off to my incredible team. Their critical thinking is unbelievable and they just execute when the time matters," Abreu said. "Like I said, Ricky Warner, Zack, and Brady they work really good together. It's a really cool time for me to be a part of such an unbelievable team that believes in me."
Abreu is now up to five World of Outlaws NOS Energy Drink Sprint Car victories this year, moving his career total up to 14, enough for 37th on the all-time win list. In overall Sprint Car competition this year, Abreu is up to 10 triumphs. Skagit became the 10th different track that Abreu has won at with The Greatest Show on Dirt.
After topping the Toyota Racing Dash, David Gravel led the field to green with Abreu to his outside. Abreu used the outside line to his advantage as he ripped the top to take the top spot and lead the opening circuit.
A Lap 2 red flag re-racked the field for an early restart. Abreu chose the outside and again pulled ahead of the field.
While Abreu extended his advantage in the early going, the action heated up behind him for spots inside the top five. Corey Day and Donny Schatz engaged in a war for the fourth spot in the early stages. Day opted for the top while Schatz rolled the bottom. The duo exchanged the position multiple times before Day maintained control.
Ahead of Day and Schatz, Thursday's winner – Sheldon Haudenschild – closed on Gravel for the runner-up spot. On the 10th circuit Haudenschild pulled the trigger on a slide job to take over second. A lap later, Day moved by Gravel to climb onto the podium.
A few laps after passing Gravel for second, Haudenschild began to cut into Abreu's advantage. On lap 13 he slashed the nearly two second gap almost in half. Four laps later, the Wooster, OH driver trimmed it down to seven tenths of a second.
But right as it appeared a battle for the lead might be brewing, Abreu found his rhythm and began to inch away again. Right after Haudenschild had closed in, Abreu pushed his advantage back over a second in one lap, and it continued to grow as he navigated traffic.
"I really tried to judge my pace in traffic," Abreu explained. "I just noticed the more I spun my tires, the more the lapped cars drove away from me. The top would get dirty as guys were running down there, so I ran down a few laps just to see if I could maintain pace. Once guys started really slowing down at the end, I could really move up and make some steam. I started cheating it in (Turns) 1 and 2. You judge your pace off lapped traffic and try to listen behind you. I knew the 17 or the 2 was probably running it just as hard as I was and I wasn't passing lapped cars. You just have to process things while you're racing. I just kept my tires underneath me and everything cooled down and my car just kept getting better and better."
Abreu's continually improving race car proved to be too much for the competition to overcome. His lead continued to grow and eclipsed two seconds on Lap 25. Over the final five laps the gap hovered around that margin until Abreu took the checkered flag to seal a commanding win at an event he's had his eyes on for a while.
"It's just an amazing racetrack," Abreu said. "Kevin Rudeen and everybody do an unbelievable job here. I know Peter Murphy and Chuck with Sage (Fruit) do great for this event. I made sure to mark it down on our calendar to be here and to be a part of this. I really love racing on the west coast."
Haudenschild's bid for back-to-back wins came up a spot short as he brought the Stenhouse Jr.-Marshall Racing/NOS Energy Drink #17 home second. The result marked his third podium in the last four races and 10th overall of the year, making him the seventh driver to reach double digit top threes. Haudenschild felt it took him a little too long to get going early in the race to have a chance at challenging Abreu.
"I don't know if his car was better," Haudenschild said. "I think Rico did a really good job. He was hammering it right from the get go. I probably waited 10 or 12 laps until I really got with it there."
Rounding out the top three was Clovis, CA phenom – Corey Day – aboard the Jason Meyers Racing #14. "The Golden State" teenager was making only his 16th career World of Outlaws Feature start and notched his third podium. It served as a revitalizing result for Day after getting caught up in a wreck during Thursday's opener. Day also continued his trend of success at Skagit after topping both prelims of Dirt Cup in June with the Northern Auto Racing Club (NARC) before running third in the finale.
"Last night didn't go our way. I felt like we had a really good car and just wasn't really given the chance there to see what we could do," Day said. "To come here and run good with NARC is one thing, but to come here and run good with the Outlaws is a completely different thing. These are the best guys in the country."
Donny Schatz and David Gravel completed the top five. With his fifth place run and Brad Sweet coming home 10th, Gravel chipped 10 points off Sweet's championship lead. The margin now sits at 68 markers.
Gravel also claimed the Simpson Performance Products QuickTime Award, his 10th of the season and 107th of his career.
Robbie Price wheeled the Sides Motorsports #7S from 25th to 15th for the KSE Racing Hard Charger.
CASE No.1 Engine Oil Heat One was topped by David Gravel (233rd Heat Race win of career). NOS Energy Drink Heats Two through Four went to Spencer Bayston (19th of career), Donny Schatz (521st of career), and Rico Abreu (41st of career).
James McFadden won the Micro-Lite Last Chance Showdown.
The Smith Titanium Brake Systems Break of the Race went to Trey Starks. After a Heat Race crash ended his Thursday night early, Starks was caught up in a Feature crash on Friday to end his main event.
World of Outlaws NOS Energy Drink Sprint Car Series
Skagit Speedway
Alger, Washington
Friday, September 1, 2023
Qualifying
1. 2-David Gravel, 11.738[5]
2. 5-Spencer Bayston, 11.803[6]
3. 9-Kasey Kahne, 11.838[7]
4. 24-Rico Abreu, 11.958[15]
5. 41-Carson Macedo, 11.965[3]
6. 2X-Justin Sanders, 12.041[11]
7. 21-Cole Macedo, 12.067[14]
8. 18-Giovanni Scelzi, 12.085[9]
9. 83-James McFadden, 12.107[21]
10. 14-Corey Day, 12.127[18]
11. 95-Justin Youngquist, 12.151[8]
12. 41S-Dominic Scelzi, 12.175[12]
13. 19-Colby Thornhill, 12.218[4]
14. 55-Trey Starks, 12.263[19]
15. 15-Donny Schatz, 12.269[10]
16. 18S-Jason Solwold, 12.315[16]
17. 1S-Logan Schuchart, 12.330[26]
18. 3Z-Brock Zearfoss, 12.336[22]
19. 96-Greg Hamilton, 12.340[17]
20. 7S-Robbie Price, 12.408[23]
21. 17-Sheldon Haudenschild, 12.442[30]
22. 9A-Luke Didiuk, 12.446[20]
23. 99-Eric Fisher, 12.455[13]
24. 14B-Bailey Jean, 12.460[2]
25. 49-Brad Sweet, 12.476[31]
26. 1T-Tanner Holmes, 12.536[29]
27. 3AU-Karl Hoffmans, 12.550[1]
28. 21S-Jesse Schlotfeldt, 12.568[32]
29. 83JR-Michael Kofoid, 12.671[33]
30. 17S-Cam Smith, 12.728[27]
31. 20G-Noah Gass, 12.815[24]
32. 96AU-Andy Caruana, 13.021[28]
33. 6-Bill Rose, 13.032[25]
Heat Race #1 (8 Laps)
1. 2-David Gravel[1]
2. 17-Sheldon Haudenschild[6]
3. 49-Brad Sweet[7]
4. 41-Carson Macedo[2]
5. 83JR-Michael Kofoid[8]
6. 1S-Logan Schuchart[5]
7. 83-James McFadden[3]
8. 19-Colby Thornhill[4]
9. 6-Bill Rose[9]
Heat Race #2 (8 Laps)
1. 5-Spencer Bayston[1]
2. 14-Corey Day[3]
3. 2X-Justin Sanders[2]
4. 55-Trey Starks[4]
5. 9A-Luke Didiuk[6]
6. 1T-Tanner Holmes[7]
7. 3Z-Brock Zearfoss[5]
8. 17S-Cam Smith[8]
Heat Race #3 (8 Laps)
1. 15-Donny Schatz[4]
2. 9-Kasey Kahne[1]
3. 21-Cole Macedo[2]
4. 95-Justin Youngquist[3]
5. 99-Eric Fisher[6]
6. 96-Greg Hamilton[5]
7. 20G-Noah Gass[8]
8. 3AU-Karl Hoffmans[7]
Heat Race #4 (8 Laps)
1. 24-Rico Abreu[1]
2. 18-Giovanni Scelzi[2]
3. 41S-Dominic Scelzi[3]
4. 21S-Jesse Schlotfeldt[7]
5. 18S-Jason Solwold[4]
6. 7S-Robbie Price[5]
7. 14B-Bailey Jean[6]
8. 96AU-Andy Caruana[8]
Toyota Dash (6 Laps)
1. 2-David Gravel[2]
2. 24-Rico Abreu[1]
3. 17-Sheldon Haudenschild[3]
4. 18-Giovanni Scelzi[4]
5. 15-Donny Schatz[6]
6. 14-Corey Day[5]
7. 5-Spencer Bayston[8]
8. 9-Kasey Kahne[7]
Last Chance Showdown (12 Laps)
1. 83-James McFadden[1]
2. 1T-Tanner Holmes[4]
3. 1S-Logan Schuchart[3]
4. 19-Colby Thornhill[2]
5. 17S-Cam Smith[10]
6. 20G-Noah Gass[8]
7. 3Z-Brock Zearfoss[7]
8. 7S-Robbie Price[6]
9. 96-Greg Hamilton[5]
10. 14B-Bailey Jean[9]
11. 3AU-Karl Hoffmans[11]
12. 6-Bill Rose[13]
13. 96AU-Andy Caruana[12]
NOS Energy Drink Feature (30 Laps)
1. 24-Rico Abreu[2]
2. 17-Sheldon Haudenschild[3]
3. 14-Corey Day[6]
4. 15-Donny Schatz[5]
5. 2-David Gravel[1]
6. 9-Kasey Kahne[8]
7. 41S-Dominic Scelzi[12]
8. 41-Carson Macedo[13]
9. 18-Giovanni Scelzi[4]
10. 49-Brad Sweet[9]
11. 2X-Justin Sanders[10]
12. 83-James McFadden[21]
13. 83JR-Michael Kofoid[17]
14. 1S-Logan Schuchart[23]
15. 7S-Robbie Price[25]
16. 5-Spencer Bayston[7]
17. 1T-Tanner Holmes[22]
18. 21-Cole Macedo[11]
19. 18S-Jason Solwold[20]
20. 21S-Jesse Schlotfeldt[16]
21. 99-Eric Fisher[19]
22. 19-Colby Thornhill[24]
23. 9A-Luke Didiuk[18]
24. 95-Justin Youngquist[15]
25. 55-Trey Starks[14]
Northwest Focus Midget Car Series
Heat Race #1 (6 Laps)
1. 13A-Alex Peck[3]
2. 41-Ashley Thompson[2]
3. 32-Jared Peterson[6]
4. 48-Stewart Lee[5]
5. 21H-Todd Hartmann[1]
6. 17-Kyle Hanson[4]
7. 90C-Stuart Milner[7]
8. 58-JD Lewis[8]
Heat Race #2 (6 Laps)
1. 9-Shane Smith[4]
2. 9S-Sawyer Lind[3]
3. 3T-Tyler Luce[2]
4. 30-Levi Klatt[6]
5. 95M-Jesse Munn[5]
6. 17M-Brian Rose[7]
7. 14C-Austin Carey[8]
8. 06-Shawn Wallenfelsz Jr[1]
Heat Race #3 (6 Laps)
1. 48T-Tanner Holm[6]
2. 24-Nick Evans[5]
3. 62-Chuck Pierce[8]
4. 18-Ayuka Carlson[3]
5. 39-David Mills[1]
6. 78R-Roger Burt[4]
7. 19C-Dalton Christmas[7]
8. 5W-Gary Wegener[2]
Heat Race #4 (6 Laps)
1. 25-Michael Hodel[6]
2. 66-Jeff Westergard[5]
3. 71-Bryan Murphy[1]
4. 5C-Chris Foster[3]
5. 90-Brian Holmkvist[4]
6. 53X-Derek Amundson[7]
7. 23-Randy Schaaf[2]
8. (DQ) 76-Brad Pritchard[8]
B-Main (12 Laps)
1. 95M-Jesse Munn[1]
2. 17-Kyle Hanson[3]
3. 21H-Todd Hartmann[5]
4. 90-Brian Holmkvist[4]
5. 19C-Dalton Christmas[12]
6. 78R-Roger Burt[2]
7. 90C-Stuart Milner[9]
8. 17M-Brian Rose[11]
9. 39-David Mills[10]
10. 58-JD Lewis[13]
11. 53X-Derek Amundson[14]
12. 5W-Gary Wegener[6]
DNS: 06-Shawn Wallenfelsz Jr
DNS: 23-Randy Schaaf
DNS: 14C-Austin Carey
DNS: 76-Brad Pritchard
A-Main (25 Laps)
1. 24-Nick Evans[4]
2. 32-Jared Peterson[7]
3. 13A-Alex Peck[9]
4. 66-Jeff Westergard[2]
5. 48-Stewart Lee[3]
6. 48T-Tanner Holm[8]
7. 9-Shane Smith[1]
8. 9S-Sawyer Lind[11]
9. 30-Levi Klatt[5]
10. 25-Michael Hodel[6]
11. 5C-Chris Foster[12]
12. 41-Ashley Thompson[13]
13. 21H-Todd Hartmann[19]
14. 71-Bryan Murphy[14]
15. 17-Kyle Hanson[18]
16. 62-Chuck Pierce[16]
17. 95M-Jesse Munn[17]
18. 90-Brian Holmkvist[20]
19. 3T-Tyler Luce[15]
20. 18-Ayuka Carlson[10]