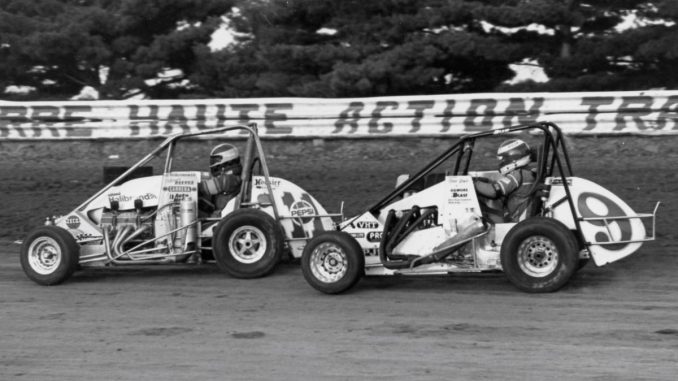 From USAC
Sun Prairie, Wis., Sept 6, 2023—Chuck Gurney, Jim Hettinger, Larry Howard, Gene Pastor, Stevie Reeves and Roy Richter have been announced today as the latest inductees into the National Midget Auto Racing Hall of Fame.
The announcement was made during the USAC National Midget Series event at Angell Park Speedway, the home of the National Midget Auto Racing Hall of Fame.
Gurney was a two-time winner of the Copper World Classic Midget race at Phoenix International Raceway in 1992 and 1994 as well as a two-time winner of the Turkey Night Grand Prix at Ascot Park in 1988-89 and a one-time victor of the Belleville Nationals in 1989.
Hettinger won championships with the Wide World of Auto Racing (WWAR) in 1984, the National Alliance of Midget Auto Racing (NAMAR) in 1984 and the Automobile Racing Club of America (ARCA) in 1990. His career spanned a little over four decades, winning over 126 features.
Howard was one of the premier car owners between the late 1970s and early 1990s. His cars won six times in the Turkey Night Grand Prix between 1979-89 with Ron Shuman taking four-straight in 1979-80-81-82 and Chuck Gurney winning two in 1988-89. Howard also won the Bellville Nationals in 1989 with Gurney at the wheel.
After Pastor retired from driving in 1979, he became a well-respected official with the Rocky Mountain Midget Racing Association (RMMRA) and the American Independent Midget Series (AIMS), serving as flagman, Director of Competition and was a member of their Board of Directors. He also worked with the Southwest Independent Midget Series (SWIMS) tour and the Belleville Nationals.
Reeves captured back-to-back USAC National Midget driving championships in 1992 and 1993. He won in his first ever USAC National Midget start in 1987 at Lawrenceburg (Ind.) Speedway, and in 1991, he scored three major wins at Phoenix International Raceway's Copper World Classic, Angell Park Speedway's Pepsi Firemen's Nationals and the Terre Haute Action Track's Hut 100.
Richter was the founder of Bell Helmets, which was the first safety-certified head protection in midget racing. He was an excellent fabricator, building and designing midgets driven by Sam Hanks and Freddie Agabashian to many victories. Richter was also a founding member of SEMA (Specialty Equipment Market Association).
The 39th annual luncheon and induction ceremony for the six inductees will be held on Friday, January 12, 2024. The event will be held at Fair Meadow Hall at the Tulsa Fairgrounds in Oklahoma, adjacent to the Expo Center which will be hosting the Chili Bowl Nationals during the week.
For additional information on the National Midget Auto Racing Hall of Fame, contact Barb Hellyer at kingdoodlebug@sbcglobal.net.