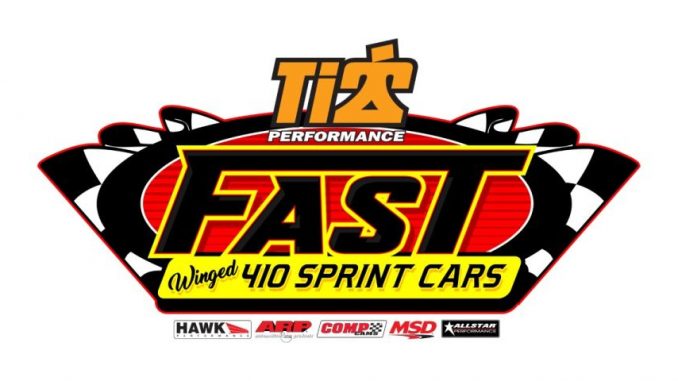 By Aaron Fry
MERCER, PA (September 16, 2023) — New York Yankee's pitcher, Lefty Gomez, once said "I'd rather be lucky than good". Nearly a century later, Franklin, Pennsylvania's Bob Felmlee may be saying the same thing after last night's Ti22 Performance FAST On Dirt win at Michael's Mercer Raceway Park. The veteran racer had run a very consistent and smooth race and was in the right spot when race leader A.J. Flick cut a right rear tire with 5 laps remaining.
The race program began with ARP Fasteners qualifying for the 26 entries. Ricky Peterson, Jeremy Weaver and A.J. Flick were quick timers of their respective heat race groups. Weaver was overall fastest qualifier with a time of 13.873 seconds. Peterson and Weaver both won their heats from the inverted fourth starting spot while Adam Kekich won the third heat race. Track promoter, Ed Michael, and series promoter, Aaron Fry, came together to start all 26 cars and forgo an MSD Ignitions B-Main.
Felmlee and Danny Sams III started on the front row with a pair of deuces starting in row 2 (Peterson and Flick), while Weaver and Kekich rolled out from row 3. At the drop of the green, Felmlee and Sams drag raced for the lead, but A.J. Flick wasted no time in racing from fourth to the lead and began to open a comfortable margin. The first of 2 cautions flew on lap 9 when Matt Sherlock rolled to a stop in turn 2.
On the restart, Flick pulled away to lead once again with Felmlee in pursuit. A sixteen-lap green flag run saw the lead grow to a full straightaway before the leader's right rear tire exploded, bringing out the only other caution of the race. With a 5-lap sprint to the finish, Felmee showed the youngsters behind him the fast way around the 3/8 mile oval as he raced to victory over a late charging Adam Kekich and Danny Sams III who nursed a bent jacob's ladder the entire 30 lap race. Michael Bauer and Ricky Peterson Jr rounded out the top 5 as Brandon Spithaler won the Ron Samol "Hard Charger" award running from 18th to finish 6th and clinch the 2023 Ti22 Performance FAST On Dirt championship worth $15,000! Jack Sodeman, Cody Bova, Jeremy Weaver and Jordan Ryan rounded out the top 10.
We want to extend a special thank you to Ed Michael and the staff at Mercer for an excellent night of racing on a well-prepared track. Perhaps more impressive was Michael's willingness to start all 26 cars on hand! We also thank race fan Ron Samol for providing the cash for last night's hard charger award. Our final FAST event of 2023 will be on Saturday, October 7th at Atomic Speedway just south of Chillicothe, Ohio.
FAST on Dirt Sprint Car Series
Michael's Mercer Raceway
Mercer, Pennsylvania
Saturday, September 16, 2023
Heat Race #1 (8 Laps)
1. 2P-Ricky Peterson
2. 46-Michael Bauer
3. 6-Bob Felmlee
4. 15-Mitch Harble
5. 55-Matt Sherlock
6. 33-Brent Matus
7. 47-Dusty Larson
8. G1-Mike Miller
9. 27K-Jeremy Kornbau
Heat Race #2 (8 Laps)
1. 5W-Jeremy Weaver
2. 08-Danny Kuriger
3. 24D-Danny Sams III
4. 38-Leyton Wagner
5. 99-Cameron Nastasi
6. 3J-Jacob Begenwald
7. 7T-Andy McKisson
8. M4-Louie Mattes
9. 13-Brandon Matus
Heat Race #3 (8 Laps)
1. 5K-Adam Kekich
2. 2-AJ Flick
3. 20B-Cody Bova
4. 23JR-Jack Sodeman Jr
5. 25R-Jordan Ryan
6. 22-Brandon Spithaler
7. 11J-David Kalb
8. 47B-Brett Brunkenhoefer
Dash #1
1. 2P-Ricky Peterson
2. 25R-Jordan Ryan
3. 2-AJ Flick
4. 27K-Jeremy Kornbau
5. 5W-Jeremy Weaver
6. 24D-Danny Sams III
A-Main
1. 6-Bob Felmlee[1]
2. 5K-Adam Kekich[6]
3. 24D-Danny Sams III[2]
4. 46-Michael Bauer[7]
5. 2P-Ricky Peterson[3]
6. 22-Brandon Spithaler[18]
7. 23JR-Jack Sodeman Jr[12]
8. 20B-Cody Bova[9]
9. 5W-Jeremy Weaver[5]
10. 25R-Jordan Ryan[15]
11. 15-Mitch Harble[10]
12. 7T-Andy McKisson[20]
13. 47B-Brett Brunkenhoefer[24]
14. 55-Matt Sherlock[13]
15. 2-AJ Flick[4]
16. 08-Danny Kuriger[8]
17. 11J-David Kalb[21]
18. 38-Leyton Wagner[11]
19. M4-Louie Mattes[23]
20. G1-Mike Miller[22]
21. 33-Brent Matus[16]
22. 13-Brandon Matus[26]
23. 99-Cameron Nastasi[14]
DNS: 47-Dusty Larson
DNS: 3J-Jacob Begenwald
DNS: 27K-Jeremy Kornbau