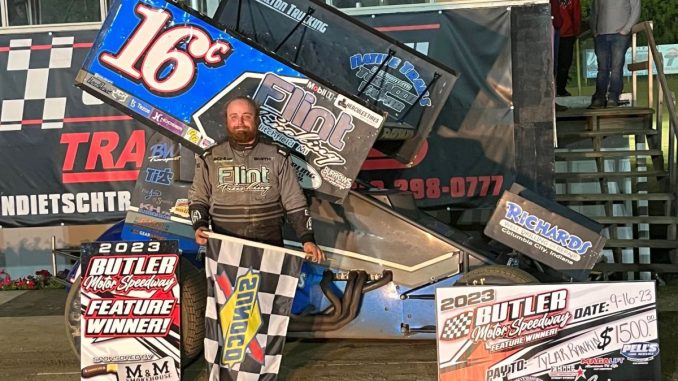 By T.J. Buffenbarger
QUINCY, MI (September 16, 2023) – Tylar Rankin closed out the 2023 season at Butler Motor Speedway by winning the feature event on season championship night while Trey McGranahan backed up his rookie of the year honors at Butler during the 2022 season by winning the track championship in 2023.
Rankin took the lead after contact with Corbin Gurley racing for the lead that sent Gurley flipping through the trees off turn two. Rankin then pulled away from Tyler Gunn for his third victory of the 2023 season.
After the feature a subdued Rankin exited his car with little fanfare and was quick to break down the incident.
The first attempt to start the 25-lap season final was short lived when Gary Fritts tipped over in turn two. Fritts exited the car under his own power but was unable to continue.
Gurley took the lead with Dan McCarron and Rankin in tow. Rankin was able to drive around McCarron coming off turn four on lap three and set off after Gurley for the lead.
Rankin quickly closed in to challenge for the lead as Gurley started overtaking slower traffic, but Gurley was able to navigate through the slower cars while Rankin was held up to stretch the advantage.
Following a caution for a car sliding off the top of the racetrack and coming to a halt, Rankin continued to apply pressure to Gurley, only to have Gurley get away again as they overtook slower traffic.
The turning point in the race started when Levi Voyce got spun out in turn four, bringing out the final caution flag with five laps to go. Rankin was able to stay right on Gurley's bumper after the restart, and one lap later went for a slide job in turn two. Rankin and Gurley made contact with Gurley's car, sending Gurley tumbling wildly off turn two into the trees. Gurley exited the car under his own power.
After a lengthy delay to tow Gurley's car back to the pit area, Rankin was able to pull away from the field over the final four laps to win by 1.631 seconds over Gunn, McCarron, Thomas Schinderle, and Keith Sheffer Jr.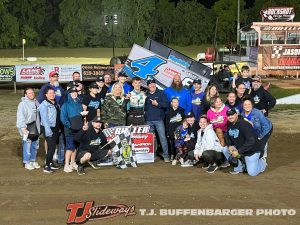 McGranahan from Avon, Indiana scored a 9th place finish after starting 12th to secure the 2023 Butler Motor Speedway track championship by four points over Coldwater, Michigan's Logan Easterday by four points.
Gunn was the fastest qualifier over the 17 car field with lap of 13.134 seconds. Sheffer and Rankin own heat races.
Butler Motor Speedway
Quincy, Michigan
Saturday, September 16, 2023
Winged 410 Sprint Cars
Qualifying
1. 68G-Tyler Gunn, 13.134[1]
2. 12-Corbin Gurley, 13.218[9]
3. 41-Thomas Schinderle, 13.460[7]
4. 16C-Tylar Rankin, 13.501[3]
5. 22M-Dan McCarron, 13.610[15]
6. 4-Trey McGranahan, 13.698[10]
7. 10JR-Keith Sheffer Jr, 13.713[8]
8. 0-Brayton Phillips, 13.758[2]
9. 87-Logan Easterday, 13.943[13]
10. 88-Jimmy McCune, 14.079[6]
11. 20A-Andy Chehowski, 14.113[16]
12. 24-Levi Voyce, 14.243[14]
13. 24T-Mike Schumacher, 14.436[5]
14. 27K-Zac Broughman, 14.497[4]
15. 17S-Shelby Yeaples, 14.614[11]
16. 10J-Chris Jones, 14.898[17]
17. 16-Gary Fritts, 15.121[12]
Heat Race #1 (8 Laps)
1. 10JR-Keith Sheffer Jr[1]
2. 22M-Dan McCarron[2]
3. 41-Thomas Schinderle[3]
4. 68G-Tyler Gunn[4]
5. 87-Logan Easterday[5]
6. 20A-Andy Chehowski[6]
7. 16-Gary Fritts[9]
DNS: 24T-Mike Schumacher
DNS: 17S-Shelby Yeaples
Heat Race #2 (8 Laps)
1. 16C-Tylar Rankin[3]
2. 12-Corbin Gurley[4]
3. 0-Brayton Phillips[1]
4. 88-Jimmy McCune[5]
5. 24-Levi Voyce[6]
6. 4-Trey McGranahan[2]
7. 27K-Zac Broughman[7]
8. 10J-Chris Jones[8]
A-Main (25 Laps)
1. 16C-Tylar Rankin[3]
2. 68G-Tyler Gunn[7]
3. 22M-Dan McCarron[2]
4. 41-Thomas Schinderle[5]
5. 10JR-Keith Sheffer Jr[4]
6. 0-Brayton Phillips[6]
7. 87-Logan Easterday[9]
8. 27K-Zac Broughman[14]
9. 4-Trey McGranahan[12]
10. 88-Jimmy McCune[8]
11. 24-Levi Voyce[10]
12. 12-Corbin Gurley[1]
13. 20A-Andy Chehowski[11]
14. 10J-Chris Jones[16]
15. 16-Gary Fritts[13]
DNS: 24T-Mike Schumacher
DNS: 17S-Shelby Yeaples