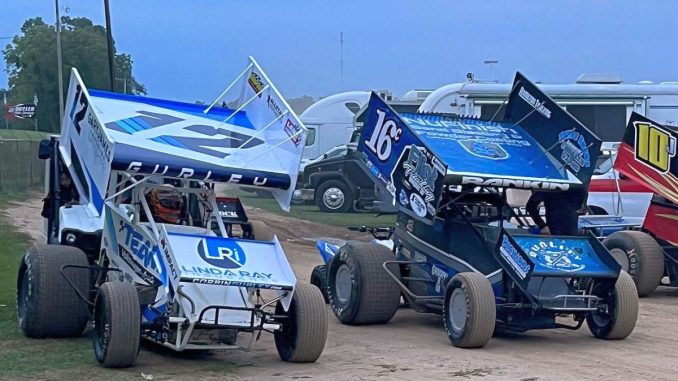 By T.J. Buffenbarger
(September 17, 2023) — The 2023 season at Butler Motor Speedway went out in spectacular style on a cool September evening. Attending the season finale at Butler has been on my personal calendar since before the season began. I could see the continued momentum building with Tim Wilber and his team at Butler and felt regardless of what happened on the race track it would be the perfect opportunity to wrap up the uplifting story of the track's resurgence for the season.
Over the past two weeks it became evident there would be a championship fight to highlight between Trey McGranahan and Logan Easterday. About the same time Corbin Gurley was hurtling through the forest off turn two on Saturday it was clear that Gurley's arboratory adventure and the contact that went with it, would also need to be covered.
As I was walking back to the pit area to get interviews to wrap the evening I walked by Wilber and told him sarcastically, "I'm not entirely sure if I'll have anything to write about" knowing that Butler always provides inspiration for compelling prose. The difference in today versus prior years is most of that writing contains positive stories to tell.
The original storyline…. the ever-improving Butler!
There are still moments of finding things that are ever improving at Butler Motor Speedway. Saturday's realization of betterment occurred when Gary Fitts tipped over at the start of the A-Main. One year ago crash cleanup was still an opportunity for improvement at Butler.
The end of 2023 saw Fritt's car quickly removed from the racing surface and cars pushed off and back underway with the efficiency seen at facilities with more notoriety.
That's been part of the fun following the progress at Butler during this journey. Every time I go back there is something that is just a little bit better than it was the last time I was there. Sometimes the changes are small enough that they may go unnoticed, but I have yet to not find something over the past two years.
Another fun aspect about the Butler sprint car division this year was the unknown of who might show up from week to week. Season championship night had unexpected visits from Tyler Gunn and Dan McCarron. There was a good chance Rankin would have been elsewhere if the Interstate Racing Association had a two-day weekend put together, but the Greg Wheeler team ended up racing in their backyard. Jimmy McCune may have been at Plymouth if this race had been four weeks ago, but now McCune seems intent on doing more dirt racing.
It's fun circumstances like this that make Butler unpredictable at times and gives people something fresh to watch week in and out.
McGranahan Goes from Rookie of the Year to Track Champion…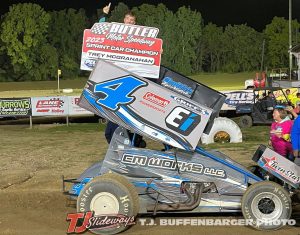 In late August I would have predicted Trey McGranahan having the season championship at Butler under control and my visit on season championship night would be just highlighting the track's continued upswing. Various issues that mounted for McGranahan combined with a persistent challenger in Logan Easterday created a final night showdown for the 2023 track championship.
Drivers earn points every time they hit the racetrack at Butler. McGranahan gained several points on Easterday in qualifying, only to give more back after McGranahan drew a caution flat in his heat race. By the time the feature pushed off McGranahan had to outrun Easterday by four positions to win the title, which he managed to do.
One advantage McGranahan had was starting near Easterday in the feature and was able to keep tabs on his progress.
"It was really nerve racking, especially as the feature was winding down." said McGranahan. "We had such a slim margin for points there. I think Easterday was behind only eight points and most of the race he was ahead a couple cars."
"I was driving super conservatively to trying to not tear anything up, not to mess up. I knew I had points lead right there where I was sitting, so I didn't want to force any issues or anything. All in all, a great night, we got the job done, we finished where we started. All around I'm happy."
McGranahan was quick to credit his crew that worked with him with a couple of different car owners to accomplish their goal of winning the track championship at Butler that was set at the beginning of year. After Bilton Racing was sidelined, Brian Peterson stepped up to save McGranahan's effort to win the Butler title.
"Last year, we won the Rookie of the Year, I was super honored to be able to do that. This year, man, it's been nothing but trouble the first half of the season. We finally got it sorted out. Brian Petersen gave me a fabulous, fabulous racecar. This Maxim Chassis/Griff Engines machine would freaking rip in these past two races. We got the win last week and won the championship this week. So, I can't be much happier. Thank you so much to my crew, Austin and Dakota, my parents, Milford, my uncle Dallas. and Brian Petersen for all his sacrifice and what he's done to be able to put me in this position to help me win this championship. It means a lot."
With the Butler championship wrapped up there is a chance that you may see McGranahan at a handful of venues to finish out the year along with eyes on the recently announced Maverick Winged Sprint Car Series that intends on having races at Lincoln Park Speedway and Bloomington Speedway in 2024 along with a single event this October at Lincoln Park which would be closer to his home base of Avon, Indiana.
"Our initial goal at the beginning of the season was just to secure this championship, get this on our resume and really see what we could do next year. We might see if we can't hit a race at Fremont or something to kind of wind down the season and put the car away for the rest of the year."
"Right now, my goal is to figure out how to get into the new Maverick series that's started up in Indiana," said McGranahan. "All my family, friends, and supporters live down in Indiana where I'm from. That would be great to be able to race down there in front of my family, home crowd and sponsors like that, so I'm just kind of hanging out to see where it goes."
Easterday doing more with less is a runner up again….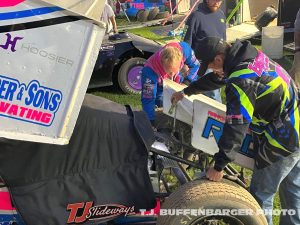 Coldwater, Michigan's Logan Easterday's star is rising quickly on the Michigan sprint car scene. For the second year in a row Easterday is the runner up for the Butler Motor Speedway track championship (Ironically finishing second to a car carrying #4 both seasons).
Easterday was able to capitalize on McGranahan's misfortune to take the championship to the wire and came into the closing night of the season as calm as could be knowing he had nothing to lose.
"There's some disappointment there for sure, but at the same time I'm doing this with a 360 and its family owned. It's what I got so we do the best with what we have and to come out here and run against some of these good race cars. To do what we're doing against these guys with what we got, I have nothing to hang my head on."
Easterday ran a solid, consistent race. Unfortunately for Easterday, McGranahan did just enough to secure the title.
"I knew from the start I was in front of him and just had to stay there. On the restarts and everything I did the best I could and made up the most ground I could all night long. Then we ended up getting lapped there around lap 16 or 17. At that point I knew there wasn't any more ground that could make up, so I was kind of just hanging out. We were trying; we gave it everything it had and then some."
Rankin and Gurley provide fireworks during final feature of 2023…
From the heat races on it was evident that the race for the feature win would likely come down to Corbin Gurley and Tylar Rankin. Both have feature wins this season at Butler earlier this year, they were strong in their heat races, and were starting towards the front of the feature.
Most of the race was a cat and mouse game through traffic with Gurley getting the better of Rankin through the slower cars.
"Racing through lapped traffic is really crucial, especially at Butler," said Gurley about getting through the traffic, which helped him pull away from Rankin. "It's kind of hard to decide what those lap cars want to do, so you must pick them off as fast as you can.
The slower cars impeded Rankin while running second, which is the opposite of what typically happens in a winged sprint car race.
"It was absolutely an inadequate time to catch lap traffic," Rankin said of catching the lapped cars at the wrong time. "There were a couple times I got a good run on him in lap traffic, but then we did catch a caution and just came up short in a couple areas."
From there Gurley was trying to minimize his mistakes by pacing himself in clean air, but later in the race started to get loose off turn four and allowed Rankin to close back in.
"I kept making a mistake towards the end of the race," said Gurley. "The cushion started getting a little bit higher and into the corner and I just kept kind of cheating a little bit. It did not work in my favor. I could have drove the car a lot harder into three and four which would have helped me get off the corner better because coming off turn four there was some moisture there."
A restart with five laps to go ended up being the penultimate moment when Rankin and Gurley connected in turn two with Gurley flying off the track in one of the wilder flips I've witnessed in my lifetime at Butler.
Gurley thought he was in the clear until the contact with Rankin in turn two.
"I took off from that restart and thought I had a good entrance in the one and two," said Gurley. "Going into one, I didn't really hear anybody or see anybody and decided I was going to rip it in there. (Rankin) kind of just banged me up a little bit there and I just went for a ride."
It didn't take long for Gurley to realize he was about to take a wild ride.
"As soon as he hit me the front kind of went forward. I kind of closed my eyes because I knew I was going for a big one. Then I opened my eyes, and I was just surrounded by trees. I was just praying that I was just going to land safely. I didn't land upside down or anything. As soon as I got the race car there was like a little mound that I had to climb up and I saw some rocks and stuff and realized this could have been really bad."
When asked about the incident, Rankin referred to his victory lane, where he took an apologetic tone and demeanor keeping his celebrating to a minimum, stressing the incident was not intentional.
During the lengthy red flag Rankin had to maintain his composure to finish off the final four laps of the feature despite strong emotions surrounding the incident.
"I wanted to make sure I didn't have anything wrong with the car as far as a flat tire, I didn't feel like we hit hard enough to bend anything that felt like it came from the backside of the tire, so I was worried that I was going to have a puncture wound. Other than at the end of the day you have a job to do. Unfortunately, even if you're not very happy inside the car because of the way situations played out you still must be able to compose, come back and try to put five laps together to finish out the race."
As these things typically go Gurley and Rankin were pitted one trailer apart in the pit area.  Things were heated for a moment, but Butler track officials did a good job keeping things relatively under control to the point where by the time I reached the pit area everyone was in a relatively calm state.
Gurley is undaunted after the incident and his team plans on having a backup car prepared to compete next weekend.
"Next week I think the plan is run at Fremont. We have a spare car we're going to throw the motor in and keep on going forward."
As a side note, the victory allowed Rankin to surpass his late father in feature wins with the 9th victory of his career. After taking this week off Rankin and the Wheeler team plan to run six to eight more shows to wrap the 2023 season.
In closing…
I can't recall a time in my 46 years on the planet that the future was this bright at Butler Motor Speedway. There are plenty of things still to improve on, but I've never felt as positive about the only weekly sprint car track in the state of Michigan as I do right now.
The future is always uncertain. There are several potential changes looming in the winged 410 sprint car world in our area, but one thing I know that can be counted on is the effort Tim Wilber and his team are putting in to make things at Butler better every week.
Other notes
• In a slight bit of irony Gurley had Jett Mann helping with his car on Saturday night.  Friday Mann ended up stuck in the turn four catch fence during a MOWA sprint car race at Jacksonville Speedway that went viral due to the ferocity of the incident.  Mann indicated he was sore, but okay, and still plans on running a handful of races to finish out the season.
• Great Lakes Traditional Sprints next to last round of the 2023 season sent Crystal Motor Speedway fans happy with a strong car county of 29 entries and Max Frank driving around Steve Irwin on the final corner for the win.
The victory continues what has turned into a breakout season for Frank with three feature wins this season.
GLTS concludes their 2023 campaign Saturday night at Hartford Motor Speedway.
• Jason Blonde wrapped up the Must See Racing championship Saturday at Plymouth Speedway with a second place finish to Davey Hamilton in the main event. The win caps off a solid season for Blonde with victories on the dirt and pavement to go with his Must See title.
• Keith Sheffer II and Taylor Ferns will be in action Friday and Saturday at Eldora Speedway during the 4-Crown Nationals.
Ferns will be trying to improve her position in the USAC Silver Crown Series point standings where she currently sits fifth in points with two races remaining.
Sheffer will be taking another shot at Eldora without the wing in his family-owned entry with Phillip Reneau lending the team an engine for Saturday's USAC National Sprint Car Series portion of the event.