Inside Line Promotions
ALGER, Wash. (Sept. 18, 2023) –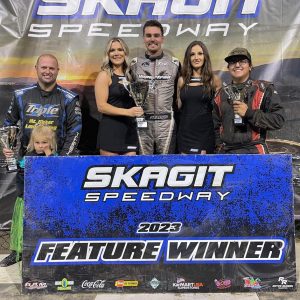 "It felt good to cap the season on a high note," he said. "It defines how we've been there this year. We've been fast for the most part and it was nice to showcase it there in the finale. It was cool to run both classes. I've always wanted to win both classes on the same night and it makes it even more special because you don't get that opportunity very often. I think the last time I ran two classes in one night was in 2017 at Port Royal."
Starks placed second in the scramble in both divisions to garner the outside front row starting spot in each main event.
"We got beat from the outside on the scramble in the 410 class," he said. "That made me feel a little more comfortable because I knew the outside was getting a good start. I had a good start and got out front and just ran smooth laps. We weren't satisfied with how the car was in the scramble so we went back to Square 1, really with something we'd more often start a night with. The car really responded well.
"We had a restart with seven laps to go and Jason (Solwold) threw a big bid for a slider going into turn one. I saw him and we drove around it. If I was any slower he could have potentially got in front of me, but we squeaked around him."
The victory was the sixth of the season in 410 competition at Skagit Speedway for Starks.
"It was nice to start in the same spot in both features, especially since the outside was getting a better start," he said. "In the 360 A Main Jason got out front on an initial start, but we had a caution before a lap was completed. On the second start I moved up higher in turn one to get a better run and we got around him out of turn two. We set the pace that I liked and picked through traffic. Traffic was a little heavier in the 360 than the 410, but we maintained a good pace and could move around."
The win was his second in a row at Skagit Speedway and third straight in 360 action. Starks, who missed multiple 360 points races at Skagit Speedway, finished fifth in the driver standings. However, his team had a car at each race he missed so the team ended third in the owners points.
QUICK RESULTS –
Sept. 16 – Skagit Speedway in Alger, Wash. (410 sprint car) – Scramble: 2 (1); Feature: 1 (2).
Sept. 16 – Skagit Speedway in Alger, Wash. (360 sprint car) – Scramble: 2 (3); Feature: 1 (2).
SEASON STATS –
29 races, 9 wins, 19 top fives, 20 top 10s, 25 top 15s, 26 top 20s
MEDIA LINKS –
Website: http://www.StarksRacing.com
Twitter: https://twitter.com/Starks55Trey
Facebook: https://www.facebook.com/TreyStarksRacing?fref=ts