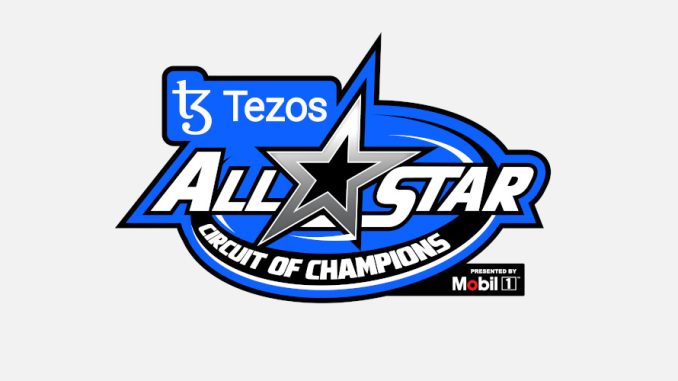 By Tyler Altmeyer
BROWNSBURG, Ind. (September 20, 2023) – It has been a long road to the 2023 Tezos All Star Circuit of Champions presented by Mobil 1 team championship, but the battle is far from over, as two teams are still in the hunt for the $80,000 payday, which will be determined in Eldora Speedway's coveted 4-Crown Nationals on Saturday, September 23. The championship points finale, the Series' second appearance of the season at the "World's Greatest Dirt Track," will not only crown an All Star champion, but also award a $10,000 payday, officially capping All Star competition in the Buckeye State for 2023.
Only four points separate the two teams remaining in the All Star team championship chase. Rudeen Racing's Rayce Rudeen Foundation/Sundollar Restoration No. 26, piloted by Angola, Indiana's Zeb Wise, is currently on top of the standings with 5350 points, followed Clauson Marshall Racing's NOS Energy Drink No. 7BC with 5346 points, driven by two-time and defending champion, Tyler Courtney.
Should Rudeen Racing's Zeb Wise finish second or better, even with a win by Courtney, Rudeen Racing will clinch the team championship. A win by Courtney and a runner-up finish by Wise would tie the two with eight point-earning All Star victories each this season, and with each team also owning an identical number of point-earning runner-up finishes, the next championship tiebreaker is third-place finishes. Rudeen Racing leads Clauson-Marshall Racing by two (five versus three).
"I'm excited for Eldora," Zeb Wise acknowledged. "It's been an incredible year. Our team has worked so hard to be at the top and it's been great to see them earn what they've worked so hard to achieve. They really do make my job easy, and although Eldora hasn't been too kind to me, I'm confident our momentum going in will help us earn a championship."
If Courtney, a former Kings Royal champion, wins Eldora's 4-Crown Nationals and Wise finishes third or worse, a third-straight title would be secured for Clauson Marshall Racing. A championship can also be clinched with a finish of second or worse by Courtney, with Wise finishing at least three spots behind Courtney.
"We're excited for the opportunity to battle with Zeb and Rudeen Racing for a championship. When I got hurt earlier this year, I wasn't sure I was even going to be able to come back, let alone be in this position," Courtney said. "I respect Zeb a lot, which makes this entire scenario even better. I'm ready to get to Eldora and leave it all out there."
Champion Scenarios:
Rudeen Racing:
A runner-up finish or better secures the team championship.
OR
A finishing position within two spots of Clauson Marshall Racing, if Clauson Marshall does not finish first.
Clauson Marshall Racing:
A first-place finish, with Rudeen Racing finishing third place or worse.
OR
A second-place finish or worse, with Rudeen Racing finishing at least three spots behind Clauson Marshall Racing.
Vermeer Racing, and driver, Kerry Madsen, are currently third in the All Star team chase, followed by Lane Racing and Chris Windom who are fourth in the standings, and Bryan Grove Racing and New Jersey wheelman, Kyle Reinhardt, stand fifth in the standings. All three teams have secured their final position in owner points and cannot improve their respective positions, nor fall in the standings, if all teams attend on Saturday.
Seeling Motorsports and driver, Brandon Spithaler, and McCandless Motorsports and driver, Carl Bowser, represent the second points battle to be determined Saturday night, as both teams are fighting for sixth in the final owner points. Seeling Motorsports currently leads McCandless by 12 points.
D3 Motorsports and driver, Connor Morrell, finish their respectable rookie campaign with the All Stars with an eighth place finish in the owner points.
Eldora Speedway pit gates are scheduled to open at noon on Saturday, September 23. The All Star team meeting will commence at 4:30 p.m. followed by engine heat and hot laps. Those wanting to learn more about Eldora Speedway's 4-Crown Nationals can do so by visiting Eldora Speedway online at www.eldoraspeedway.com.
For those who cannot witness the All Star Circuit of Champions live and in person, FloRacing.com, the official media partner and broadcast provider of the All Stars, has you covered. To access live and on-demand racing action from the All Star Circuit of Champions, visit FloRacing.com and become an annual PRO subscriber. Race fans can see all the USAC and dirt late-model action they want in addition to Eldora Speedway's slate of races and those of the All Star Circuit of Champions. The subscription unlocks access to premium content across the entire FloSports network. Watch the events across all screens by downloading the FloSports app on iOS, Android, Apple TV, Roku, Amazon Fire and Chromecast. Find subscription here: https://flosports.link/3XJOg5Z
2023 All Star Circuit of Champions OWNER Standings (As of 9/16):
Rudeen Racing – 5350
Clauson Marshall Racing – 5346
Vermeer Motorsports – 5230
Lane Racing – 5056
Bryan Grove Racing – 4932
Seeling Motorsports – 4568
Bill McCandless Ford – 4556
D3 Motorsports Group – 4180
2023 All Star Circuit of Champions DRIVER Standings (As of 9/16):
Zeb Wise – 5240
Chris Windom – 5056
Tyler Courtney – 4543
Sye Lynch – 4330
Conner Morrell – 4180
J.J. Hickle – 4064
Tim Shaffer – 4030
Parker Price-Miller – 2844
Kerry Madsen – 2844
Zeth Sabo – 2564
About Tezos:
Tezos is smart money, redefining what it means to hold and exchange value in a digitally connected world. A self-upgradable and energy-efficient Proof of Stake blockchain with a proven track record, Tezos seamlessly adopts tomorrow's innovations without network disruptions today. For more information, please visit www.tezos.com.
About Mobil 1:
The world's leading synthetic motor oil brand, Mobil 1™ features anti-wear technology that provides performance beyond our conventional motor oils. This technology allows Mobil 1 to meet or exceed the toughest standards of car builders and to provide exceptional protection against engine wear, under normal or even some of the most extreme conditions. Mobil 1 flows quickly in extreme temperatures to protect critical engine parts and is designed to maximize engine performance and help extend engine life. For more information, visit mobiloil.com, on Twitter @Mobil1 and, on Facebook, www.facebook.com/mobil1. Mobil, Mobil 1 and Mobil 1 Racing are registered trademarks of Exxon Mobil Corporation or one of its subsidiaries.
About FloSports:
Founded in 2006, FloSports is a subscription video streaming service dedicated to sports, offering live and on-demand access to hundreds of thousands of competition events across 25+ vertical sport categories in the US and abroad. FloSports' vision is to give underserved sports the love they deserve. With a growing library of more than 300,000 hours of premium content including news, expert commentary, films, documentaries and more, FloSports has established itself as an innovator and leader in sports streaming. Finally, your sport has a home. For more information, please visit: flosports.tv.
About the All Star Circuit of Champions:
All Star Enterprises, LLC, wholly owned by Tony Stewart, d/b/a the All Star Circuit of Champions, is a winged sprint car series. The All Star Circuit of Champions Sprint Car Series is one of the oldest traveling 410 sprint car organizations and is a staple of grassroots, open-wheel racing. Formed in 1970 by Bud Miller, the series has largely been considered the first 'outlaw' Sprint Car organization of the modern era. Motorsports entrepreneur Tony Stewart agreed to terms with Guy Webb to become the sole owner of the original winged sprint car tour in January of 2015.