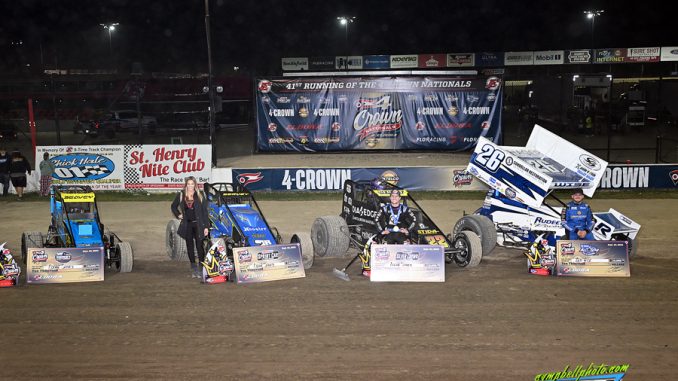 By T.J. Buffenbarger
(September 24, 2023) — It's 2:50 a.m. and just getting in front of my laptop at the hotel after a exhilarating night of racing at Eldora Speedway during the 41st 4-Crown Nationals. Typically, my cutoff time for writing is 2:00 or else things stop sounding coherent. After a night of great storylines like we witnessed at Eldora, writing into the wee hours of the morning will not be difficult.
• When I crossed paths with Logan Seavey on Saturday the main goal was to take a different angle for writing about being the only driver taking on all four classes at the 4-Crown. We discussed logistics of getting from car to car, having helmets ready for tear offs, and all the little details that make going from car to car easier.
I had no idea that several hours later we would be talking about Seavey being only one of three drivers to ever sweep the three USAC features at the 4-Crown Nationals in a single night.
Thinking about Seavey's accomplishment on the way back to hotel, his path to holding a broom in victory lane at the Big E was like Jack Hewitt and Kyle Larson, the two drivers to accomplish the task before Seavey.
Both Hewitt and Larson had a race they were an underdog in. For Hewitt it was the USAC Midget Race where he had to come from mid-pack to drive several cars more robust than what Hewitt was driving at the time for the win. Larson caught a few breaks from others mistakes in the Sprint Car portion of the program in route to his sweep.
Seavey's midget car program with Abacus Racing has been taking it to some of the super teams in the sport and his Silver Crown team with Rice Motorsports teamed with Abacus Racing has been regularly near the top of the point standings with Seavey behind the wheel.
Seavey's sprint car program with Scott Benic's 2B Racing team has been the anomaly in the trio not quite getting the same kind of results Seavey was having with his other two entries. Recently that combination has been starting to click with Seavey and Benic getting their first win at Circle City Raceway.
Saturday the 2B entry with Seavey behind the wheel looked the part of a triple division sweep. The only person that was as happy or happier than Seavey in victory lane was Benic. That might as happy as I've ever seen Benic during my writing career after a feature victory.
The 4-Crown sweep is another notch in what has turned out to be a tremendous 2023 season for Seavey winning the Chili Bowl Nationals, leading two of the three USAC National Point Standings, and Championships, and was already in double digits for feature wins going into Saturday's 4-Crown finale.
The 4-Crown is a race that makes stars, and Saturday's sweep is a moment that will help Seavey's shine even brighter.
• While Seavey sweeping the 4-Crown was the biggest story coming out of Saturday at the 4-Crown Nationals, the All Star Circuit of Champions showdown for the owners championship ended up stealing the show as the most compelling single feature event of the evening.
Clauson/Marshall Racing and Rudeen Racing were only separated by four points going Saturday's penultimate round for the series at Eldora Speedway. The owner's championship gave us the point fight we likely would have seen had both Zeb Wise and Tyler Courtney not had to sit out events earlier in the season due to injury.
The showdown for the title was one of the most cordial you would even find between two competitors. Both Courtney and Wise were at Clauson/Marshall Racing together when the team was fielding midget cars in USAC and the respect and admiration between the two is clear.
Courtney and Wise kicked off the day wearing each other's shirts in support. Throughout the past several weeks following the tour and interviewing both after victories, each one mentioned wanting the title to be decided on the track.
It turns out that the owner's title literally came down to the last lap in a feature that took many twists and turns. While Rico Abreu was running off with the early portion of the main event, it appeared Courtney might be in prime position to secure the title. Wise started to move forward though and the battle with Courtney for position had all eyes at Eldora focused on it.
Once Wise was able to get ahead of Courtney and was starting to real in Abreu, Abreu did the unthinkable as dominate as he's been this season at Eldora and hit the wall in turn four. Wise was barely able to miss Abreu's stopped car.
From there it was watching Wise to see if he could avoid Eldora's unforgiving concrete walls that had already bitten several drivers on Saturday.
For Wise Saturday's owners title is just another step in his progression into becoming one of the top young stars in the sport. For Kevin Rudeen, a man that has done so much for the sport over the past several years by running racetracks, multiple race teams, and promoting a big paying race to bring attention to the foundation named after his late son, it was a culmination of years of having cars fielded far from his home in the pacific northwest to compete at sprint car racing's highest levels.
Seeing such respect from both team's top to bottom with so much on the line Saturday was refreshing compared to some of the immature antics and attitudes we all too often see in motorsports in those situations. The Wise/Courtney Rudeen/Clauson/Marshall race for the owner's title should be ranked right up with some of the classic All Star point battles like Robbie Stanley and Rocky Hodges, Joe Gaerte and Rocky Hodges, and Frankie Kerr and Kevin Huntley.
• On the other end of the points championship spectrum Brady Bacon's abysmal night Saturday at Eldora Speedway just made the task of him winning another USAC National Sprint Car championship extremely difficult.
Bacon uncharacteristically crashing during qualifying, having issues with his backup car before the heat race, then dropping out of that feature after issues with his eyes after being splashed with fuel earlier in the evening is what I often refer to is not just losing your lucky horseshoe, but managing to lose the entire horse.
Bacon's primary competition for the USAC National Sprint Car Series championship, Justin Grant, is extremely good at Eldora and showed that on Saturday by being second fast in qualifying, winning his heat race from 6th starting position, and finishing second in the feature event.
Grant had his own potential season changing moment during Saturday's feature when running second trying to catch Logan Seavey. Grant had a harrowing moment going into turn one with an unusual entry that got him into the fence and could have ended his night. Somehow Grant managed to save the car and lived to fight another day, turning in a solid point night that could be the final key to securing the 2023 point championship.
Unlike the All Stars, USAC competitors earn points towards the season championship in qualifying and heat races. Grant's performance on Saturday stretched his lead in the season standings to 66 points over Bacon. There was a time where Grant might have kept pushing and not finished that race. While Grant is still a force to be reckoned on half-mile racetracks in non-wing sprint cars, the maturity level continues to improve and Grant now is in the drivers seat toward winning another USAC Sprint Car title.