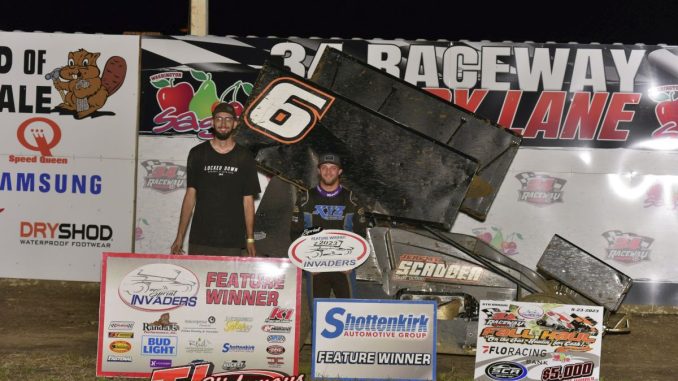 From Bill Wright
WEST BURLINGTON, Iowa (September 23, 2023) — Zane DeVault walked away with the $5,000 prize in Saturday's "Fall Haul" at the 34 Raceway in West Burlington, Iowa. It took perseverance after a two-and-a-half-hour delay and some white knuckle driving in traffic, but the Plymouth, Indiana brought home his second Sprint Invaders win in as many nights. He also captured the $3,000 event on Friday at the Lee County Speedway in Donnellson, Iowa. Ryan Bunton finished second and nailed down his first ever Sprint Invaders championship.
Paul Nienhiser jumped out to an early lead in the 30-lap main event, followed by Bunton, Tim Estenson and Cam Martin. DeVault entered the top five by lap four. The track was narrow and heavy after a two and a half hour rain delay, the leaders were in traffic on the fifth lap.
When Nienhiser stumbled behind a lapper, Bunton snuck under him to lead lap six. Nienhiser bulled his way back by Bunton to the point. Contact was made, but Bunton was able to save his racer and continue in the second spot. Martin moved into the third spot at that point with DeVault in tow.
Twelve laps in, Nienhiser was attempting to lap JJ Beaver when they made contact. Both cars got upside down, but the drivers were o.k. The high speeds continued as Bunton assumed the lead, ahead of Martin, DeVault, Estenson and Kelby Watt. DeVault began changing to a bit higher line on the cushion. He shot around Martin into the second spot on lap 23. Shortly after, Colton Fisher went up ini smoke to bring the final caution.
DeVault used the high side of two to pass Bunton for the lead on the restart, and he began pulling away. His win came by a straightaway over Bunton. Martin tried to emulate DeVault's high line in an attempt to get by Bunton. He got a bit too high in turn two and Estenson shot by for third with three to go. Watt was fifth. Josh Schneiderman, Carson McCarl, Riley Goodno, Josh Higday and Chris Martin rounded out the top ten. Schneiderman, Estenson, DeVault and Goodno won heat races before the rains began to fall. The Shake-up Dash was scratched. A 17-car B main saw only seven cars remain after the rains. Dugan Thye claimed that race. Plenty of cash and contingencies were handed out.
"Man it was close," said DeVault of his winning pass of Bunton. "My car owner (Jeremy Scadden) gave me a heck of a car. We made some decisions and the rain kind of messed up our gameplan. That was a pretty good race. I have to give the track crew a lot of credit for getting this in. Hats off to the fans for sticking it out. I went to the top and it worked out. You have to take risks and we did. It got pretty racy. We doubled down this weekend, and that's good. We needed to get back on our feet and make some money."
"It was close racing and Paul's a good guy," Bunton said of his close encounter early in the race with Nienhiser. "He's going for the win just like we were. Unfortunately, the track was just hammer down and our car got tight. We gave it everything we had and still came away with second. That isn't anything to shake your head at, but man I wanted to win. I heard (DeVault) rev up and go around us and I wondered what was under the hood. We're a family team and everything depends on what is going on in our lives. We didn't set out to win this championship, we were taking it one weekend at a time. I have to give credit to my Dad (Scott). He lives in Florida and I got him to come up and help me out. We didn't have a mechanical breakdown all year and he's the reason."
"We had two great nights," said Estenson, who crashed while leading at Donnellson Friday. "The first night was just driver error. Tonight, we could have been a little better, but I'll take what we could get. The car is one piece and we'll go to the next race. I saw my guy in the stands and he wanted me to try the bottom. I tried that in one and capitalized (by passing Martin). We're happy with the finish."
Sprint Invaders Association
34 Raceway
Burlington, Iowa
Saturday, September 23, 2023
Randalls Performance Accessories Heat Race #1 (8 Laps)
1. 49-Josh Schneiderman[2]
2. 4-Cameron Martin[4]
3. 6R-Ryan Bunton[7]
4. 51J-Ryan Jamison[3]
5. 1E-Josh Higday[9]
6. B29-JJ Beaver[1]
7. 16-Dustin Clark[5]
8. 5-Gage Pulkrabek[6]
9. 2A-Austin Archdale[8]
Ameriprise Financial Joshua Denning Associates Heat Race #2 (8 Laps)
1. 14T-Tim Estenson[1]
2. 27-Carson McCarl[2]
3. 44-Chris Martin[3]
4. 99-Bret Tripplett[6]
5. 7-Tyler Lee[8]
6. 6-Dustin Selvage[7]
7. 21-Devin Wignall[4]
8. 23-Devon Dobie[9]
9. 31-McCain Richards[5]
Mohrfeld Solar Heat Race #3 (8 Laps)
1. 6Z-Zane DeVault[1]
2. 11-Colton Fisher[2]
3. 22X-Kelby Watt[5]
4. 5M-Collin Moyle[3]
5. 14M-Randy Martin[9]
6. 99D-Tucker Daly[4]
7. 20I-Kelsey Ivy[8]
8. 14-Aidan Zoutte[6]
9. 7B-Nick Guernsey[7]
Heat Race #4 (8 Laps)
1. 22-Riley Goodno[2]
2. 4X-Chase Richards[1]
3. 50-Paul Nienhiser[6]
4. 28-Luke Verardi[4]
5. 96-Jake Blackhurst[3]
6. 4W-Jamie Ball[7]
7. 11T-Dugan Thye[9]
8. 40C-Cody Wehrle[8]
9. 1A-John Anderson[5]
Dash #1 (6 Laps)
1. 11T-Dugan Thye
2. B29-JJ Beaver
3. 14-Aidan Zoutte
4. 23-Devon Dobie
5. 31-McCain Richards
6. 7B-Nick Guernsey
7. 1A-John Anderson
B-Main (10 Laps)
1. 11T-Dugan Thye[1]
2. B29-JJ Beaver[2]
3. 14-Aidan Zoutte[4]
4. 23-Devon Dobie[3]
5. 31-McCain Richards[5]
6. 7B-Nick Guernsey[7]
7. 1A-John Anderson[6]
Shottenkirk Super Store A-Main (30 Laps)
1. 6Z-Zane DeVault[8]
2. 6R-Ryan Bunton[1]
3. 14T-Tim Estenson[3]
4. 4-Cameron Martin[4]
5. 22X-Kelby Watt[6]
6. 49-Josh Schneiderman[5]
7. 27-Carson McCarl[9]
8. 22-Riley Goodno[7]
9. 1E-Josh Higday[11]
10. 44-Chris Martin[16]
11. 6-Dustin Selvage[19]
12. 11T-Dugan Thye[21]
13. 4X-Chase Richards[13]
14. 99-Bret Tripplett[14]
15. 7-Tyler Lee[15]
16. 5M-Collin Moyle[18]
17. 20I-Kelsey Ivy[20]
18. 11-Colton Fisher[10]
19. 23-Devon Dobie[24]
20. 51J-Ryan Jamison[17]
21. 50-Paul Nienhiser[2]
22. B29-JJ Beaver[22]
23. 14-Aidan Zoutte[23]
24. 14M-Randy Martin[12]