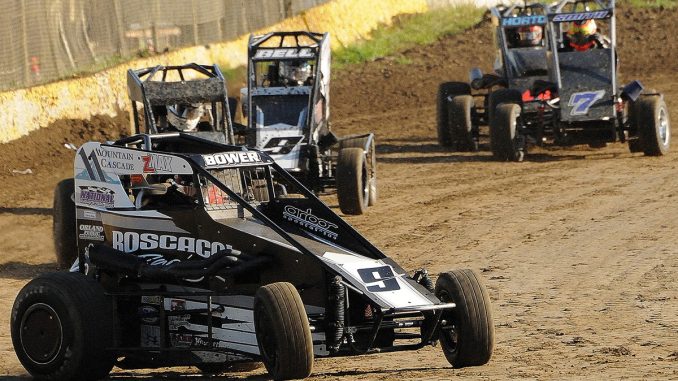 By Steven Blakesley
WATSONVILLE, CALIFORNIA (September 27, 2023) – Mohave Valley Raceway in Arizona will host Western Midget Racing for the second time in 2023 on Saturday night, serving as the penultimate round of the tight championship title duel between Oakley's Bryant Bell and Santa Cruz's Logan Mitchell.
IMCA Modifieds, Street Stocks, and Dwarf Cars will also be competing this weekend. Pit gates open at 3pm while Grandstand gates open at 6pm, with racing at 7pm. General admission tickets are available at the gate by cash only. Adults are $15, Seniors 60 and over and Military are admitted for $12, kids 6-12 are $8, and kids five and under are free!
Bell has scored four victories in the No. 09 Spike Chassis for Toyota Walnut Creek and car owner Tony Boscacci. Bell's most recent win in the series came on Friday night August 11 at Ocean Speedway. His championship lead is just eight points, representing only four positions on the race track. He has an average finish of a little better than fourth place in 12 feature main event starts this season.
Bell will be making his first Mohave Valley Raceway start while Mitchell was part of the series' debut there in March. Mitchell has yet to see victory lane in the No. 96x Boss Chassis for Price Rite Restaurant Equipment and Mayer Iron, with an average finish of fifth in 13 starts. Mitchell has podiumed four times this season including three runner-up finishes across Ocean Speedway and Petaluma Speedway. He recently finished fourth in the series' debut at Bakersfield Speedway.
2022 series champion Blake Bower of Brentwood is third in the championship with four wins as well. Darin Horton of Linley, New York has driven the SigalSport Spike into fourth in the championship followed by Lodi's Nate Wait. Livermore's Greg Dennett is sixth in the points.
Surprise, Arizona's Drake Edwards aims for his third consecutive WMR win this weekend after grabbing Marysville on August 12 and Bakersfield on September 9. Edwards prevailed at Mohave in March without points on the line and has since added five points-paying victories during a strong season for the driver of the No. 4 for Avanti Windows and Doors.
Adrianna DeMartini of Brentwood, Kyle Hawse of Las Vegas, and Anthony Bruno of San Jose round out the top-ten in the standings.
Following Mohave Valley, the 2023 Western Midget Racing championship will be decided on October 21 at Ventura Raceway.
For more information visit www.WesternMidgetRacing.com
2023 WMR Schedule – Subject to Change
2.4 Adobe Mountain Speedway NON POINTS – Winner: Dustin Cormany
3.18 Mohave Valley Raceway NON POINTS – Winner: Drake Edwards
3.31 Ocean Speedway – RAIN
4.1 Antioch Speedway – RAIN
4.29 Ventura Raceway – Winner: Bryant Bell
5.12 Ocean Speedway – Winner: Blake Bower
5.13 Petaluma Speedway – Winner: Bryant Bell
6.9 Ocean Speedway – Winner: Blake Bower
6.10 Petaluma Speedway – Winner: Bryant Bell
6.17 Ventura Raceway *Wagsdash* Winner: Drake Edwards
7.14 Ocean Speedway *Howard Kaeding Classic* Winner: Drake Edwards
7.15 Ocean Speedway *Howard Kaeding Classic* Winner: Blake Bower
7.28 Ocean Speedway Winner: Blake Bower
7.29 Antioch Speedway Winner: Drake Edwards
8.11 Ocean Speedway Winner: Bryant Bell
8.12 Marysville Raceway Winner: Drake Edwards
9.9 Bakersfield Speedway Winner: Drake Edwards
9.30 Mohave Valley Raceway
10.21 Ventura Raceway