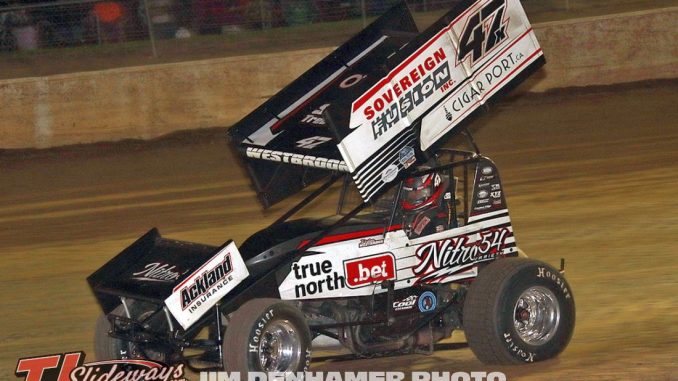 PORT COLBORNE, ONT (September 29, 2023) — Dylan Westbrook and Matt Billings opened the Fall Classic Friday night at Humberstone Speedway in victory lane with the Southern Ontario Sprints and Action Sprint Tour.
Westbrook took advantage of his outside front row starting position in the Southern Ontario Sprints main event to drive off to his 10th feature victory of the 2023 season. Liam Martin, D.J. Christie, Matt Farnham, and and Ryan Turner rounded out the top five.
Billings won the Action Sprint Tour feature and cruised to his fourth win of the 2023 season. Mathieu Bardier, Ashton VanEvery, Tyler Willard from 10th starting position, and Sheldon Bender rounded out the top five.
Fall Classic
Humberstone Speedway
Port Colborne, Ontario
Friday, September 29, 2023
Southern Ontario Sprints
Qualifying Flight A
1. 15-Ryan Turner, 14.226[2]
2. 12DD-Darren Dryden, 14.242[1]
3. 14H-Jim Huppunen, 14.372[6]
4. 0-Glenn Styres, 14.478[5]
5. 90-Travis Cunningham, 14.635[7]
6. 21-Kyle Phillips, 14.740[3]
7. 13-Dale Hunter, 15.490[4]
Qualifying Flight B
1. 47X-Dylan Westbrook, 14.001[1]
2. 10-Mitch Brown, 14.414[2]
3. 87X-Shone Evans, 14.447[6]
4. 45-Nick Sheridan, 14.637[3]
5. 68-Aaron Turkey, 14.738[7]
6. 70MM-Dale Curran, 14.828[5]
7. 94-Todd Hoddick, 14.871[4]
Qualifying Flight C
1. 9-Liam Martin, 14.719[4]
2. 7NY-Matt Farnham, 14.829[2]
3. 5-DJ Christie, 14.914[1]
4. 43-Scott Sherk, 15.090[6]
5. 11J-Chris Jones, 15.265[5]
6. 77T-Tyeller Powless, 15.378[3]
Creative Edge Heat Race #1 (8 Laps)
1. 0-Glenn Styres[1]
2. 14H-Jim Huppunen[2]
3. 15-Ryan Turner[4]
4. 12DD-Darren Dryden[3]
5. 90-Travis Cunningham[5]
6. 21-Kyle Phillips[6]
7. 13-Dale Hunter[7]
Creative Edge Heat Race #2 (8 Laps)
1. 87X-Shone Evans[2]
2. 47X-Dylan Westbrook[4]
3. 45-Nick Sheridan[1]
4. 10-Mitch Brown[3]
5. 70MM-Dale Curran[6]
6. 68-Aaron Turkey[5]
7. 94-Todd Hoddick[7]
Creative Edge Heat Race #3 (8 Laps)
1. 5-DJ Christie[2]
2. 9-Liam Martin[4]
3. 7NY-Matt Farnham[3]
4. 11J-Chris Jones[5]
5. 11-Allan Downey[7]
6. 77T-Tyeller Powless[6]
7. 43-Scott Sherk[1]
Nitro 54 Variety A-Main (25 Laps)
1. 47X-Dylan Westbrook[2]
2. 9-Liam Martin[1]
3. 5-DJ Christie[3]
4. 7NY-Matt Farnham[5]
5. 15-Ryan Turner[4]
6. 87X-Shone Evans[6]
7. 45-Nick Sheridan[13]
8. 0-Glenn Styres[8]
9. 10-Mitch Brown[10]
10. 14H-Jim Huppunen[7]
11. 90-Travis Cunningham[14]
12. 12DD-Darren Dryden[9]
13. 70MM-Dale Curran[12]
14. 21-Kyle Phillips[15]
15. 77T-Tyeller Powless[16]
16. 11-Allan Downey[21]
17. 94-Todd Hoddick[18]
18. 68-Aaron Turkey[17]
19. 11J-Chris Jones[11]
20. 43-Scott Sherk[20]
21. 13-Dale Hunter[19]
Action Sprint Tour
Heat Race #1 (8 Laps)
1. 20-Johnny Miller[2]
2. 9-Adam Turner[3]
3. BS39-Brett Stratford[6]
4. 2S-Al Sleight[1]
5. 71-Mike Bowman[9]
6. 16X-Keegan Baker[7]
7. 87-Andrew Hennessy[8]
8. 29W-Tyler Ward[5]
9. 14B-Broden Weiler[4]
Heat Race #2 (8 Laps)
1. 52-Matt Billings[1]
2. 77E-Ashton VanEvery[2]
3. 50LS-Adrian Stahle[4]
4. 51L-Lee Ladouceur[3]
5. 72-Tanner Podwinski[6]
6. 28T-Cameron Thomson[8]
7. 11W-Jeremy May[7]
8. 9C-Brian Nanticoke[5]
Heat Race #3 (8 Laps)
1. 19-Mathieu Bardier[1]
2. 97-Sheldon Bender[3]
3. 7A-Tyler Willard[2]
4. 71C-John Cadman[4]
5. 88-Lance Erskine[6]
6. 85C-Cam MacKinnon[5]
7. 20L-Treyten Lapcevich[7]
8. 19M-Will Marche[8]
B-Main (12 Laps)
1. 87-Andrew Hennessy[1]
2. 20L-Treyten Lapcevich[2]
3. 29W-Tyler Ward[5]
4. 11W-Jeremy May[3]
5. 9C-Brian Nanticoke[6]
6. 14B-Broden Weiler[7]
7. 19M-Will Marche[4]
A-Main (25 Laps)
1. 52-Matt Billings[1]
2. 19-Mathieu Bardier[4]
3. 77E-Ashton VanEvery[6]
4. 7A-Tyler Willard[10]
5. 97-Sheldon Bender[2]
6. 20-Johnny Miller[3]
7. 9-Adam Turner[7]
8. 71C-John Cadman[11]
9. 2S-Al Sleight[16]
10. 51L-Lee Ladouceur[12]
11. 88-Lance Erskine[14]
12. 72-Tanner Podwinski[13]
13. 50LS-Adrian Stahle[9]
14. 20L-Treyten Lapcevich[20]
15. 87-Andrew Hennessy[19]
16. 85C-Cam MacKinnon[18]
17. 28T-Cameron Thomson[15]
18. 29W-Tyler Ward[21]
19. 16X-Keegan Baker[17]
20. 9C-Brian Nanticoke[23]
21. 11W-Jeremy May[22]
22. 14B-Broden Weiler[24]
23. 71-Mike Bowman[8]
24. BS39-Brett Stratford[5]