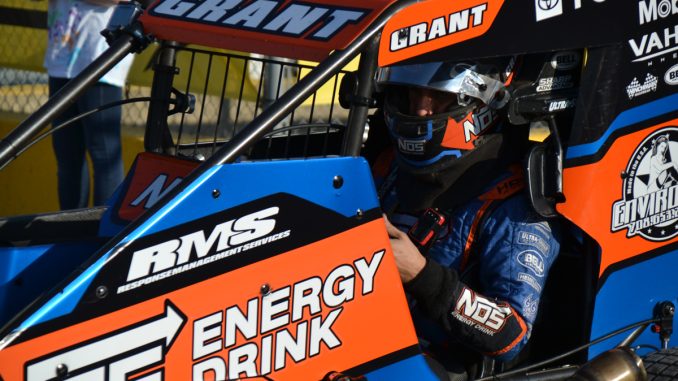 By Richie Murray
Speedway, Indiana (September 30, 2023)………One week ago, Justin Grant's USAC NOS Energy Drink Midget National Championship campaign had hit peak frustration.
It's been a season that began with high hopes and championship aspirations but had instead seen him go winless throughout the first nine months of the season, and seemingly further away than ever for he and his RMS Racing team from recapturing the success of their first two seasons together in 2021-22.
Now, one week later, the Ione, Calif. native's season hit peak jubilation as the winner of the richest-paying midget race of them all, pocketing $20,039 as the victor of the fifth running of the Driven2SaveLives BC39 on Saturday night at The Dirt Track at Indianapolis Motor Speedway.
Saturday night's finale capped a phenomenal comeback story for RMS Racing. The Western Springs, Ill. based team's two-car effort entered the weekend winless on the USAC trail in 2023 until this weekend at the 1/4-mile dirt oval. In the end, they wound up sweeping all three nights of the BC39, including Thursday and Friday's prelims with Thomas Meseraull and Grant, respectively, before those same two drivers duked it out in a masterful display of high stakes racing who were chasing a crown jewel on the big stage.
The 39-lap affair saw both Grant and Meseraull exchange the lead numerous times during the latter half of the race, three times officially, before Meseraull ramped up the turn four wall while leading with just eight laps to go. Grant took advantage and sealed the deal for his first BC39 final night victory and the 16th of his USAC National Midget career, tying himself for 43rd on the all-time list alongside Rico Abreu, George Amick, Billy Cantrell, Lee Kunzman, Bobby Olivero and Henry Pens.
First and foremost, the inspiration for this weekend's festivities on The Dirt Track at IMS was to celebrate the life and memory of the late USAC champion driver, Bryan Clauson. For Grant, capturing a win in this particular event is meaningful in a myriad of manners. When Grant and Clauson were just kids going up and down the road on the quarter midget circuit, Grant's first time spending the night at a friend's house was at Bryan's. Now, all these years later, Grant was able to win one of the most meaningful races of his career in such a grand manner in the race named after BC.
"It's got to be nearly at the top on the list of things I've been fortunate to accomplish," Grant told of where this race ranks on his continuously growing list of accomplishments. "To come in here and to win at IMS, to win a race for Bryan Clauson with everything in his honor, it really means a lot to me."
Grant began his quest from the fourth spot, directly behind front row starters Emerson Axsom and Meseraull. Axsom, celebrating his 19th birthday on this night, blew out the candles early by leading the opening two laps. However, Meseraull made his intentions abundantly clear to get to the front ASAP as he worked the high side past Axsom to control the pace by lap three.
The biggest incident of the evening occurred on lap five when Daniel Whitley soared high into the turn one catchfence, which required extensive repairs before racing could continue. It wasn't quite the same story for Whitley's Abacus Racing ride, which experienced significant damage, thus prematurely ending the 19th place running driver's first BC39 start. However, he was able to climb out and walk away.
One thing to always remember regarding midget racing in general, and especially on the dirt at IMS, is that no lead and no position is ever completely comfortable, and that became quite evident as soon as racing resumed. The suddenly surgent Grant restarted fourth on lap six, and by lap nine, was edging his way into the lead, albeit briefly, when he split his way between Axsom and Meseraull in turns one and two. In the tussle, Axsom rode a path on the bottom of turn two to reclaim the top spot.
But just as soon as Grant was in the hunt for the lead, he briefly slid back to fourth behind the attacking Meseraull and a new challenge from Taylor Reimer. Meanwhile, Meseraull didn't blink as he ripped the lead back away from Axsom with a patented "slide or die" moment in turns three and four on lap 15. As Axsom tried to answer with a slider of his own in turn one a straightaway later, both slid up the track, opening the door for Grant to drive under both to slot into the lead for the initial time.
Nearing the halfway point, Grant allowed the race and the track conditions come to him rather than the alternative after taking a somewhat easy, in relative terms, pace during the early portion of the event.
"I was kind of riding around early," Grant revealed. "We weren't the best car, and we weren't the fastest, but I knew that as soon as it got slick, curbed up and technical, I could go to work."
The ever-changing track conditions pushed the line closer and closer to fence, forcing Grant, Meseraull and Axsom to put on a show where the line between disaster and heroism was as fine as a sharpened number two pencil.
"After about the first 10 laps, (the curb) got to where you couldn't run under it anymore, then you were up in that curb and pounding the wall coming off," Grant explained. "You had to pound the wall one last time to finish it and get a good shot down the straightaway. It was really hard when you got to lapped traffic and you couldn't get in at the rate you needed to get in, so your car was unloaded behind those guys."
Disaster nearly struck with 15 laps to go when Meseraull reassumed the lead as Grant worked to put series Rookie Jake Andreotti a lap down. Meseraull took advantage of Grant's stifled momentum and slid right into the gap between Andreotti and Grant on the high side of turns three and four. Grant attempted to return the favor in turn one, but nearly came to a crushing end when he came within inches of clipping the rear bumper of Gavin Miller. In the process, Grant's rear wheels completely locked up, sending him sliding up the racing surface, but miraculously, was able to keep his car from stalling before continuing on, although he lost a full second in track position to the new leader, Meseraull.
However, just the same as Grant had experienced moments earlier, now Meseraull was trapped behind the tail-end lead lap cars of Andreotti on the high side and Miller on the bottom, and was unable to break through both, thus allowing Grant right back into the game.
With eight laps to go, calamity struck for Meseraull as he shot straight up into the outside wall in turns three and four, ramping his car right up the wall and through the FloRacing speed shot camera, and was fortunate to keep on keeping on. However, it came at a cost. Grant raced by to take over the lead while Meseraull fell all the way back to fifth.
"I was hustling as hard as I could there and I know T-Mez was hustling hard too," Grant started. "It was really, really tricky down there (in turns three and four) and it felt like we got to pushing each other harder and harder and harder and that's how you force a mistake out of somebody."
Unlike the first three-quarters of the race, Grant was absent a challenge for position down the stretch, only needing to execute swiftly through traffic, a tall task in itself as It proved to be. Successfully, he was able to accomplish just that, leading the final eight circuits to score the win by a 2.094 second margin over Emerson Axsom, Logan Seavey, Tanner Thorson and Thomas Meseraull.
Emerson Axsom (Franklin, Ind.) led eight laps en route to his best career BC39 finish aboard his Keith Kunz-Curb-Agajanian Motorsports/Curb Records – TRD/Lynk/Speedway Toyota, concluding his first weekend in the ride in second. The result marked his fourth runner-up finish of the USAC National Midget season. It was a superb weekend for Axsom, however, with a third-place run in Friday's prelim and a runner-up result in Saturday's finale.
USAC National Midget point leader Logan Seavey (Sutter, Calif.) put on a hard-charging performance in his Abacus Racing/Indy Fuel – CG CPAs – Indy Custom Stone – Dozer'z Nut'z & Bolt'z/Spike/Stanton SR-11x. One night after seeing his run of 14-straight top-five USAC National Midget finishes end (the longest streak since Jason Leffler in 1997), Seavey started a new streak, advancing 12th to third to score his best career BC39 finish.
In the field of 71 BC39 competitors this weekend, Gavin Miller (Allentown, Pa.) performed the best of them all, finishing 20th in Saturday night's A-Main. The leading USAC National Midget Rookie captured the 2023 BC39 MPI – Max Papis Innovations Rookie of the Race award and was presented with a custom trophy, a custom BC39 MPI steering wheel and $700.
USAC NOS ENERGY DRINK MIDGET NATIONAL CHAMPIONSHIP RACE RESULTS: September 30, 2023 – The Dirt Track at Indianapolis Motor Speedway – Speedway, Indiana – 1/4-Mile Dirt Track – Driven2SaveLives BC39
FIRST C-MAIN: (12 laps, top-4 transfer to the semi) 1. Matt Westfall (#54 Bordner), 2. Kenney Johnson (#46 Johnson), 3. Randi Pankratz (#8 Pankratz), 4. Jeff Schindler (#8x Schindler), 5. Preston Lattomus (#23 Mounce-Stout), 6. Connor Wolf (#1G RAMCO), 7. Kevin Thomas Jr. (#1 Crouch), 8. Scott Evans (#118 Evans), 9. Josh Hodge (#5J Hodge), 10. Tommy Colburn (#10A MWR), 11. Wes Pinkerton (#9 Pinkerton), 12. Josh Bilicki (#7c RAMCO), 13. Adam Andretti (#44 Johnson), 14. Aaron Leffel (#11L Taylor). NT
SECOND C-MAIN: (12 laps, top-4 transfer to the semi) 1. Zach Wigal (#40x Mounce-Stout), 2. Brady Bacon (#21H TKH), 3. Nick Drake (#55D Cline), 4. Keith Rauch (#27 Bourke), 5. Chris Baue (#136 Baue), 6. C.J. Leary (#14 Legacy), 7. Bryan Stanfill (#75AU Griffiths), 8. Blake Brannon (#40B Brannon), 9. Landon Brooks (#22p RAMCO), 10. Mark McMahill (#10c MWR), 11. Kevin Cook (#9p Cook), 12. Justin Dickerson (#21D Dickerson), 13. Robert Carson (#99K LOK/Carson-Segur), 14. Don O'Keefe Jr. (#99 LOK/Carson-Segur). NT
FIRST ELLIOTT'S CUSTOM TRAILERS & CARTS SEMI: (12 laps, top-4 transfer to the feature) 1. Jacob Denney (#25 Malloy), 2. Ryan Timms (#67 Kunz/Curb-Agajanian), 3. Karter Sarff (#21K Sarff), 4. Daison Pursley (#19 Reinbold-Underwood), 5. Jake Andreotti (#25m Malloy), 6. Daniel Whitley (#58 Abacus), 7. Gary Taylor (#32 Dunlap), 8. Gavin Miller (#97 Kunz/Curb-Agajanian), 9. Kaylee Bryson (#89 CBI), 10. Bryant Wiedeman (#81 CBI), 11. Kyle Jones (#7m RAMCO), 12. Justin Zimmerman (#1z Zimmerman), 13. Trevor Cline (#55 Cline), 14. Chelby Hinton (#4 Klatt), 15. Randi Pankratz, 16. Kenney Johnson, 17. Matt Westfall, 18. Jeff Schindler. NT
SECOND ELLIOTT'S CUSTOM TRAILERS & CARTS SEMI: (12 laps, top-4 transfer to the feature) 1. Tanner Thorson (#88 Thorson), 2. Ethan Mitchell (#19m Bundy Built), 3. Logan Seavey (#57 Abacus), 4. Zach Daum (#7p RAMCO), 5. Jerry Coons Jr. (#85 Central), 6. Mitchel Moles (#19T Reinbold-Underwood), 7. Hayden Reinbold (#19AZ Reinbold-Underwood), 8. Jade Avedisian (#71 Kunz/Curb-Agajanian), 9. Jake Bubak (#27B Bourke), 10. Mariah Ede (#71E Kunz/Curb-Agajanian), 11. Clinton Boyles (#11 Beierle), 12. Mitchell Davis (#56 O'Dell), 13. Brady Bacon, 14. Zach Wigal, 15. Nick Drake, 16. Keith Rauch, 17. Weston Gorham (#18N Gorham). NT
ELLIOTT'S CUSTOM TRAILERS & CARTS LAST CHANCE QUALIFIER: (15 laps, top-8 transfer to the feature) 1. Jerry Coons Jr., 2. Mitchel Moles, 3. Hayden Reinbold, 4. Daniel Whitley, 5. Kaylee Bryson, 6. Gavin Miller, 7. Jake Andreotti, 8. Jade Avedisian, 9. Bryant Wiedeman, 10. Kyle Jones, 11. Jake Bubak, 12. Gary Taylor, 13. Zach Wigal, 14. Clinton Boyles, 15. Mariah Ede, 16. Chelby Hinton, 17. Trevor Cline, 18. Mitchell Davis, 19. Brady Bacon, 20. Justin Zimmerman. NT
FEATURE: (39 laps, starting positions in parentheses) 1. Justin Grant (#2 RMS) (4), 2. Emerson Axsom (#68 Kunz/Curb-Agajanian) (1), 3. Logan Seavey (12), 4. Tanner Thorson (8), 5. Thomas Meseraull (#7x RMS) (2), 6. Karter Sarff (11), 7. Chase McDermand (#40 Mounce-Stout) (5), 8. Taylor Reimer (#25K Kunz/Curb-Agajanian) (3), 9. Jacob Denney (7), 10. Ryan Timms (9), 11. Ethan Mitchell (10), 12. Jerry Coons Jr. (15), 13. Zach Daum (14), 14. Daison Pursley (13), 15. Hayden Reinbold (17), 16. Cannon McIntosh (#86 CBI) (6), 17. Jade Avedisian (22), 18. Kevin Thomas Jr. (24-P), 19. Mitchel Moles (16), 20. Gavin Miller (20), 21. Jake Andreotti (21), 22. Bryant Wiedeman (23-U), 23. Clinton Boyles (25-P), 24. Kaylee Bryson (19), 25. Daniel Whitley (18). NT
(U) represents a USAC Provisional Starter
(P) represents an Indianapolis Motor Speedway Promoters Option
FEATURE LAP LEADERS: Laps 1-2 Emerson Axsom, Laps 3-8 Thomas Meseraull, Laps 9-14 Emerson Axsom, Lap 15 Thomas Meseraull, Laps 16-25 Justin Grant, Laps 26-31 Thomas Meseraull, Laps 32-39 Justin Grant.
ALSO AT THE TRACK: Scott Orr (#5s Hodge), Kameron Key (#21J THK), John Heydenreich (#22 Heydenreich) & Oliver Akard (#41 OMR)
**Adam Andretti flipped during the first C-Main. Josh Bilicki flipped during the first C-Main. Josh Hodge flipped during the first C-Main. Daniel Whitley flipped on lap 5 of the feature.
USAC NOS ENERGY DRINK MIDGET NATIONAL CHAMPIONSHIP POINTS: 1-Logan Seavey-1411, 2-Justin Grant-1186, 3-Bryant Wiedeman-1161, 4-Ryan Timms-1134, 5-Daison Pursley-1122, 6-Jade Avedisian-1110, 7-Jacob Denney-1061, 8-Gavin Miller-1018, 9-Cannon McIntosh-949, 10-Thomas Meseraull-922.
OVERALL USAC NATIONAL PROSOURCE PASSING MASTER POINTS: 1-Daison Pursley-182, 2-Logan Seavey-143, 4-Justin Grant-113, 3-Emerson Axsom-112, 5-Shane Cottle-106, 6-Matt Westfall-105, 7-Robert Ballou-100, 8-Brady Bacon-92, 9-Chase Stockon-90, 10-Mitchel Moles-79.
NEXT USAC NOS ENERGY DRINK MIDGET NATIONAL CHAMPIONSHIP RACE: November 14, 2023 – Bakersfield Speedway – Bakersfield, California – 1/3-Mile Dirt Track – November Classic
CONTINGENCY AWARD WINNERS
Dirt Draft Hot Laps Fastest Driver: Ethan Mitchell (12.028)
Elliott's Custom Trailers & Carts First Semi Winner: Jacob Denney
Elliott's Custom Trailers & Carts Second Semi Winner: Tanner Thorson
Elliott's Custom Trailers & Carts Last Chance Qualifier Winner: Jerry Coons Jr.
Green APU Green Flag Challenge First Lap Leader: Emerson Axsom
MPI Rookie of the Race: Gavin Miller (20th)