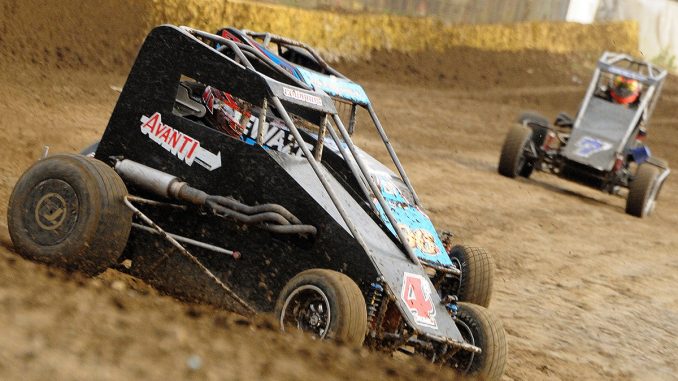 By Steven Blakesley
MOHAVE VALLEY, ARIZONA (September 30, 2023) – Drake Edwards of Surprise, Ariz. kept Saturday night's Western Midget Racing hardware in his home Copper State by winning at Mohave Valley Raceway. The win marked Edwards' third straight Western Midget Racing victory and gives him the sweep of both Mohave Valley rounds in 2023. The penultimate round of the WMR championship also saw the standings close tremendously between Oakley's Bryant Bell and Santa Cruz' Logan Mitchell.
Bell and Edwards won the heat races over the 16-car turnout on hand. Isaiah Vasquez and Cortez, Colorado's Joey Klemish were the front row starters for the 20-lap feature.
Edwards wasted little time taking the lead and led wire-to-wire his sixth points-paying win of the year. Mitchell overcame a 15th starting position to charge into second place at the finish. Lindley, New York's Darin Horton finished a career-best third followed by Lodi's Nate Wait, Adam Teves, and Bell in sixth.
The finish moves Mitchell and Bell into a tie for the championship with the finale looming large at Ventura Raceway on October 21.
For more information visit www.WesternMidgetRacing.com
RESULTS: Mohave Valley Raceway September 30, 2023
A Feature 1 (20 Laps): 1. 4-Drake Edwards[3]; 2. 96X-Logan Mitchell[15]; 3. 66-Darin Horton[8]; 4. 35W-Nate Wait[7]; 5. 3-Adam Teves[13]; 6. 09-Bryant Bell[4]; 7. 54-Anthony Bruno[5]; 8. 57-Blaine Craft[14]; 9. 31-Todd Hawse[12]; 10. 20-Kyle Hawse[6]; 11. 11-Isaiah Vasquez[1]; 12. 15-Adam Weisberg[11]; 13. 20AZ-Chase Farris[10]; 14. 7-Mason Keefer[9]; 15. 7A-Joey Klemish[2]; 16. 5S-Racin Silva[16]
Heat 1 (6 Laps): 1. 09-Bryant Bell[1]; 2. 7A-Joey Klemish[7]; 3. 54-Anthony Bruno[3]; 4. 35W-Nate Wait[5]; 5. 7-Mason Keefer[6]; 6. 15-Adam Weisberg[8]; 7. 3-Adam Teves[2]; 8. 96X-Logan Mitchell[4]
Heat 2 (6 Laps): 1. 4-Drake Edwards[1]; 2. 11-Isaiah Vasquez[6]; 3. 20-Kyle Hawse[3]; 4. 66-Darin Horton[4]; 5. 20AZ-Chase Farris[8]; 6. 31-Todd Hawse[2]; 7. 57-Blaine Craft[7]; 8. 5S-Racin Silva[5]