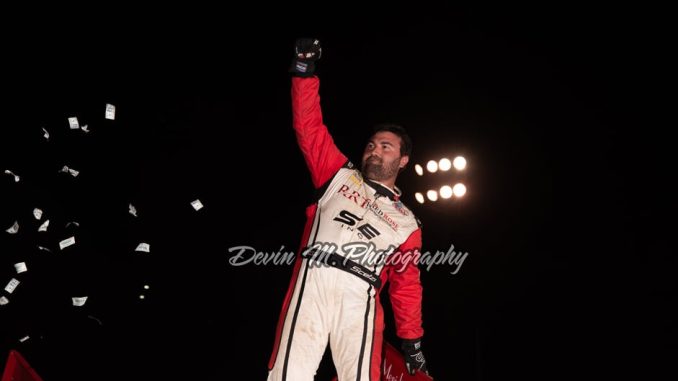 Inside Line Promotions
TULARE, Calif. (Oct. 17, 2023) – Dominic Scelzi captured his 12 th triumph of the season last Saturday during the Trophy Cup tune-up at Thunderbowl Raceway.
Scelzi was second quickest in his qualifying group and he won a heat race to advance into the feature redraw.
"We timed in pretty good and won our heat race," he said. "They didn't have a dash and we were lucky enough to redraw the No. 1 for the feature. We ran the majority of the race unchallenged. Traffic was the hardest thing. It was all over the place. I had to make some aggressive moves. That left the door open one time for Corey (Day) and we were side by side down the frontstretch with about four laps to go. I took the top going into the corner and it made him stuck behind two lapped cars and I was able to pull away."
The win came on the heels of a frustrating outing the previous night at Kings Speedway, where Scelzi qualified fifth quickest overall to kick off the Morrie Williams Memorial featuring the NARC 410 Sprint Car Series.
"We were really good and I felt like we did everything we needed," he said. "We qualified well and ran strong to finish second in the heat race, but all night I struggled with feeling like something was not right. I didn't feel the engine was running as it should have, but it was hard to argue with it when we had good speed. In the heat race I got significantly slower and slower. We assumed we had something wrong with the engine so we swapped engines. We started on the pole of the dash and won it. The car felt great, but I didn't have stellar speed."
Scelzi lined up on the pole for the main event and he led the opening handful of laps at the dirt oval in Hanford, Calif.
"I knew from Lap 1 we had an issue," he said. "The car seemed to go slower and slower with every lap. Unfortunately, we had a power steering pump go bad. At the end of the day it was a fluke deal. I've never had a pump go bad in all of my years racing. We had a good shot to win the race. It was unfortunate we had a part failure cost us, but that's part of racing. Fortunately, we rebounded on Saturday and were able to win."
Scelzi will return to Thunderbowl Raceway this Thursday through Saturday for the 29 th annual Abreu Vineyards Trophy Cup presented by Rudeen Racing.
"I've been so happy with our race car all season long and we've had good speed," he said. "You never know with Trophy Cup. I've had years I've been struggling and we roll in there and everything unfolds how you dream and it goes great. And I've had times going in there with momentum and we struggled. I don't know what to expect, but I feel as confident as ever."
QUICK RESULTS –
Oct. 13 – Kings Speedway in Hanford, Calif. – Qualifying: 5; Heat race: 2 (2); Dash: 1 (1); Feature: 16 (1).
Oct. 14 – Thunderbowl Raceway in Tulare, Calif. – Qualifying: 2; Heat race: 1 (1); Feature: 1 (1).
SEASON STATS –
48 races, 12 wins, 32 top fives, 38 top 10s, 42 top 15s, 46 top 20s
UP NEXT –
Thursday through Saturday at Thunderbowl Raceway in Tulare, Calif., for the 29 th annual Abreu Vineyards Trophy Cup presented by Rudeen Racing
MEDIA LINKS –
Website: http://www.GaryScelziMotorsports.com
Twitter: https://twitter.com/DominicScelzi41
Facebook: https://www.facebook.com/Scelzi41
SPONSOR SPOTLIGHT – Red Rose Transportation, Inc.
Red Rose Transportation, Inc., is a full-service transportation provider that partners with its clients to understand their business and develop creative, cost effective and efficient logistics solutions that will help the clients stay competitive. For more information, visit http://www.RedRoseTransportation.com .
"My mom and uncle started Red Rose Transportation in 1996 so it's been a huge part of our race program since Day 1," Scelzi said. "Everyone there has been an integral part of our team and we're grateful for their support."
Scelzi would like to thank Red Rose Transportation, Inc., Scelzi Enterprises, Whipple Superchargers, System 1, Fuel Delivery Services, Inc., Red Line Oil, FK Rod Ends, Schoenfeld Headers, Roth Motorsports, K&N Filters, Brown & Miller Racing Solutions, NAPA Auto Parts, Todd Jorgensen, Sparco, Allstar Performance, Meridian Steel, Auto Meter, Kenny's Components and Worldwide Bearings for their continued support.