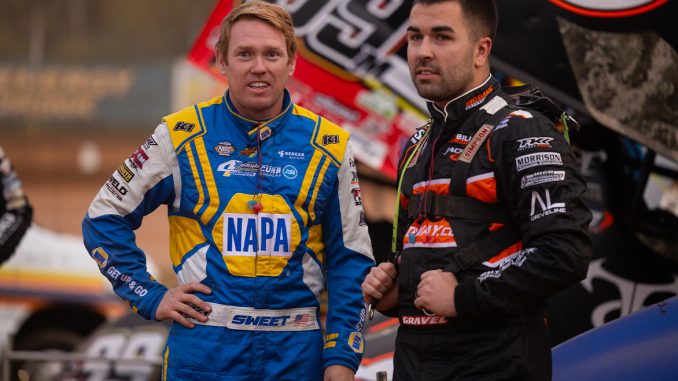 By Alex Nieten
CONCORD, NC (October 25, 2023) – Brad Sweet and David Gravel can't seem to get away from each other.
For the third consecutive year, the two are heading to The Dirt Track at Charlotte for the World Finals (Nov. 1-4) engaged in a war for the World of Outlaws NOS Energy Drink Sprint Car championship. Sweet – the four-time and reigning titlist – holds a 50-marker advantage with a trio of points-paying races remaining.
It should come as no surprise that these two are once again locked in battle. After all, their careers with the World of Outlaws boast many similarities. Being born on opposite coasts led them down different paths to The Greatest Show on Dirt. But ever since they arrived, Sweet and Gravel have climbed the record books alongside each other.
Gravel grabbed the 2013 Kevin Gobrecht Rookie of the Year, then Sweet did the same in 2014. Both have remained consistent forces in the years since as they've become the two leading drivers on the tour.
Sweet is up to 89 career wins while Gravel sits close behind at 87. They both cleared the 800 Feature starts milestone this season. Both have won two legs of the sport's Triple Crown with Gravel owning Knoxville Nationals and National Open titles, while Sweet has topped Knoxville and the Kings Royal. "The Big Cat" holds the lead in career podiums with 286 to Gravel's 225. But Gravel has the advantage in Quick Times with 110 over Sweet's 75. Throughout their careers, as they've both improved, they've forced each other to elevate their game.
"David's a great racer and has a lot of experience as do I now," Sweet said. "He has his strong suits as do I. We're just pretty evenly matched. A lot of it comes down to just a few little things throughout a season that kind of separates us. I feel like he's really stepped his program up, and they've definitely kept us on our toes. It's been fun competing. I love the competition. I love that we're pushing each other to be better."
"Our win totals are close," Gravel said. "We used to run third and fourth in points it seemed like every year. It was Daryn (Pittman) and Donny (Schatz) up front. Then, we kind of took the jump to get ahead of Daryn and run second and third every year for a while. Now, Brad's been able to win the last several championships. I feel like we're both at the top of our games. We're just a half a step behind in points. But as far as wins and big wins, we're right there."
They've been neck and neck once again all throughout 2023. Through 68 races, Gravel is slightly ahead in wins (11 to Sweet's 10) and podiums (34 to 29). But Sweet has been in the top 10 more often (60 to Gravel's 57) and has zero DNFs. Gravel didn't finish didn't finish at U.S. 36 Raceway and Tri-State Speedway in the spring and then at Jackson Motorplex one night in August.
"It's not been our best season we've ever had, but it's certainly not been our worst," Sweet said. "I think every Outlaw tour has its peaks and valleys. Really, what defines a season, I think, is how you get through the adversity. I've said that for a lot of years. Typically, when you're running good, things are easy. It's when you have to go through hard nights or hard stretches and wrecks and things like that, that's what's going to win or lose you a championship."
Sweet and his team are fresh off combatting adversity at Devil's Bowl Speedway. A Feature flip left them with a severely damaged race car. But they managed to make repairs and salvage a seventh-place finish with his NAPA Auto Parts #49 machine, limiting the amount Gravel was able to cut into their lead.
For Gravel, he feels that his Huset's Speedway/Billion Automotive #2 has been the fastest ride throughout the year, but a handful of unfortunate nights have caused his current deficit in the standings.
"I think it's definitely our best season to date," Gravel said. "I feel like we've been the best car all year long. We've just had a lot more bad nights that sadly we can't take away. We've had a couple part failures. A couple people crashing in front of us. Crashing one night at U.S. 36. There's probably about six nights this year that kind of wavered our year. The DNFs and blowing a tire halfway at Jackson then getting crashed the next night. A lot of bad nights. It's not just one night. I think it's really impressive that we're still in the hunt with all the things we've had to battle through all year."
Now, Sweet and Gravel are fully focused on four nights of World of Outlaws World Finals action on The Dirt Track at Charlotte. The two will lay down laps on Wednesday, Nov. 1, on Low-E Insulation Qualifying Night to position themselves for the three points-paying races on Thursday-Saturday, Nov. 2-4. And then one man will stand atop the championship stage when the dust settles on Saturday night.
Gravel's overall résumé at Charlotte suggests he has the upper hand with five victories at the 4/10-mile, good enough for second most. Sweet is yet to win at Charlotte but has podiumed four times in his last nine starts and hasn't missed the top 10 over that stretch.
"We're continuing to fight," Gravel said. "We've had a great stretch here the last month or so. We're going to keep putting our head down and control what we can control. It would be very satisfying to beat him, but he still hasn't had a DNF this year and we have three. I feel like when you've got a guy that's as consistent and there every night, it's hard to make that up. We're going to try to win three races at Charlotte, and wherever we end up is where we end up."
For tickets to the World of Outlaws World Finals, CLICK HERE.
If you can't make it to the track, catch all of the racing live on DIRTVision.