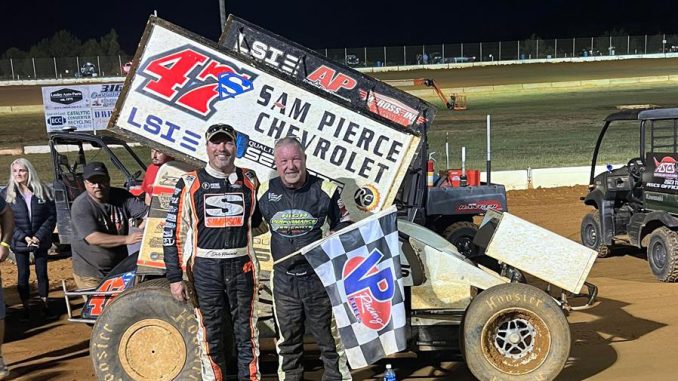 By Bryan Hulbert
LOXLEY, Ala. (October 28, 2023) Wrapping up two nights of racing with the ASCS Hurricane Area Super Sprints on Saturday night at Deep South Speedway's Halloween Havoc, the tour's final checkered flag of the season went to Tennessee's Sammy Swindell in the Dale Howard Racing No. 47s.
Sammy's fifth overall win of the season, and third in ASCS Regional competition, the victory is his first with the ASCS Hurricane Tour.
Taking off from sixth, Sammy battled his way to the lead over Dewayne White on Lap 7. Red on Lap 11, the pause did little to slow the wily veteran, who pulled away to a 3.609-second lead at the drop of the checkered flag. Winning Friday night's preliminary feature, Zane DeVault charged through the field from 11th to claim second. Koty Adams moved up two spots to claim third, with Dewayne White ending up fourth. Ohio's Max Stambaugh completed the top-five.
Moving up seven spots, Dale Howard crossed sixth, followed by Chase Howard in seventh. Brandon Blenden, Shane Morgan, and Butch David made up the top-ten.
Saturday's field had 32 drivers on hand. Special thanks to Taylor Howard for the Facebook Live during the A-Feature.
With the season in the books, Mississippi's Brandon Blenden earned the 2023 tour championship. Work on the 2024 lineup of events is underway. Updates will be posted as they are made available.
The ASCS Hurricane Area Super Sprints is under the direction of Stefen Oakes. For questions regarding rules, procedures, and events, contact Stefen Oakes at bigshowmotorsports@yahoo.com or call (985) 285-9177.
The 2023 season will mark the 32nd year of competition for the American Sprint Car Series. Spearheaded by the American Sprint Car Series National Tour, the ASCS Nation includes Regional Tours that encompass both wing and non-wing competition.
For other news, notes, and information on any of the tours under the ASCS banner, log onto http://www.ascsracing.com, follow on Facebook, Instagram, and Twitter (@ASCSRacing).
Race Results:
ASCS Hurricane Area Super Sprints
Deep South Speedway (Loxley, Ala.)
Saturday, October 28, 2023
Heat 1 (8 Laps): 1. 6-Koty Adams[2]; 2. 10-Terry Gray[3]; 3. 13-Chase Howard[7]; 4. 01-Shane Morgan[5]; 5. 17-Adam Moneyhun[1]; 6. 2H-Tommy Hall[8]; 7. 56T-DL (Tank) Brashier[4]; 8. (DNS) 8-Brad Bowden
Heat 2 (8 Laps): 1. 10K-Dewayne White[6]; 2. 47S-Sammy Swindell[4]; 3. 9-Lane Whittington[5]; 4. 6Z-Zane DeVault[7]; 5. 44-Ronny Howard[3]; 6. 28S-Rusty Sanford[2]; 7. 6BLACK-Chase Wood Sr[8]; 8. 77-David Mabry[1]
Heat 3 (8 Laps): 1. 71H-Max Stambaugh[1]; 2. 47-Dale Howard[2]; 3. 132-Jamie Manley[4]; 4. 5711-John Robicheaux[7]; 5. 21-Todd Bliss[3]; 6. 27-Chase Wood Jr[8]; 7. 18-Paul Jones[6]; 8. 67-Blake Mallette[5]
Heat 4 (8 Laps): 1. 4M-Michael Miller[5]; 2. 88-Brandon Blenden[8]; 3. 121-Butch David[6]; 4. 13X-Jake Brashier[1]; 5. 57-Levi Beard[7]; 6. 56-Jeff Smith[3]; 7. 61-Sean Wimpee[2]; 8. 15-Kyle Mabry[4]
B Feature (12 Laps): 1. 44-Ronny Howard[2]; 2. 13X-Jake Brashier[1]; 3. 56-Jeff Smith[6]; 4. 17-Adam Moneyhun[4]; 5. 21-Todd Bliss[3]; 6. 6BLACK-Chase Wood Sr[5]; 7. 67-Blake Mallette[9]; 8. 61-Sean Wimpee[8]; 9. 18-Paul Jones[7]; 10. (DNS) 56T-DL (Tank) Brashier; 11. (DNS) 77-David Mabry; 12. (DNS) 15-Kyle Mabry; 13. (DNS) 28S-Rusty Sanford
A Feature (25 Laps): 1. 47S-Sammy Swindell[6]; 2. 6Z-Zane DeVault[11]; 3. 6-Koty Adams[5]; 4. 10K-Dewayne White[1]; 5. 71H-Max Stambaugh[8]; 6. 47-Dale Howard[13]; 7. 13-Chase Howard[4]; 8. 88-Brandon Blenden[2]; 9. 01-Shane Morgan[15]; 10. 121-Butch David[7]; 11. 132-Jamie Manley[14]; 12. 5711-John Robicheaux[12]; 13. 6BLACK-Chase Wood Sr[24]; 14. 57-Levi Beard[16]; 15. 21-Todd Bliss[23]; 16. 9-Lane Whittington[10]; 17. 4M-Michael Miller[3]; 18. 2H-Tommy Hall[17]; 19. 27-Chase Wood Jr[18]; 20. 17-Adam Moneyhun[22]; 21. 10-Terry Gray[9]; 22. 44-Ronny Howard[19]; 23. 56-Jeff Smith[21]; 24. 13X-Jake Brashier[20]