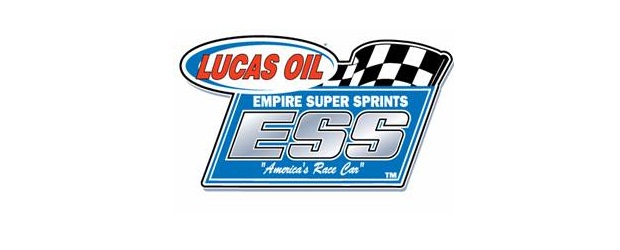 From Dean Reynolds
SYRACUSE, NY – In one of the longest running partnerships, Car Mate Trailers, Inc. from Leeper, Pa. is back as the official heat race sponsor with the Lucas Oil Empire Super Sprints (ESS) for the 2010 racing season. The winner of each 10 lap qualifying event will receive $25 cash from Car Mate.
Car Mate's finest work can be seen throughout the ESS pit area as several teams are using their products to haul their race winged sprinters. Also, ESS is showcasing the Car Mate product with their merchandising trailer and new for 2010 a brand new 24ft. enclosed trailer to haul ESS' equipment which was from FX Caprara Trailer sales in Watertown, NY.
While the 25 lap A-Main finale is where the bulk of the prize money is handed out, several added awards by many sponsors which includes Car Mate helps many different teams on each night with their expenses. The heat race win not only nets the victor a little cash but a guaranteed starting spot in the nightly Cobra Coaches Dash Event which pays a minimum of $100 to win.
With over 27 years in the cargo, equipment, and utility trailer manufacturing industry, Car Mate is one of the oldest and most established manufacturers in the industry. In recent years, many changes have taken place to increase productivity. The weld shop was doubled in size to 24,000 square feet. A 10,000 square foot addition was added to the cargo shop to streamline cargo production lines. Their production, warehouse and office space now account for over 110,000 square feet. Car Mate also acquired an additional 30 acres of property bordering our existing 22 acre manufacturing facility. This acreage will assist with finished goods storage waiting for shipment and allow for future expansion of operations. For more information, please log on to www.carmate-trailers.com
The very best of "America's Race Cars" and the Lucas Oil Tour will kick off on Sat. May 29th at the Track of Champions, the Fonda Speedway. The seventh annual Earl Halaquist Memorial is the first event of the 27 race tour. The very next night the winged warriors will trek west to the Utica-Rome Speedway to cap off a very exciting Memorial Day Weekend.
The title fight begins with Lance Yonge, Jeff Cook, Steve Poirier, Michael Parent, Tommy Wickham, Chuck Hebing, Brian McDonald, Lee Ladouceur, Tim Kelly, Anthony Cain and many more looking at take the title crown away from 2009 champion Justin Barger. Also, a long list of new teams joining the tour for 2010 will add to the fun! A total of 27 events at 14 premier dirt tracks…log on to www.empiresupersprints.com where its excitement guaranteed for over 27 years!