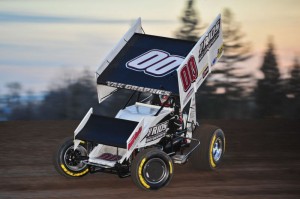 From Gary Thomas
Rio Vista, CA – (January 16, 2012) — Jason Statler has been a staple in California 410 Sprint Car Racing for 20-years and this past season continued to be one of the state's very best by rounding out the top-five in the Golden State King of the West Series standings.
Throughout his career Statler has racked up a loaded resume that includes a World of Outlaws Sprint Car Series win, which came at Santa Maria Speedway in 1999. He has also won multiple races at the famed Calistoga Speedway half-mile, including the Salute to Walter T Ross.
Another of Statler's most special victories came in 2004 at the annual Dave Bradway Jr. Memorial, the same season he captured the Golden State 410 Series championship in his familiar DF Rios No. 00 sprinter.
In addition to that the "Big Guy" has also won the famed Johnny Key Classic, opening night of the prestigious Mini Gold Cup twice and sits tied with Bud Kaeding for 12th on the all-time Golden State win list, having scored eight career triumphs.
Media personality Bobby Gerould once put it perfectly of Statler:
"Jason Statler, the 2004 Golden State Challenge "King of California," is a driver I admire for his tenacity and toughness. The large pro-football size man is a prime example of what a racer can become if he sticks with it. I've seen Jason upside down and on-fire. I've seen his knees bend cockpits. But I've never seen Jason Statler quit. His desire to achieve success in his racing endeavors propelled him to improve steadily over a period of years. He also happens to be a cool guy that is friendly with fans."
In 2011 Statler remained one of the fan favorites in the Golden State and despite not picking up a feature win, took home five top-five finishes, twelve top-10's, two heat race wins, one fast time and one Pit Stop USA hard charger award.
"I think we were hoping for a little more but it was a good year overall," said Statler. "We just seemed to have to fight back for one reason or another too many times whether it was in qualifying, the heat race or the dash. One night we were running up front in the dash and lost a rear end so that kind of summed it up."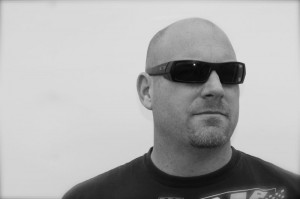 Statler's best finish of the season came at the Kings Speedway on August 6, where he started from the third row in the main event and drove forward to earn a runner up finish to Tim Kaeding. The Grass Valley, California competitor also claimed a podium finish during the season opener at Antioch on April 7.
"You always remember the bad stuff more, but I felt that we definitely picked it up as the year went on with a better handle on our shock package and the car," he commented. "We wanted to get a win for Dave Rios this past year and weren't able to do that, but had some good finishes throughout the year."
Going into the final race of the Golden State King of the West Series season in Hanford, Statler was part of a tightly bunched three-way fight for fifth in the standings. He held the spot by just 10-points over Willie Croft and Andy Gregg and used a fifth place finish in the feature to lock up that elusive fifth spot.
"It was nice to win out on that fight for fifth and ending the year on a good note was a positive thing," Statler said. "I think Dan Simpson and the KWS team did a great job this year. Someone really needed to step up and help 410 racing out here and Dan did that. Just looking at the weekly car counts and how many full time drivers we had, shows the success of the series. The purse and point fund was great and the tire giveaway program was awesome."
For the year Statler would like to thank Dave Rios, his wife Stephanie and their two boys, Mark Bristow, Kevin Fisher, Aaron Colburn, Kyle Riley, Kaeding Performance, Yak Graphics, Amerikote, Riley Collins Body Shop, Hot Rod Service Company, Ultra Shield, Rod End Supply, Santo Mauro Racing, SCI Racing Products, Kistler Engines, Maxim Chassis and everyone that supported the team.
To hear Statler talk about his season check out a call-in interview on "KWS Tonight" at http://vimeo.com/30868908
The Golden State King of the West 410 Sprints would like to thank the following companies for their support this season: Goodyear Racing Tires, Pit Stop USA.com, Kaeding Performance, Hoseheads.com, Grant's Fine Art, Auto Meter Products Inc., Contingency Connection, Maxim Chassis, Amerikote, Abel Chevrolet, Bully Dog, Red Horse Performance, JE Pistons, KSE Racing Products, Hunt Magnetos, Weld Racing, Racing Optics, Butler Built Performance, HoservilleCA, Angellos ATV Rental, Rogue Regency Inn, Williams Motorsports, DES Inc. and Simpson Percherons.
Don't forget to "like" the Golden State King of the West Series on Facebook and follow us on Twitter at http://www.twitter.com/kwssprintracing for the most timely and up to date information on the series.
Also check out our official website at http://www.kwssprints.com for the latest news, results, history and more on the Golden State King of the West 410 Sprint Cars.