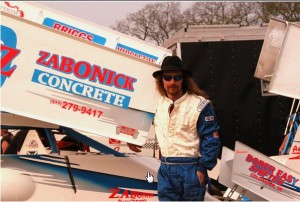 The staff at TJSlideways.com is sad to inform our readers that Michigan Sprint Car driver Jeff Rankin has passed away unexpectedly.
Rankin, better known in Michigan racing circles as "longhair", was a regular at Butler Motor Speedway and drove last season on pavement for Marvin Carmen with the Auto Value Super Sprints and Hoosier Outlaw Sprint Series. Rankin was a fixture around sprint car races in the area with his trademark fedora and friendly personality.
Our thoughts and prayers are with his wife, children, family, and friends.