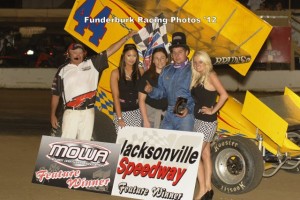 From Bill W
Jacksonville, IL — (May 18, 2012) — AJ Bruns pulled away to victory in the opener for the Midwest Open Wheel Association (MOWA) on Friday night at the Jacksonville Speedway in Jacksonville, Illinois. The series had suffered a pair of rainouts prior to Friday's event.
Alex Shanks, starting on the pole by virtue of a win in the Dash, took the early advantage from fellow front row starter, Bruns. But by the third lap, Shanks stumbled coming out of four, and Bruns slid in front of him in turns one and two to take the lead.
Jerrod Hull moved past Shanks as well into second, and he was followed by Jimmy Hurley. Bruns set a good pace on the top, but Hull started finding some rubber forming on the low side. When Bruns saw Hull's nose, he moved down a car width to hold him off. Hull made a bid for the lead, but Bruns was able to put a lapped car between them and pull away.
Hurley challenged Hull for second, before Shanks squeezed under him to secure third at the stripe. Hurley and Ben Wagoner were fourth and fifth. Hard Charger, Robbie Standridge, Korey Weyant, Jordan Goldesberry, Brett Samonds and Ron Standridge completed the top ten.
Heats were won by Hull, Wagoner and Ron Standridge. Shanks claimed the Dash, and Paul May won the B main.
"I've raced with Jerrod a long time, and I figured he was right there," said Bruns in Victory Lane. "It didn't take long and he showed his nose. I dropped down a lane to try and protect it and it worked out for me. I've been running here since 1992, so I've been around this place a couple thousand times. It was good to get the win after crashing last week!"
"We had found the rubber a little earlier than anyone else," said Hull. "I really thought we had a shot to pass (Bruns) but he shut the door on us. That was pretty much it after that. We got tighter and tighter and he got better. We were just trying to hang onto second at the end, and we did that. The tire was vibrating big time."
"The car was very good," said third running Shanks. "I can't say enough about our Penske shocks. Dynotech motors from Ricky Stenhouse…we can't have any more power than that right now. It got a little close with Hurley, but rubbin' is racing. I've had a few of those over the years too."
MOWA has a big Memorial Day weekend planned with a trip to the I-55 Raceway in Pevely, Missouri on Saturday, May 26, and an event at the 34 Raceway in West Burlington, Iowa on Sunday, May 27.
MOWA Sprint Series Main Event (started), 25 laps: 1. 44, AJ Bruns, Athens, IL (2) 2. 12, Jerrod Hull, Sikeston, MO (3) 3. 66, Alex Shanks, Marion, IL (1) 4. 35, Jimmy Hurley, Springfield, IL (4) 5. 84, Ben Wagoner, Emden, IL (6) 6. 22, Robbie Standridge, Springfield, IL (11) 7. 7s, Korey Weyant, Springfield, IL (10) 8. 65, Jordan Goldesberry, Springfield, IL (7) 9. 47, Brett Samonds, Springfield, IL(9) 10. 83, Ron Standridge, Springfield, IL (5) 11. 71m, Paul May, Terre Haute, IN (16) 12. 22, Bret Tripplett, Lincoln, IL (12) 13. 28, Jonathan Cornell, Sedalia, MO (14) 14. 7m, Geoff Dodge, Colorado Springs, CO (13) 15. 3B, Brad Greer, Coulterville, IL (17) 16. 05, Paul Patterson, Virden, IL (8) 17. 4m, John Memmer, Evansville, IN (18) 18. 1m, Jim Moughan Jr., Springfield, IL (15). Lap Leaders: Shanks 1-2, AJ Bruns 3-25. BMRS Hard Charger: Robbie Standridge. VP Race Fuels Winner: Robbie Standridge.
Cooper Racing Enterprises Heat one (started, *qualified for feature, 10 laps): 1. Jerrod Hull (2*) 2. Alex Shanks (6*) 3. Brett Samonds (4*) 4. Bret Tripplett (5*) 5. Joey Moughan (1) 6. Brad Greer (3) 7. Jonathan Cornell (10*) 8. 77u, Chris Urish, Elkhart, IL (8) 9. 6B, Andy Baugh, Mason City, IL (7) 10. 9, Paul Nienhiser, Chapin, IL (9)
Midland Performance Parts Heat two (started, *qualified for feature, 10 laps): 1. Ben Wagoner (2*) 2. Jimmy Hurley (1*) 3. Robbie Standridge (3*) 4. Korey Weyant (6*) 5. Jim Moughan Jr. (4*) 6. Paul May (7) 7. John Memmer (9) 8. 10s, Jeremy Standridge, Springfield, IL (8) 9. 5, Caleb Wankel, Jacksonville, IL (10) 10. 28, Justin Springer, Pekin, IL (5)
Super Shox Heat three (started, *qualified for feature, 10 laps): 1. Ron Standridge (2*) 2. Paul Patterson (1*) 3. AJ Bruns (6*) 4. Jordan Goldesberry (9*) 5. Geoff Dodge (7*) 6. 52F, Logan Faucon, Elkhart, IL (3) 7. 99, Jimmy Davies, Oquawka, IL (5) 8. 42, Cory Bruns, Lincoln, IL (4) 9. 2K, Ryan Kempin, House Springs, MO (8)
Dash (started, 6 laps): 1. Alex Shanks (2) 2. AJ Bruns (1) 3. Jerrod Hull (4) 4. Jimmy Hurley (3) 5. Ron Standridge (6) 6. Ben Wagoner (5) 7. Jordan Goldesberry (7) 8. Paul Patterson (8)
Race Bumpers B Main one (started, 12 laps): 1. Paul May (1) 2. Brad Greer (4) 3. John Memmer (2) / 4. Logan Faucon (5) 5. Jeremy Standridge (8) 6. Jimmy Davies (6) 7. Paul Nienhiser (11) 8. Caleb Wankel (9) 9. Joey Moughan (3) 10. Andy Baugh (10) 11. Chris Urish (7) Justin Springer (12) DNS – Cory Bruns, Ryan Kempin