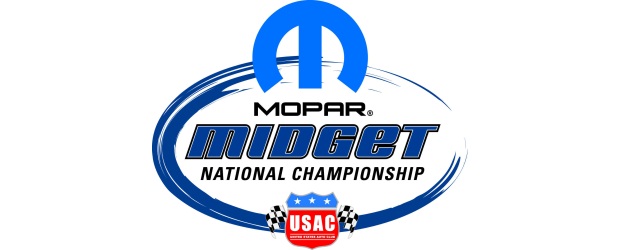 From USAC

Plymouth, Indiana.…..Darren Hagen of Riverside, California narrowly edged out Kyle Hamilton in a photo-finish Friday night to secure the Mopar National Midget Series victory at Plymouth Speedway after a heated duel between the two for much of the 50-lap affair. It was Hagen's third win of the season and 19th of his career, timing him for 31st on the all-time win list with greats Stan Fox, Jason Leffler & Jerry Coons, Jr.
This one did not come easily for Hagen, as he was dogged high and low by Hamilton, who set fast time for the third race in a row on the National Midget circuit. Coming off his first-career series victory last Saturday at Grundy County Speedway, Hamilton nearly had the pass for the lead completed multiple times. A multitude of cautions through the race's mid-point slowed the pace and provided restarts where Hagen would get some breathing room.
The final fourteen laps went green, and Hamilton went at Hagen from every angle. A diamond move in turns three and four took Hamilton to the inside of Hagen on lap 38, and the two made contact in turn-one and skated up the track, narrowly avoiding disaster.
Over the final ten laps, Tracy Hines poked under Hamilton and forced him to strictly utilize the higher groove that Hamilton had used much of the race to assault Hagen. After taking the white flag, Hamilton cut smoothly through turns one and two, leading to a dramatic ending that left the crowd in suspense as to who took the win.
Hagen edged Hamilton at the line by the narrowest of margins, sending his RFMS Racing – Liberty Village #3 Beast/Esslinger to victory again, lengthening his point lead.
"Starting position for us tonight was everything. We were pretty decent for a while, but right through those cautions, we just kept getting looser and looser. We both slid up the track there sideways when he got under me, but I just got back to the throttle and it drove off straight. I really thought he might try to bump me in the final corner – I was protecting the bottom – and he almost drove by us on the top. He raced us clean and it was a great finish," Hagen said.
Hamilton thrilled the crowd with another strong performance, coming from sixth to nearly steal the win aboard the Curtis Motor Sales – Hamilton Painting #33 Spike/Esslinger.
"I tried everything I had there. You can't fault me for lack of effort there. I got pinned up on the outside by Hines there towards the end, so I just kept rolling the top there and almost got him at the end. It was a great race, just tough to beat a good guy like that," Hamilton said.
Hines tucked in close with the leaders and poked his nose in the fight for the lead, but had to settle for third in the Parker Machinery – Turbines, Inc. #24 Spike/Stanton Toyota.
"I always try to be patient in those long races and let guys stuff die away. I went when I needed to, but I just never could clear Kyle (Hamilton). I kept trying to push him up to try to get by him and get my shot at Hagen, but he ran me so clean I had to keep respecting his line up there. It's good to race a young guy like that, that's a perfect scenario. We just got stuck back there and had to take third," Hines said.
The top-five was completed with a pair of cousins, as Caleb Armstrong came home fourth in the Syngenta Seed – EverFi #7c Beast/Stanton Toyota & Dalton Armstrong finished fifth in the Syngenta Seed – EverFi #7A Beast/Stanton Toyota.
MOPAR USAC NATIONAL MIDGET RACE RESULTS: July 6, 2012 – Plymouth, IN – Plymouth Speedway (Paved) – "Plymouth Palooza"
QUALIFICATIONS: 1. Kyle Hamilton, 33, Hamilton-12.582; 2. Tracy Hines, 24, Parker-12.644; 3. Taylor Ferns, 55, Ferns-12.656; 4. Caleb Armstrong, 7c, C&A-12.660; 5. Dalton Armstrong, 7A, C&A-12.703; 6. Darren Hagen, 3, RFMS-12.712; 7. Jarett Andretti, 17B, RW-12.755; 8. Bryan Clauson, 71, Kunz/Curb-Agajanian-12.760; 9. Kody Swanson, 11, Wilke-12.813; 10. Jimmy Simpson, 21, RacePro-12.823; 11. Mario Clouser, 17, RW-12.855; 12. Bryan Nuckles, 59, Nuckles-12.865; 13. Nick Drake, 6, East-12.869; 14. Kyle O'Gara, 67x, Fisher/Hartman-12.879; 15. Grant Galloway, 16, Galloway-12.953; 16. Andy Nock, 51, Nock-13.158; 17. Zach Daum, 5D, Daum-13.166; 18. Rico Abreu, 67, Kunz/Curb-Agajanian-13.210; 19. Dillon Welch, 39, Tucker/BCI/Curb-Agajanian-NT.
FIRST HEAT: (8 laps) 1. Drake, 2. Andretti, 3. Hamilton, 4. Simpson, 5. C. Armstrong, 6. Welch, 7. Nock. NT
SECOND HEAT: (8 laps) 1. O'Gara, 2. Hines, 3. Clauson, 4. Daum, 5. Clouser, 6. D. Armstrong. 2:08.50
THIRD HEAT: (8 laps) 1. Galloway, 2. Abreu, 3. Hagen, 4. K. Swanson, 5. Ferns, 6. Nuckles. 2:10.35
FEATURE: (30 laps) 1. Darren Hagen, 2. Kyle Hamilton, 3. Tracy Hines, 4. Caleb Armstrong, 5. Dalton Armstrong, 6. Bryan Clauson, 7. Mario Clouser, 8. Jimmy Simpson, 9. Dillon Welch, 10. Taylor Ferns, 11. Jarett Andretti, 12. Kody Swanson, 13. Rico Abreu, 14. Bryan Nuckles, 15. Grant Galloway, 16. Andy Nock, 17. Nick Drake, 18. Kyle O'Gara, 19. Zach Daum. NT
——————————–
FEATURE LAP LEADERS: Laps 1-50 Hagen.
NEW MOPAR NATIONAL MIDGET POINTS: 1-Hagen-866; 2-Hines-674; 3-C.Armstrong-645; 4-Clauson-609; 5-Bobby East-545; 6-Clouser-544; 7-Kyle Larson-500; 8-D.Armstrong-445; 9-Chris Windom-442; 10-Abreu-441.
NEXT MOPAR NATIONAL MIDGET RACE: July 7 – Plymouth, IN – Plymouth Speedway (Dirt)