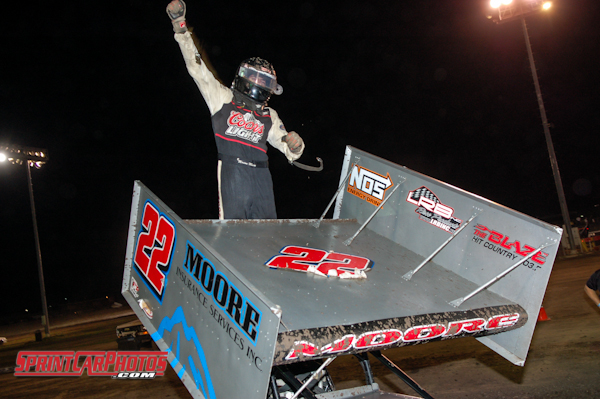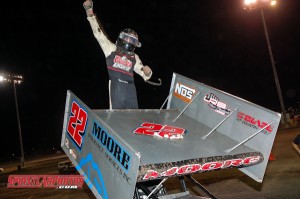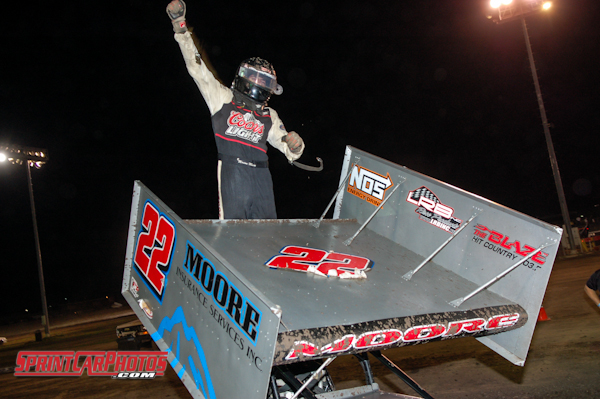 From Troy Hennig
Chico, CA — (July 21, 2012) — Princeton's Mason Moore was elated as he climbed from his Coors Light Racing / Moore Insurance Services / NOS Energy Drink #22 in victory lane.  "I finally got a win from outside the front row," said Moore.  "Even though it was the second row it just feels good to get that monkey off my back."  Moore grabbed the early lead and held on to dominate the 16 car starting field of winged sprint car drivers.  With the win, Moore continues to be the hottest driver at Chico.  His last five starts have produced two wins, two seconds and a fourth place finish.  It adds up to an average main event finish of 1.8 over those five races.  "I read that in your press release and it is a tribute to all the hard work the guys put in on my car," said Moore.
Staying equally as hot as Moore was Chico's Brad Bumgarner.  Tonight Bumgarner started in the third row and finished second.  He has not finished outside the top four in his last five starts at Chico.  With tonight's finish he now has three second place finishes in his last five starts.  Redding's Tyler Wolf found his way into a third place finish.  Sean Becker will keep his points lead by finishing fourth.  Kenny Allen fell back a bit to finish in the fifth spot.
Becker turned the fastest in qualifying with a 11. 951.  BJ Martin scored an impressive heat race win.  In the main event he suffered a roll over down the back straight.  He was uninjured but did not continue on.  Andy Forsberg won the other heat race.  Forsberg continues to struggle with his 410 program.  Forsberg started second and finished sixth in the main event.
An early pile up in the wingless sprint car main event allowed Terry Schank Jr. to start from the front row.  When Schank starts on the front row it usually means trouble for the rest of the field.  Schank dominated the 20 lap wingless main event and won his third feature in four starts at Chico.  Taylor Nelson led the field to the green flag but was caught up in a four car crash in turn one on the next circuit.  When racing resumed it was all about Schank.  However, the most action of the night award could go to Tony Richards.  Richards was fresh off winning the economy sprint main event.  He entered the wingless main event also.  Well his luck ran a little dry in the wingless main.  Not only did he flip once, but twice during two different occasions.  The final wreck left Richards no chance but to walk away from the damaged car and call it a night.  Up front it was Schank Jr winning the main event followed by an impressive Rowdy McClenon.  The point leader, McClenon, started 8th and finished second.  He has been the brightest star in the making this year at Chico.  Ron LaPlant drove a hard race to finish third.
Brentwood standout Fred Ryland won his second main event of the year at Chico.  Ryland won on July 4th and came back tonight to repeat.  The top two contenders in the point championship struggled tonight.  Jake Vantol's car had to be push started just for it to fire off and be able to start the main event.  He later stopped on the track and was scored with an eighth place finish.  Bill Patterson had troubles in the race and came to a stop early on.  He finished a disappointing tenth place.  Shawn Smith continued his hot streak and finished second.  Richard Workman drove a fine race to finish third.  Mike Shearer made a race start to finish fourth.  Birthday boy Gary Newman rounded out the top five.
Brain Compton won his third Hobbie Stock main event of the year.  When his nearest challenger Steve Hammett suffered not one but two flat tire in the main event, it allowed Compton some breathing room.  He led all 12 laps to win.
As reported early, Tony Richards won the economy winged sprint car main event.  A total of five cars showed up.  Scott Gannett was second.
For full results with starting spots visit www.silverdollarspeedway.com
We are off July 27th but will resume racing August 3, with a the USAC Western Racing Classic non wing sprint car series along with limited late models, economy sprints and mini stocks.