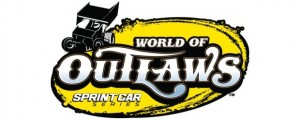 From Shawn Miller
Elbridge, Ny — (September 25, 2012) –  The largest track is also one of the final facilities that the World of Outlaws Sprint Car Series will compete on this season.
The Outlaws head to Rolling Wheels Raceway Park as part of the NAPA Auto Parts Super DIRT Week XLI on Saturday, Oct. 6. The 5/8-mile oval signifies five races to go.
"I always enjoy going there," Kerry Madsen said. "It's kind of a unique track, so I'm looking forward to a good run."
The World of Outlaws competed at the big track once this season, when Paul McMahan claimed his only Outlaws win of the season on May 16.
Craig Dollansky finished second with Chad Kemenah rounding out the podium.
"Rolling Wheels always seems to be pretty repeatable as far as the racing surface and stuff," Kemenah said. "The last few times we've been there we've had some really good races and we were fortunate the last time to come out with a podium, so hopefully we can go back there, get qualifying good and run up front."
Tickets can be ordered online by clicking WorldofOutlaws.com/tickets or by calling 877-395-8606.