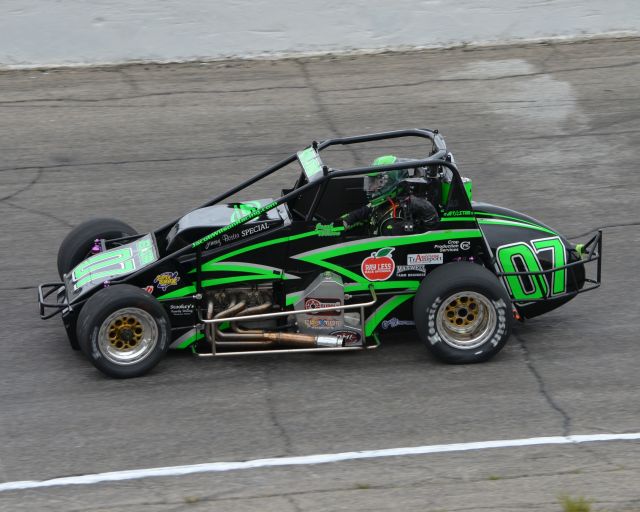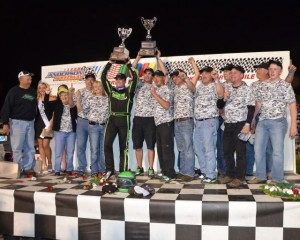 From Anderson Speedway
Anderson, IN — (May 26, 2013) —  Crawfordsville driver Jacob Wilson took advantage of lapped traffic to grab the lead with 65 laps remaining to capture the 65th running of the Pay Less Little 500 on Sunday, May 26 at Anderson Speedway.
Wilson was able to pass Shane Cottle when the lapped car of Chet Fillip got in front of the leader.
His first win came in his ninth Little 500 start.
Cottle threatened Wilson hard from lap 490 to 496 when he lost an engine entering turn three.
Cottle, looking for a second Little 500 win, inherited the lead on lap 417 when Tony Hunt pitted for the second time, but it was short lived. The caution flag waved on lap 428 when Shane Hollingsworth stopped on the front straight.
On the restart Cottle got blocked by the car of Chet Fillip as it exited the pit and Wilson was able to slip inside coming off the second corner.
Finishing behind Wilson were Jo Jo Helberg, Eric Gordon in his final Little 500, Tony Elliott and Chet Fillip. All of the top five finishers were running on the lead lap.
The Little 500 win capped off a great week for Wilson at Anderson Speedway as he also won the Must See Extreme Sprint 60 on Wednesday.
The strategy game kicked into high gear with 150 laps as the leading cars of Jacob Wilson, Eric Gordon and Tony Elliott all pitted for a final time.
Pole sitter Helberg pitted for the last time on lap 310, counting on the leaders having to stop once more under caution.
The big loser in the strategy game surrounding second pit stops was Tony Hunt, who led from lap 350 to lap 416. He gained the lead when Wilson pitted along with the rest of the leaders.
Looking for his second consecutive win, Brian Tyler was leading on lap 256 when he drifted high in turn three and spun into the infield, losing four laps in the process.
Things got worse for the defending champion when Aaron Pierce spun in turn four on lap 289 and collected Tyler. That ended the night for both drivers.
Pierce did lead from lap 116 to lap 186 when he surrendered the point to Bryan Clauson when he pitted. On lap 219 Pierce tangled with Dave Darland in turn three and lost two laps.
There were seven lead changes among eight different drivers with Gordon leading 113 laps. The race was slowed 17 times for 135 laps.
For additional information on Anderson Speedway, visit www.andersonspeedway.com or contact Anderson Speedway at (765) 642-0206.
65th Pay Less Little 500 Results:
| | | | |
| --- | --- | --- | --- |
| POS | # | DRIVER | LAPS |
| 1 | 07 | Jacob Wilson | 500 |
| 2 | 7 | Jo Jo Helberg | 500 |
| 3 | 2 | Eric Gordon | 500 |
| 4 | 25 | Tony Elliott | 500 |
| 5 | 77 | Chet Fillip | 498 |
| 6 | 4 | Shane Cottle | 496 |
| 7 | 56 | Tony Hunt | 495 |
| 8 | 27 | Brian Gerster | 492 |
| 9 | 63 | Rex Norris III | 492 |
| 10 | 3 | Garrett Green | 488 |
| 11 | 1 | Brian Gingras | 481 |
| 12 | 10 | Chris Neuenschwander | 481 |
| 13 | 11 | Kyle Henry | 481 |
| 14 | 81 | Jimmy Kite | 475 |
| 15 | 18 | Travis Welpott | 471 |
| 16 | 12 | Sondi Eden | 465 |
| 17 | 59 | Dude Teate | 431 |
| 18 | 51 | Bryan Clauson | 422 |
| 19 | 20 | Shane Hollingsworth | 421 |
| 20 | 40 | Troy Decaire | 314 |
| 21 | 26 | Aaron Pierce | 287 |
| 22 | 44 | Brian Tyler | 287 |
| 23 | 8 | Kyle Feeney | 270 |
| 24 | 71 | Joe Swanson | 260 |
| 25 | 14 | Dave Darland | 245 |
| 26 | 74 | Donnie Adams Jr. | 166 |
| 27 | 55 | Billy Wease | 109 |
| 28 | 13 | Tim Barber | 103 |
| 29 | 35 | Russ Gamester | 100 |
| 30 | 88 | Jimmy McCune | 54 |
| 31 | 5 | Bobby East | 24 |
| 32 | 6 | Jeff Bloom | 15 |
| 33 | 48 | Jim Sheets | 0 |