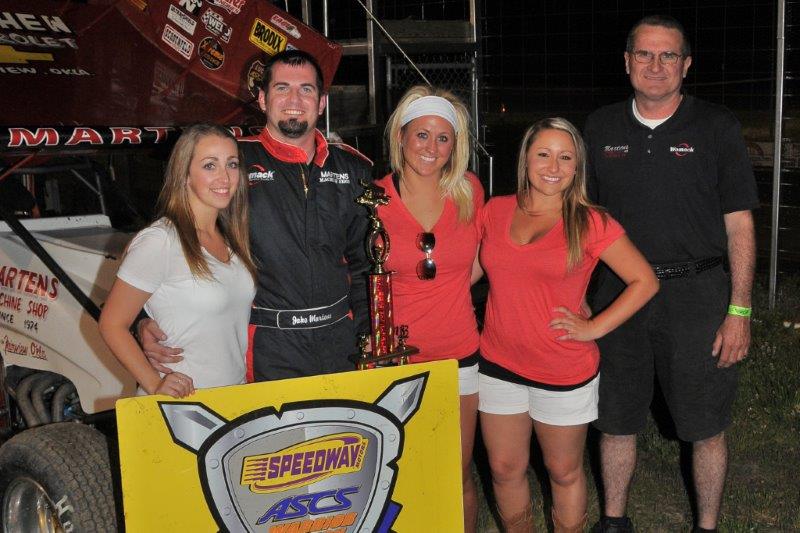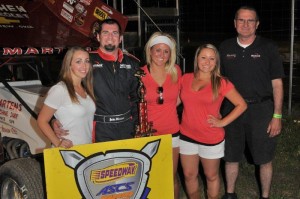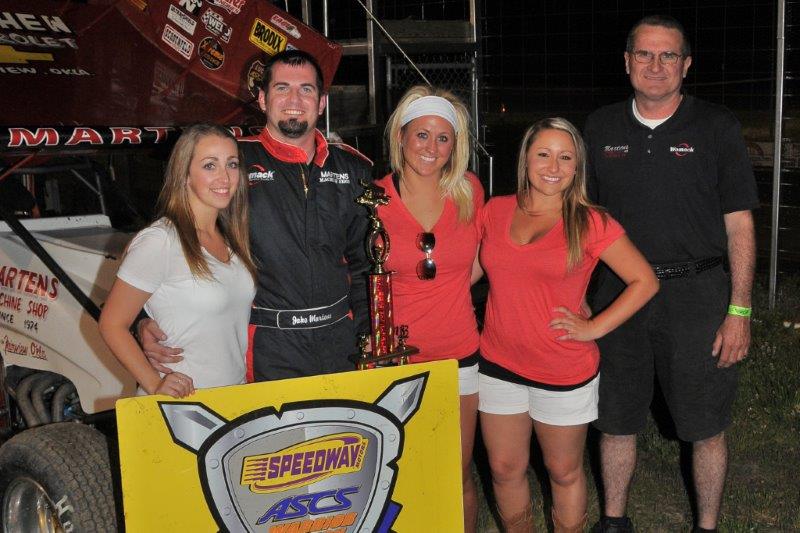 From Bryan Hulbert
Cameron, MO — (June 14, 2013) — With a fresh engine in his No. 48, Oklahoma's Jake Martens powered to victory against the Speedway Motors Warrior Region at the U.S. 36 Raceway in the Budweiser Shootout.
Drawing two for the night's redraw, Martens proceeded to lead every one of the night's 25 laps. Jack Dover came from eighth to second with a last minute pass on Jonathan Cornell with Cody Baker and Billy Alley making up the to five.
The remainder of the top ten included Russ Hall, Tyler Drueke, Jay Russell, Miranda Arnold, and Cody Ledger.
Being the Budweiser Shootout, each of the night's three Heat Race winners earned a $500 bonus. Jonathan Cornell, Cody Baker, and Russ Hall each earned the bonus cash.
Speedway Motors Warrior Region
U.S. 36 Raceway – Cameron, Mo
Friday, June 14, 2013
Car Count: 19
Heat 1 (8 Laps): 1. 28-Jonathan Cornell; 2. 35-Trevor Grossenbacher; 3. 12-Tyler Drueke; 4. 17-Gage Dorr; 5. 24-Ricky Lee Stangl II; 6. 32L-David Langford; DNS 9-Casey Baker
Heat 2 (8 Laps): 1. 38-Cody Baker; 2. 48-Jake Martens; 3. 76-Jay Russell; 4. 5M-Miranda Arnold; 5. 35L-Cody Ledger; 6. 92J-J.R. Topper
Heat 3 (8 Laps): 1. 45C-Russ Hall; 2. 53-Jack Dover; 3. 3-Billy Alley; 4. 77-Mitchell Moore; 5. 45-Jeff Lowery; 6. 4-Jon Agan
A Feature (25 Laps): 1. 48-Jake Martens; 2. 53-Jack Dover; 3. 28-Jonathan Cornell; 4. 38-Cody Baker; 5. 3-Billy Alley; 6. 45C-Russ Hall; 7. 12-Tyler Drueke; 8. 76-Jay Russell; 9. 5M-Miranda Arnold; 10. 35L-Cody Ledger; 11. 17-Gage Dorr; 12. 92J-J.R. Topper; 13. 35-Trevor Grossenbacher; 14. 45-Jeff Lowery; 15. 77-Mitchell Moore; 16. 4-Jon Agan; DNS 24-Ricky Lee Stangl II; DNS 32L-David Langford; DNS 9-Casey Baker
Lap Leader(s): Jake Martens 1-25