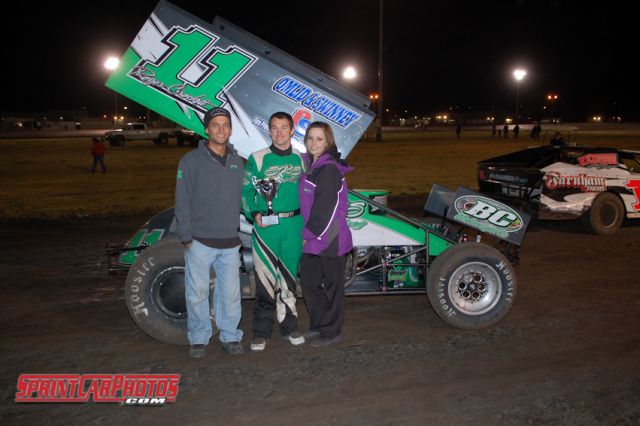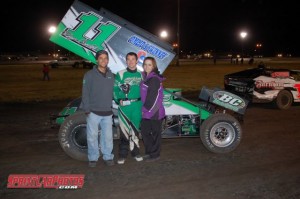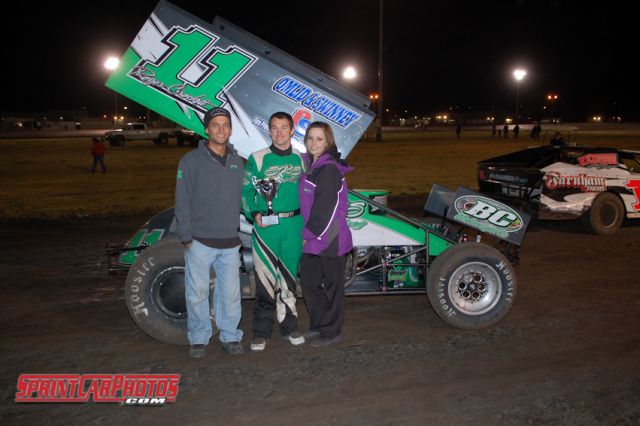 From Ben Deatherage
Elma, WA — (June 29, 2013) — Defending American Sprint Car Series-Northwest Region champion Roger Crockett found himself back in victory lane at Grays Harbor Raceway in night two of the 2013 Bully Dog Performance Speedweek Northwest presented by Contingency Connection on Saturday June 29th. The Medford, Oregon maestro would become the second different winner in as many nights with Speedweek Northwest this year.
Starting the feature out though in the desired top spot would be Garen Linder of Central Point, Oregon setting the pace in the early goings in his Linder Powdercoating/Rodgers Racing Engines #22L KPC. Linder would stay out in front until lap seven when the SKS Racing/Al Parker Racing Engines #11 KPC of Roger Crockett would earn the race lead. Crockett would complete the rest of the distance in first place by mastering lapped traffic to win his second race with ASCS-Northwest in 2013 and his fifth career Speedweek Northwest win at GHR.
Garen Linder would end the evening in second followed by Princeton, California's Mason Moore in the Moore Insurance Services Inc./LRB Race Products/ Rodgers Racing Engines #22 machine in the third. Completing the top five finishers was Stanwood, Washington's Jared Peterson driving the Island Muffler and Brake/All Points Petroleum #7N KPC, for car owner Roger Henderson, in fourth and Trey Starks from Puyallup, Washington in fifth in the Starks Timber Processing/Blue Dot Fabrication #55 Schnee.
Three heat races were ran earlier in the evening with victories going to Jay Cole of Shelton, Washington in his Our Community Credit Union/Bulldog Trailers #0J XXX, the Great Western Transport/Elma Lanes #9R Eagle of Reece Goetz from Snohomish, Washington, and Garen Linder. Colton Akerstrom of Bawlf, Alberta was the winner of the consolation feature in his Oil Drop Consulting/Midnight Oil #31 XXX.
The ASCS-Northwest Region will take Sunday June 30th off for travel as they will head south to the Southern Oregon Speedway to resume the 2013 Bully Dog Performance Speedweek Northwest presented by Contingency Connection. The event will take place on Monday July 1st at the White City, Oregon venue just located outside of the Central Point/Medford vicinity. For more information be sure and log on to www.ascsnorthwest.com.
Race Summary:
Elma Chamber of Commerce Night
American Sprint Car Series-Northwest Region Race #4
2013 Bully Dog Performance Speedweek Northwest presented by Contingency Connection Round #2
Saturday June 29th, 2013
Grays Harbor Raceway
Elma, Washington
21 Entries
Heat One: 1. Jay Cole, 2. Roger Crockett, 3. Henry Van Dam, 4. Mason Moore, 5. Chadd Noland, 6. Kelly Miller, 7. Allison Journey, 8. Jesse Thistle
Heat Two: 1. Reece Goetz, 2. Trey Starks, 3. Kenny Allen, 4. Cam Smith, 5. Travis Rilat, 6. Jared Peterson, 7. Seth Nunes, 8. Luke Didiuk
Heat Three: 1. Garen Linder, 2. Tyler Anderson, 3. J.J. Hickle, 4. Cody Ridge, 5. Zack Spaulding, 6. Colton Akerstrom, 7. Jason Reed
B-Feature: 1. Colton Akerstrom, 2. Seth Nunes, 3. Luke Didiuk, 4. Allison Journey, 5. Jesse Thistle, 6. Kelly Miller, 7. Jason Reed
A-Feature: 1. Roger Crockett, 2. Garen Linder, 3. Mason Moore, 4. Jared Peterson, 5. Trey Starks, 6. Henry Van Dam, 7. J.J. Hickle, 8. Reece Goetz, 9. Travis Rilat, 10. Jay Cole, 11. Cam Smith, 12. Chadd Noland, 13. Zack Spaulding, 14. Colton Akerstrom, 15. Cody Ridge, 16. Tyler Anderson, 17. Seth Nunes, 18. Kenny Allen, 19. Allison Journey, 20. Luke Didiuk