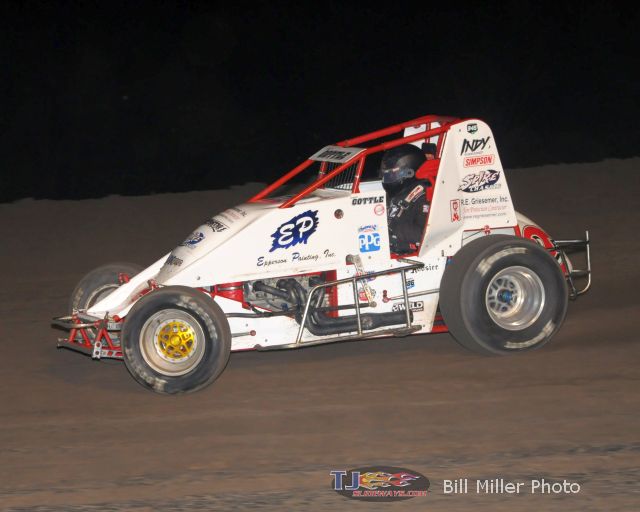 By Mike O'Leary
Bloomington, IN — (May 2, 2014) — – Shane Cottle scored the fourth King of Indiana Sprint Series victory of his career, dramatically passing Brady Short with less than two laps to go as the series opened its 2014 season at Bloomington Speedway on Friday.  Short held on to second, ahead of Dalten Gabbard, Jerry Coons Jr. and Casey Shuman.
"I really would like to win the KISS championship, but there's going to be races that I can't get to.  But it really would be nice to win it," Cottle said afterward.  His previous KISS wins came at Terre Haute (2004), Kokomo (2007) and Paragon (2011) Speedways.  He added, "It means a lot because there's a lot of tough racers here."
Gabbard led the first 21 circuits from the pole, as Short and Cottle worked to the front.  From eighth starting slot, Cottle sliced and diced the #2e Epperson Painting Spike to fifth on lap three, and second on lap ten.  While Gabbard and most of the leaders liked the inside groove, Short found a lane higher to be very quick, and he advanced the #11p Pottorff Logging/Indiana Stoneworks Maxim slowly and steadily.  On lap 19, Short took second when he caught and passed Carson Short and Cottle in turn two.
On the next circuit, Short grabbed the lead from Gabbard in the first turn, but Gabbard fought back to lead off turn four.  But when Gabbard's #5 Baldwin Brothers sprinter caught an infield marker tire and bicycled in turn two, Short secured the point with Cottle on his tail.  Then, after running nose-to-tail, Cottle stuck his nose underneath Short in turn two, moving him off the bottom.  The two ran wheel-to-wheel through turn three, but as they came to the white flag, Cottle had cleanly claimed the lead and Short wasn't able to mount a challenge on the final lap.
"I was just waiting for (Gabbard) to make a mistake and you know what?  He did.  But it was too late because Brady had got around me and had me squeezed in there.  We banged a little bit, but it was a good race.  I mean you can race him clean, and he races me clean.  It wasn't where we were trying to take each other out or anything," Cottle said as Tony Epperson and his crew began to celebrate the victory.
"I kept noticing that he was getting in there higher and higher in the corner, and once you get out into the black, it just hangs there.  If you can just stick your nose under there, you had a shot at it.  Luckily I did.  It was a good race."
At the other end of pit lane, Short focused on the big picture.  "It kind of caught me off guard a little bit.  We raced hard there, trying to get around those guys through the middle.  Everybody was putting around the bottom, so I had to try to make something work there through the middle to get to the front.  I was able to do that, but we were off there a little bit at the end and he was able to get underneath me and do that.  It's part of racing and we'll take second in the first KISS race.  That's what we have to do to win this championship."
Next, KISS racers will roll north of Indianapolis for the King of Kokomo competition on Sunday.  Robert Ballou captured the 2013 Kokomo Speedway race, becoming the eighth different KISS winner at that track.  Kokomo will open the pit gate at 3 pm on Sunday and the front gate at 4, with hot laps at 6:30.  General admission is $20 and kids 10 and under are free with a paying adult, while pit passes are $30.  The Sunday night racing program includes Kokomo's Street Stocks and Thunder Cars.  For more information, visit the Kokomo Speedway website at www.kokomospeedway.net.
King of Indiana Sprint Series, Round 1
Bloomington Speedway, Bloomington, IN
May 2, 2014
(33 cars)
Heat 1: 1. Jerry Coons Jr. 10e (2), 2. Carson Short 21s (5), 3. Seth Parker 38p (4), 4. Ethan Barrow 15b (6), 5. Dakota Jackson 3 (8), 6. Kevin Chambers 18 (7), 7. Ethan Fleetwood 7f (9), 8. Nick Johnson 15j (1), 9. Braxton Cummings 71b (3)
Heat 2: 1. Kevin Thomas Jr. 9k (2), 2. Aaron Farney 15f (3), 3. Casey Shuman 21k (4), 4. Brandon Mattox 28 (5), 5. Jordan Kinser 5k (8), 6. Daylan Chambers 4c (1), 7. Danny Harris 19 (7), 8. Jared Fox 56f (6)
Heat 3: 1. Shane Cottle 2e (1), 2. Brady Short 11p (4), 3. Chris Babcock 35 (6), 4. Landon Simon 24 (7), 5. Bub Cummings 71 (5), 6. Gary Taylor 04g (3), 7. Kent Christian 1c (8), 8. Shelby VanGilder 22v (2)
Heat 4: 1. Robert Ballou 12 (1), 2. Dalten Gabbard 5 (2), 3. Chad Boespflug 57 (6), 4. Levi Shields 56s (4), 5. Bradon Morin 98 (7), 6. Lee Dukus 21x (5), 7. Jeff Bland Jr. 04 (3)
B Main: 1. Dakota Jackson (1), 2. Bub Cummings (3), 3. Jordan Kinser (2), 4. Gary Taylor (7), 5. Kent Christian (11), 6. Kevin Chambers (5), 7. Daylan Chambers (6), 8. Nick Johnson (13), 9. Lee Dakus (8), 10. Ethan Fleetwood (9), 11. Braxton Cummings (16), 12. Danny Harris (10), DNS: Brandon Morin (4), Jeff Bland Jr. (12), Jared Fox (14), Shelby VanGilder (15)
Feature (30 laps): 1. Shane Cottle (8), 2. Brady Short (3), 3. Dalten Gabbard (1), 4. Jerry Coons Jr. (2), 5. Casey Shuman (10), 6. Kevin Thomas Jr. (7), 7. Robert Ballou (4), 8. Ethan Barrow (13), 9. Carson Short (6), 10. Bub Cummings (18), 11. Aaron Farney (5), 12. Chris Babcock (11), 13. Brandon Mattox (14), 14. Landon Simon (15), 15. Seth Parker (9), 16. Chad Boespflug (12), 17. Jordan Kinser (19), 18. Levi Shields (16), 19. Dakota Jackson (17), 20. Gary Taylor (20)
KISS Points: 1. Shane Cottle 180, 2. Brady Short 175, 3. Dalten Gabbard 170, 4. Jerry Coons Jr. 165, 5. Casey Shuman 160, 6. Kevin Thomas Jr. 156, 7. Robert Ballou 152, 8. Ethan Barrow 148, 9. Carson Short 144, 10. Bub Cummings 140
2014 KISS SCHEDULE
April 27    Terre Haute Action Track    – Rain
May 2     Bloomington Speedway  – Shane Cottle
May 4        Kokomo Speedway
May 9        Gas City I-69 Speedway
May 17     Lawrenceburg Speedway
May 25    Tri-State Speedway
May 31    Paragon Speedway