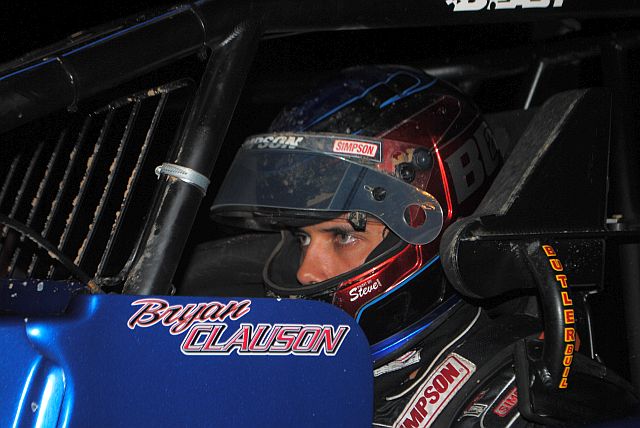 Anderson, IN – (May 22, 2014) – Bryan Clauson earned the pole position for the 66thAnnual Pay Less Little 500 during Thursday's first round of qualifications. After the morning practice session where the car had problems being started, Clauson turned a four lap average of 44.484 seconds around the high banked quarter mile, over three tenths of a second faster than fellow front row started Aaron Pierce and Jerry Coons, Jr.
Clauson is primed to start the Little 500 for the second time in his career after finishing 18th last year.   This year Clauson is paired up with the Hoffman Auto Racing team.  This year's Little 500 is the Hoffman's first since 2006.
33 cars in total attempted to qualify for Saturday's race with the top fifteen from Thursday's first round locked in for Saturday. Friday's second round will finish determining start positions 16-33 for Saturday's 500 lap affair.
66th Annual Pay Less Little 500
Anderson Speedway – Anderson, IN
Unofficial First Round Qualification Results
(Top 15 drivers are locked into their starting positions for Saturday)
| | | | | | | |
| --- | --- | --- | --- | --- | --- | --- |
|  Pos. | Car # | Driver | Time |  Dif. | Avg MPH | Avg KPH |
| 1 | 69 | Bryan Clauson | 44.484 | 0.000 | 80.928 | 130.237 |
| 2 | 26 | Aaron Pierce | 44.850 | -0.366 | 80.268 | 129.175 |
| 3 | 3 | Jerry Coons, Jr. | 44.862 | -0.378 | 80.246 | 129.140 |
| 4 | 5 | Kyle Hamilton | 44.995 | -0.511 | 80.009 | 128.758 |
| 5 | O7 | Jacob Wilson | 45.022 | -0.538 | 79.961 | 128.681 |
| 6 | 5G | Chris Windom | 45.097 | -0.613 | 79.828 | 128.467 |
| 7 | 4 | Shane Cottle | 45.281 | -0.797 | 79.504 | 127.945 |
| 8 | 4A | Donnie Adams, Jr. | 45.319 | -0.835 | 79.437 | 127.838 |
| 9 | 51 | Brian Tyler | 45.401 | -0.917 | 79.293 | 127.607 |
| 10 | 59 | Billy Wease | 45.457 | -0.973 | 79.196 | 127.450 |
| 11 | 35 | Russ Gamester | 45.520 | -1.036 | 79.086 | 127.273 |
| 12 | 20 | Shane Hollingworth | 45.550 | -1.066 | 79.034 | 127.189 |
| 13 | 20A | Troy DeCaire | 45.552 | -1.068 | 79.031 | 127.184 |
| 14 | 7C | Caleb Armstrong | 45.571 | -1.087 | 78.998 | 127.131 |
| 15 | 18 | Jarett Andretti | 45.634 | -1.150 | 78.889 | 126.955 |
| 16 | 55 | Shane Butler | 45.638 | -1.154 | 78.882 | 126.944 |
| 17 | 26 | Jeff Bloom | 45.687 | -1.203 | 78.797 | 126.808 |
| 18 | O7L | Ryan Litt | 45.737 | -1.253 | 78.711 | 126.669 |
| 19 | 6 | Mickey Kempgens | 45.874 | -1.390 | 78.476 | 126.291 |
| 20 | 98 | Bobby Santos, III | 45.893 | -1.409 | 78.443 | 126.239 |
| 21 | 0 | Doug Dietch | 46.105 | -1.621 | 78.083 | 125.658 |
| 22 | 64 | Geoff Kaiser | 46.181 | -1.697 | 77.954 | 125.452 |
| 23 | 7 | JoJo Helberg | 46.202 | -1.718 | 77.919 | 125.395 |
| 24 | 27 | Brian Gerster | 46.257 | -1.773 | 77.826 | 125.245 |
| 25 | 5E | Tony Elliott | 46.272 | -1.788 | 77.801 | 125.205 |
| 26 | 10 | Chris Neuenschwander | 46.285 | -1.801 | 77.779 | 125.170 |
| 27 | 9 | Jason Fuller | 46.316 | -1.832 | 77.727 | 125.086 |
| 28 | 63 | Rex Norris, III | 46.328 | -1.844 | 77.707 | 125.054 |
| 29 | 18 | Travis Welpott | 46.689 | -2.205 | 77.106 | 124.087 |
| 30 | 18B | Stan Butler | 47.098 | -2.614 | 76.436 | 123.009 |
| 31 | 35K | Grant Galloway | 47.171 | -2.687 | 76.318 | 122.819 |
| 32 | 81 | Danny Smith | 47.320 | -2.836 | 76.078 | 122.432 |
| 33 | 11 | Tom Patterson | 47.844 | -3.360 | 75.245 | 121.091 |