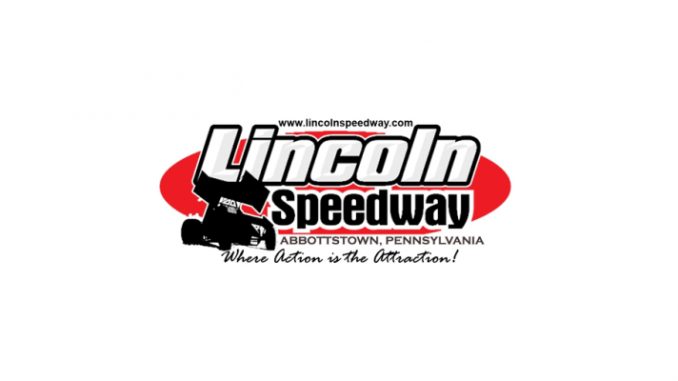 From Bill Meyer
Abbottstown, PA — (March 15, 2015) — After being forced to cancel its first three scheduled races of the 2015 racing season due to snow and cold weather, Lincoln Speedway officially kicked off the racing season Sunday afternoon, March 15th, with Greg Hodnett surviving a marathon Icebreaker 30 feature event to add his name to opening day winners at the Pigeon Hills oval.
Using the Sunday rain date after a Saturday rainout, a large crowd of fans came out to watch the 410 Sprinters in action as Hodnett missed several early crashes and held on to score the win in the 30 lap feature that took well over an hour to complete.
"I was just in survival mode," stated the Spring Grove driver after earning $4,000 for his 28th career Lincoln Speedway feature win. "The track was very tricky, obviously due to circumstances…but the guys did a great job with the car."
"They freed up it and I knew I was going to be free pretty much the whole race but that was the only way that I figured we could make any headway so it worked out for us."
Hodnett's win moved him into a tie with Van May for 10th place on Lincoln Speedway's all-time track win list.
The first feature of 2015 took four starts to get an official lap in the books.
Niki Young flipped in turn one on the initial green flag. A second red flag came on the ensuing restart when front row starters Freddie Rahmer and Chase Dietz tangled on the frontstrech. Last year's opening day winner Adam Wilt was also caught up in the crash.
Tim Glatfelter brought out the red flag on the third restart, flipping on the front stretch after contact with Chris Knopp and Scott Fisher.
Billy Dietrich finally grabbed the top spot when the first lap was scored, but, a yellow for Brian Montieth, who sat sideways off turn two slowed action with three laps complete.
Billy Dietrich continued to set the pace over Hodnett, who originally started sixth on the grid when another yellow for Rahmer slowed the pace once again after seven laps were scored.
Hodnett shot under Billy Dietrich entering turn one on the restart, emerging as the race leader before Aaron Ott hit the wall in turn two resulting in a fuel stop.
Billy Dietrich rolled to a stop on the restart as Hodnett continued to set the pace when another yellow flag appeared with 12 laps down for a stopped Fisher in turn four.
Montieth spun on the restart bringing out the final caution of the day.
The final 18 laps went non-stop as Hodnett drove the Mike Heffner owned, Lelands.com, Trone Outdoor, Eagle Steel No. 27 sprinter away from the field.
Hodnett was slowed up late in the event when he caught the rear of the field but maintained a near straightaway advantage when he crossed under the checkered flag to officially score the first win in Central Pennsylvania this season.
"The 51 (Rahmer) and 44 (Dietz) were kind of bouncing around jockeying for position even before we took off so it was inevitable to happen because it's a pretty narrow race track down here on the front straightaway…unfortunately those guys got tied up in it and it worked out for us and moved us up a row," said Hodnett. "It wasn't the raciest I've ever been but we just kind of bided our time and made sure we didn't do anything stupid to take ourselves out of contention."
"Everyone that helps on this car did a nice job and I'm just fortunate to be standing here. Normally here I'm just not that good here. We just lucked out. Hopefully it's not a bad omen because sometimes when you win early in the year, you get to struggling in the middle and end of the year. Hopefully that doesn't happen and we can keep this thing going."
Kyle Moody raced home in the runner-up spot ahead of Robbie Kendall, Brent Marks and 20th starting Cory Haas with defending track champion Alan Krimes sixth ahead of Montieth, Gerard McIntyre, Jr., Danny Dietrich and Cole Duncan.
Heat races for the 30 410 Sprints pitside were won by Mike Bittinger, Chris Knopp and Bill Dietrich. Last year's opening day winner Adam Wilt won the consolation.
Lincoln Speedway will switch to night racing next Saturday, March 21st, with a 410 Sprint and 358 late model doubleheader. Race time will be 6 PM, with gates opening at 4 PM.
To get all the latest news, results, schedule changes and rule changes, visit Lincoln Speedway's website at http://www.lincolnspeedway.com to stay up-to-date on all the action or pending weather conditions at Central Pennsylvania's "Premier" Saturday night race track – The Fabulous Lincoln Speedway.
RACE RESULTS
Sun., March 15, 2015
LINCOLN SPEEDWAY
Abbottstown, PA
LAWRENCE CHEVROLET 410 SPRINTS (30 laps) 1. 27-Greg Hodnett ($4,000), 2. 99M-Kyle Moody; 3. 55K-Robbie Kendall; 4. 19M-Brent Marks; 5. 11C-Cory Haas; 6. 87-Alan Krimes; 7. 21-Brian Montieth; 8. 16-Gerard McIntyre, Jr.; 9. 48-Danny Dietrich; 10. 22-Cole Duncan; 11. 88-Brandon Rahmer; 12. 69-Shane Hoff; 13. 5-Tyler Ross; 14. 21T-Scott Fisher (DNF); 15. 8-Billy Dietrich (DNF); 16. 12-Mike Bittinger (DNF); 17. 25-Aaron Ott; 18. 6K-Chris Knopp (DNF); 19. 51-Freddie Rahmer (DNF); 20. 59-Jim Siegel (DNF); 21. 39-Tim Glatfelter (DNF); 22. 44-Chase Dietz (DNF); 23. 15-Adam Wilt (DNF); 24. Niki Young (DNF). No Time
Lap Leaders – Billy Dietrich (1-7), Greg Hodnett (8-30).
Heat One (10 laps/6 qualify) – 1. 12-Mike Bittinger; 2. 87-Alan Krimes; 3. 99M-Kyle Moody; 4. 44-Chase Dietz; 5. 21T-Scott Fisher; 6. 22-Cole Duncan; 7. 15-Adam Wilt; 8. 48-Danny Dietrich; 9. 36D-Wayne Dadetto; 10. 14-Lance Dewease (DNF). Time-2:26.00
Heat Two (10 laps/6 qualify) – 1. 6K-Chris Knopp; 2.39-Tim Glatfelter; 3. 27-Greg Hodnett; 4. 55K-Robbie Kendall; 5. 92-Niki Young; 6. 88-Brandon Rahmer; 7. 21-Brian Montieth; 8. 52-Austin Hogue (DNF); 9. 2W-Glenndon Forsythe (DNF); 10. 5-Tyler Ross (DNF). No Time
Heat Three (10 laps/6 qualify) – 1. 8-Bill Dietrich; 2. 19M-Brent Marks; 3. 25-Aaron Ott; 4. 51- Freddie Rahmer; 5. 16-Gerard McIntyre, Jr.; 6. 59-Jim Siegel; 7. 11C-Cory Haas; 8. 33-Curt Stroup; 9. 69-Shane Hoff; 10. 91-David Quackenbush. Time-2:23.00
Consolation (10 laps/6 qualify) – 1. 15-Adam Wilt; 2. 21-Brian Montieth; 3. 11C-Cory Haas; 4. 48-Danny Dietrich; 5. 69-Shane Hoff; 6. 5-Tyler Ross; 7. 33-Curt Stroup; 8. 52-Austin Hogue; 9. 91-David Quackenbush; 10. 36D-Wayne Dadetto; 11. 2W-Glenndon Forsythe (DNF); 12. 14-Lance Dewease (DNS). No Time